Fri. Feb. 5 -- Buncha modern folks playing modern music on modern Yamaha pianos! The keysters include Vicki Ray, David Roitstein and David Rosenboom; the material comes from the likes of Lutoslawski, Rachmaninoff and those perennials of modern classical music and jazz, Radiohead. At REDCAT, 631 W. Second St., downtown 90012; 8:30pm; $20; www.redcat.org.
Fri. Feb. 5 -- I wish I liked the music of Canadian metal diehards Anvil as much as I like the famous documentary about them. But their riffs are pretty boneheaded, and their lyrics are very boneheaded. Gotta say, though, Robb Reiner is a great drummer (really good painter, too). With Delta Rose & L'Amour. At House of Blues, 8430 Sunset Blvd., West Hollywood 90069; 9pm; $20; (323) 848-5800; www.ticketmaster.com.
Fri.-Sat. Feb. 5-6 -- The fine "fades" of painter Richard Bruland fade out of their exhibit time this weekend: last chance to see his millions of small colored spots undulating from darkness up to light. At Lora Schlesinger Gallery, Bergamot Station, 2525 Michigan Ave., building T3, Santa Monica 90404; 10:30am-5:30pm; (310) 828-1133; see examples here.
Sat. Feb. 6 -- Jacob Fred Jazz Odyssey are creative, wild and fun. Let yer hair down. Read my review of a recent JFJO concert here. At the Mint, 6010 Pico Blvd., LA 90035; 9:10pm & 12:30am; $15; (323) 954-9400; www.themintla.com.
Sat. Feb. 6 -- Crepuscule Trio let you in on the secrets of rhythm and space via the ultrasensitive percussion of Alan Cook, the avian linguistics of saxist Ken Kawamura and the beach-ball bounce of bassist Anthony Shadduck. Buy their "Unveil" and let it percolate around your house and get inside your head. At Asto Gallery, 4505 Huntington Drive South, Highland Park, CA 90032; 7:30pm; $5; (323) 343-8607.
Sat. Feb. 6 -- LATE ADD: Slayer drummer Dave Lombardo has a power trio called Philm, and he's squeezing in some action with them during Slayer's hiatus due to bassist Tom Araya's shoulder problems. (The Slayer-Megadeth tour has been rescheduled for later in the year.) Not one to be pigeonholed, Lombardo has abstractified in a number of creative projects including Fantomas (with Mike Patton) and Drums of Death (with DJ Spooky). Kind of a metaljazz border-crosser, not to mention a musician who understands layers and polyrhythms, maybe in part due to his Cuban ancestry. The venue is tiny; arrive accordingly. At Relax Bar, 5511 Hollywood Blvd., Hollywood 90028; 11:30pm; $10.
Sun. Feb. 7 -- Pianist Motoko Honda, one of the most consistently surprising and involving musicians in town, leads a chamber-improv trio featuring stringfellows Jeff Gauthier (violin) and Maggie Parkins (cello). And Grandmother Ken Rosser, a guitarist with a feel for distinctive tones and FX, leads The Shadow Language Guitar Quartet with Ken Lasaine, Andre LaFosse and Kevin Tieman. What a drag they all gotta compete with the Super Bowl. At Center for the Arts, 2225 Colorado Blvd., Eagle Rock 90041; 7pm; $10; (626) 795-4989.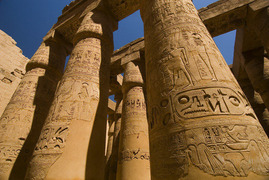 Mon. Feb. 8 -- The California Museum of Ancient Art presents "The Temple of Amun-Ra at Karnak: 2000 Years of Rituals and Renovations," a lecture by Egyptologist Elaine A. Sullivan, Ph.D. She'll offer digital reconstructions of various stages of the Karnak site's development while discussing temple art and ceremony. I've been there; it's a magical place. At the Piness Auditorium in the Wilshire Boulevard Temple, 3663 Wilshire Blvd., LA 90005; 7:30pm; $15.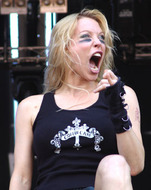 Tues. Feb. 9 -- Another major metal show. Sweden's Arch Enemy blast forward with classic twin guitars and the modern throat scorch of the gorgeous warrior Angela Gossow. Exodus, co-founders of Bay Area thrash, are pushing their DVD "Shovel Headed Tour Machine: Live at Wacken," which sure brings the beef -- gotta love voxman Rob Dukes' Old Glory shorts; I hope someday Exodus will attempt a metallic Bo Diddley medley of "Funeral Hymn" and "Who Do You Love" with neighbors Quicksilver. And guitarist James Malone's Arsis, with a recently conscripted bassist and second guitarist climbing on the shoulders of original drummer Mike Van Dyne, spiels out some of the most ingenious confabulations of classical/mathematical metal anyone could conceive. At House of Blues, 8430 Sunset Blvd., West Hollywood 90069; 8pm; $27.50; (323) 848-5800; www.ticketmaster.com.
Thurs. Feb. 11 -- LATE ADD: Free show with ruff metalpunkers Doomriders (featuring Nate Newton of Converge) and Southern-style rabid twin-guitar rasp metal from Skeletonwitch. At the Roxy, 8pm; RSVP for free tix here.
Fri.-Sat. Feb. 12-13 -- SPECIAL ADVANCE PREVIEW. I wanna get the word out about Go: Organic Orchestra. Hand drummer Adam Rudolph has been working this breakthrough concept for quite a while now: He gathers 20-30 musicians, old to young, sets 'em up in a crescent, gives them general chord blockings, and spontaneously conducts an improvised modern-jazz symphony. The result flows and grows, different each time, with a pronounced African groove and flourishing harmonic entanglements -- the most exciting jazz development in decades. Rudolph has moved from L.A. to New York, where the orchestra's been grabbing substantial attention; these are its first shows in four years at the old stomping grounds. Many of our best players have signed on, including Bennie Maupin, Matt Zebley, Tracy Wannomae, Ellen Burr, Emily Hay, Munyungo Jackson, Miguel Atwood-Ferguson and Peter Jacobson. Reserve now; a sellout is likely. At the Electric Lodge, 1416 Electric Ave., Venice 90291; 8pm; $25; get tickets here.

Read Brick's Picks in LA Weekly here and Don Heckman's picks here.