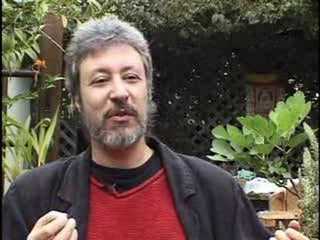 Adam Rudolph is serious about this Africa thing. Having studied hand drumming in Africa and India among other places, he hears rhythms not just as music, but as vehicles for healing and spirit communion. So it wasn't a showbiz thing to introduce each set with an African-garbed and -painted magic man (Robert Wisdom, a.k.a. Bunny Colvin from "The Wire") who drove evil from the air with rattle-whisks and got us humming to establish a common vibration. Audiences need to tune up too.
Rudolph had 21 players this night: several percussionists/drummers on the left; a couple of bassists, a harp and the bigger woodwinds in back; several strings in the middle; three flutists on the right. As he conducted, we could see his charts (with nonstandard notations of his own invention), and a drawing that looked like an octopus -- he probably wished he had that many arms. Before the concert, Rudolph told me he had nearly been forced to cancel because he was traveling from the East Coast, where he moved from L.A. four years ago, and the airports were snowed in. He got here later than planned, so he wished he'd had more time to rehearse, especially for the through-composed parts of this largely improvisational program. But on this second of two nights, this incarnation of Go: Organic Orchestra sounded fresh and confident.
The first set mostly rode the beats, which kept shifting in accent and timbre while maintaining a flavor of powerful African flex. Rudolph pushed the melody instruments into vivid contrasts of color and mood: string drones and slides, flute caressess and bird calls, bass-clarinet moans and incantations. Sometimes we settled into a tribal village ceremony, sometimes we gathered in a grooving veldt exodus, sometimes we subsided into reflective apprehension. I say we, because it was impossible not to feel a part of the music.
The second set was more abstract yet softer, with moments of modern-classical meditation a la late Shostakovich touched by the solemn benediction of a gong. Sensitivity, purity, elevation and sudden bursts of Kongo energy.
Every player was so good, but a few snapshots stick in the memory. Young Nick Rosen beamed ecstatically as he threw down huge riffs from his standup bass. (He told me he'd been having fun playing pop on electric bass lately, but improv is clearly his joy.) Bennie Maupin centered the community with his authoritative bass-clarinet lines. Karen Elaine attacked and battered her viola, clawing frenzied emotion from her solo. Pablo Calogero put down his horn and elephant-blasted the air with a decorative 4-foot Tibetan trumpet. Randy Gloss' work on pandeiro (Afro-Brazilian tambourine) was one of the most amazing demonstrations of concentrated virtuosity I've ever seen. Rudolph himself -- his hands making sunburst fists, stretching invisible threads or flashing exclamation points -- plunged into the orchestra in every direction to seize an instrumentalist's passion or sculpt a percussion shape.
The little solar-powered auditorium was full of old hippies, middle-aged music fans and young zealots. And they all felt the connection. As they left, their feet didn't quite stay on the ground.