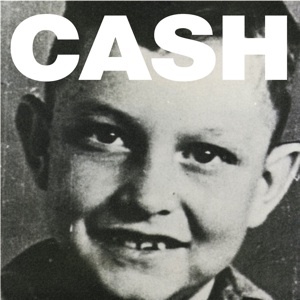 Johnny Cash was a scary mother. He must have scared himself, too: Imagine how he felt when he realized that his voice was a unique window onto the scariest place of all, the human soul, and he would be fated to spend his whole life looking down into it. That voice reverberated like the last moan of pharaoh's servant entombed alive beneath some massive pyramid. Whether the words were as tortured as his own for "Ring of Fire" or as homely as Jack Clement's for "Ballad of a Teenage Queen," it didn't matter; from his throat, they were going to sound heavy as pig iron.
Now, with "Ain't No Grave," we have the last collection from the songs Cash recorded in the couple of sun cycles before his 2003 death. His beloved wife, June Carter Cash, died months before him; he knew he too was dying; the subject here is mostly the big crossover.
Good and proper. All praise to Rick Rubin for documenting Cash's last years so obsessively in six regular albums and a five-disc set of the remnants. But such an outpouring could not all be perfect. It's not, and neither is "Ain't No Grave."
Rubin's main obstacle has been the impossibility of topping his first Cash collection, 1994's "American Recordings." By that time, Cash stood virtually alone. Who could perform alongside him without detracting? He'd done the Highwaymen with Willie Nelson, Waylon Jennings and Kris Kristofferson -- worthy partners possessed of auras so big that they had to take turns in the spotlight to avoid nuclear fission; this was less a band than a really good museum exhibit. Rubin's brilliant solution: stick Cash and his guitar naked in front of the microphone. For the listener, the result was like walking out of a jungle to behold Kilimanjaro.
Of course, it was hard to refuse the many big artists who wanted to contribute songs and play behind Cash: Tom Petty & band, Chris Cornell, Glenn Danzig, Trent Reznor, Beck, Sting, Lindsey Buckingham, Marty Stuart, the list goes on. It's just that Cash's presence had a way of making big artists sound small. Whatever good taste and good intentions they brought to their contributions, Cash was just better without them.
The casualties on "Ain't No Grave" include Tom Paxton ("Where I'm Bound," too airy for the Cash baritone), Ed McCurdy (the painfully literal anitiwar waltz "Last Night I Had the Strangest Dream"), Sheryl Crow (the overwrought, lyrically clumsy "Redemption Day") and even Cash himself (the unfinished-sounding chanty "I Corinthians 15:55," which could have put a finer point on its message of "Death, where is thy sting?").
Nevertheless, Cash never goes long without delivering. His aged voice doesn't quaver so much as it undulates, somehow more expressive than ever, and when it drops in on the introductory title track, it settles you right into that special Cash territory outside of time and makes you believe "When I hear that trumpet sound, I'm gonna raise right out of the ground." "I Don't Hurt Anymore," a 1954 hit for Hank Snow, is just plain country, straight and true testimony from Cash's own roots. Cash puts on his comfortable solo campfire storyteller hat for Bob Nolan's "Cool Water." Every line of Kris Kristofferson's breakup classic "For the Good Times" now seems to have been written explicitly for the last goodbye. And closing with "Aloha Oe" -- sheer genius.
Mike Campbell, Smokey Hormel, Benmont Tench and the rest do the usual creditable job of neoprimitive instrumentation; they just sound as if they're trying too hard to be elemental but end up elementary -- it's the kind of thing John Lee Hooker did without thinking about it, and if you think about it, you can't do it right. If I ever meet the guy who stroked the grainy Hawaiian guitar on "Aloha," though, I will buy him pina coladas until he cries uncle.
We are urged to wear black this Friday, February 26, the 78th anniversary of Johnny Cash's birth and the release date of "Ain't No Grave." Well, what the hell -- this is one publicity gimmick I'm glad to endorse.
Until we meet again, Mr. C.