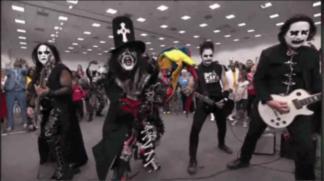 You can't be a rock star without big ideas and big confidence, and Los Angeles' Fifi Larue specializes in those Bigs. Whether opening for WASP, stunning the KISS Expo or auditioning for "Last Comic Standing," Fifi and his band of the same name have demonstrated that they can rock hard, put on a whale of a show and make you bust a gut laughing. Fifi's twin missions: to resurrect the glorious corpse of 1980s theatrical clobberation, and to enslave all glamorous women. Jason Houston gets the dope by electronic special delivery.
* * *
JASON HOUSTON: Where are you originally from?
FIFI LARUE: "My mother's womb . . ."
How long have you been a professional musician?
"What's a professional musician? Are you talking about the professional musicians who do phone sales and answer phones all day??? I'm an Artist; I have a real job!"
How did the band come to be named Fifi Larue?
"I used to have a band with my old friend and bandmate Timtation, may he rest in peace. He was the first to call me Fifi, and the torch has been burning ever since! Back in the '80s, all I had to do was call myself Fifi to pick up hot chicks, so I knew it was a keeper!"
What year was your band, Fifi Larue, formed?
"Depends on what form. Ice sculpture? Bronze? Stone? I'd like to think we are formed in heavy metal . . . maybe someday in gold!"
How did you get the band together?
"It's a weeding-out process . . . You get rid of all the dead weight and always wait for better to come along, and now I have better. The band is Fifi Larue on vocals, Andy Monic on bass guitar, Hexx on guitar, and Leroy the Mortician on drums."
How do you come up with all your unique stage props?
"I came up with the very first one of its kind -- the Glitter Coffin! I like to spend money on props and add to them by painting them or remaking them. I'm doing what nobody is doing in the small-club circuit, because I really believe that bands like KISS and Alice Cooper aren't putting out new shows anymore, they're just milking the fans, using their old stage props. Every time they say 'new show,' it's always something they have done before -- with more lights and flashpots, that's it!"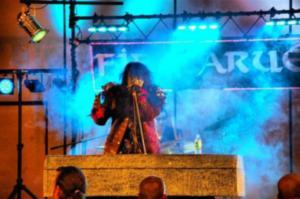 What was it like for you to play at the first annual KISS Expo at the Marriott Airport Hotel in Los Angeles last October?
"The promoter, Jim Frangella, was very cool to us! It was cool to play the very first one, especially having the chance to kill KISS onstage! How many bands can say they did that?"
I can understand your band being asked to play at the Kiss EXPO, because the band wear kabuki-style makeup like Kiss.
"Wait a minute . . .??? Do you really believe the story that Gene Simmons got that idea from Japanese kabuki? Come on! Everyone can tell it's clown makeup! 'The hottest band in the land'? That expression came from Ringling Brothers Barnum & Bailey Circus, right? Kinda like 'the greatest show on Earth.' And what do you think they have in the circus? CLOWNS, not a Japanese kabuki artist! And what about when Gene says KISS was the first to have a big logo as a backdrop onstage??? Growing up, didn't he ever see the Jacksons' backdrop?"
Who were the musicians who had the greatest influence on you?
"My greatest influence is myself! I see what others do wrong and I try to do it right!"
Was Kiss an influence on you?
"Sure, just like I will become a influence on them someday!"
Isn't KISS influenced by The Who now?
"Who's KISS? I mean, if Who is playing guitar and Who is playing drums and Who is singing onstage, then that means Who is playing bass guitar, too, right? Then the band should be called The Who, not KISS!"
Have you heard the latest KISS album, "Sonic Boom"?
"I Hate 'Modern Day Delilah' -- I think they ripped their own song 'Tough Love,' from 'Revenge,' and added new lyrics, like they ripped 'Ain't Nothing but a Good Time' from Poison. But the rest of the songs kick ass! Tommy Thayer plays a mean "Ace Frehley" on guitar . . . almost exactly like if Ace was playing on it! Also, Eric Singer is the best KISS drummer!!! Paul Stanley's voice is good. Gene sounds a lot better than he has in a long, long time. Overall, a great CD! I think KISS fans are very lucky, because KISS and Ace Frehley both came out with good CDs, which is a true KISS fan's dream!"
Your makeup reminds me of the KISS makeup.
"It's two dragon knives coming down from my eyes. I like those knives . . . kinda like the one O.J. used."
Who had the idea for everyone in the band to wear makeup? Did each band member come up with their own character and the concept for their own makeup?
"Everyone who is in Fifi Larue gets to come up with their own idea! There is a lot of FREEDOM in this band."
Do you ever have fans show up to your shows wearing your makeup?
"Yes, I've had a few fans do that! I even had some guy on YouTube sing and play acoustic guitar doing my song 'The Gothic Killer Clown.'"
At the KISS Expo, there was more of an Alice Cooper/WASP vibe to both your stage show and the overall sound.
"I love WASP. I was even lucky enough to have [ex-WASP guitarist] Chris Holmes play on my first CD on two songs. I've been called the bastard son of Alice Cooper, but we'd have to get my DNA checked to prove it."
Alice Cooper claims that "Alice" is who he is only onstage. Do you feel like
you're someone different onstage than off?
"I like to think that I'm really a wackjob! If I'm beheading "Britney Spears" or "Sarah Palin" or "Shakira" or "KISS" or even "Alice Cooper" onstage, it's not like I can get away with that in real life!"
Who are some of your favorite bands on the scene today?
"What scene??? The Starfuckers are probably the best band out there right now. Besides me!"
What's going on with Fifi Larue?
"We are currently working on our New CD, 'The Clown Flu'! Our hit single 'The Clown Flu' will be out soon, and another surprise will be coming out with it!"
Are you involved with any other projects?
"I only have time for Fifi Larue, but I did make the backdrop sign for the all-girl KISS tribute band PRISS. I'd like to manage a few other bands later down the road, but first things first! My show will always get bigger and better, and I have new ideas on the rise. The Fifi Larue Train is ready to rock & ROLL!"

Watch for Fifi Larue's latest music and news at www.fifilarue.com; download his new single, "The Clown Flu," here. Proceeds go to Haiti relief.