Fri. March 19 -- Wassailing Teutonic pagan metalmen Suidakra headline a bill featuring L.A. black-metal-youths-to-watch Statius, and Apocalypsis, which I assume is not the '80s Greek prog band. At Ultraviolet Social Club, 2662 Lacy St., LA 90031 near the junction of the 110 and 5 freeways; 8pm; $14.50; all ages; strict ID for alcohol; (323) 227-0078; www.8thdaytix.com.
Fri.-Sat. March 19-20 -- Singer Rachelle Ferrell has a hell of an instrument, limitless improvisational chops, deep soul and, if this ain't a deficit, taste. In a just world, she'd be a big star, but she hasn't made an album in a decade. If you want to hear 8 minutes of SOMETHING, try this. At Catalina Bar & Grill, 6725 Sunset Blvd., Hollywood 90028; 8 & 10pm; $30-$40; (323) 466-2210; www.catalinajazzclub.com.
Sat. March 20 -- LATE ADD: Astro-cycle guitar machinist G.E. Stinson combines with the bass-drone semiliquidity of Devin Sarno for sympathetic permeations. 11:15pm; preceded by Constant Collection at 10pm and Jean Baudin at 10:30pm. At Bootleg Theater, 2220 Beverly Blvd., L.A.; free parking behind Praise Christian Church.
Sat. March 20 -- In its first "Sound" event of the year, SASSAS presents a consideration of the circa-1970 Brit collective the Scratch Orchestra, which attempted to implement communal ideals via music. The day starts at 4pm with a performance of Scratch scores and other music by a 20-some-member ensemble of local luminaries including Steve Roden, Andy Featherston, Glenn Bach, Mitchell Brown, Joseph Hammer, Albert Ortega, Rick Potts, William Roper and Kira Vollman. Then everybody splits for dinner, returning at 7pm for a screening of Luke Fowler's Scratch documentary "Pilgrimage From Scattered Points" and a panel discussion. At Fiesta Hall, 1200 N. Vista St., West Hollywood 90069; $15; www.sassas.org/sound/2010; (323) 960-5723.
Sat. March 20 -- Ex-Minutemen bassist Mike Watt and His Missingmen groove wildly. At the Redwood Bar & Grill, 316 W. Second St., downtown; 10pm; cheap; (310) 245-0273; www.theredwoodbar.com.
Sat. March 20 -- Trumpeter Elliott Caine leads a crowd-pleasing quintet through traditional and somewhat nontraditional jazz. At Jax, 339 Brand Blvd., Glendale 91203; 9pm onward; (818) 500-1604.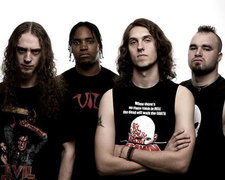 Tues. March 23 -- German thrash-stompers Kreator celebrate their 25th anniversary with like-minded pals Kataklysm (Canada), Evile (U.K., my choice for clean rockin power, pictured), Lightning Swords of Death (L.A., attractively noisy) and Lazarus A.D. (Wisconsin, home of many Krauts). At House of Blues, 8430 Sunset Blvd., West Hollywood 90069; 8:30pm; $27.50; (323) 848-5800; www.ticketmaster.com.
Thurs. March 25 -- Who are Trio Non Grata? A young local fusion guitar unit with a delightful penchant for metallic explosions. Encourage the outsider booking at this old-line venue. At the Rainbow Bar & Grill, 9015 Sunset Blvd., West Hollywood 90069; 10pm; cheap; (310) 278-4232.

Read Brick's jazz picks in LA Weekly here, Don Heckman's jazz picks here and MoshKing's metal listings here.