Fri.-Sat. March 26-27 -- Dance, light and modern music: always a natural combination. Three dance companies dimensionalize three compositions; the third anchoring piece -- by electronic minimalist Randy Gibson and choreographer Dani Beauchamp on the always topical subject of memory -- features ever-growing edgewise pianist Motoko Honda. Sponsored by Avant Media at Highways, 1651 18th St., Santa Monica 90404; 8:30pm; $20; www.highwaysperformance.org.
Sat. March 27 -- San Diego's Cattle Decapitation put out total radical energy and an unobtrusive touch of metallic art. Plus five other bands! At Ultraviolet Social Club, 2662 Lacy St., LA 90031 near the junction of the 110 and 5 freeways; doors 8pm; $12; all ages; strict ID for alcohol; (323) 227-0078; www.8thdaytix.com.
Sat. March 27 -- Sweden's Hammerfall are perhaps the truest example of sword-brandishing Scandinavian power metal, and certainly some of the genre's top musicians. With Powerglove. At House of Blues, 8430 Sunset Blvd., West Hollywood 90069; 8pm; $30; (323) 848-5800; www.ticketmaster.com.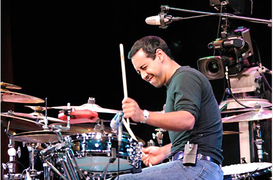 Sat. March 27 -- Former Pat Metheny drummer Antonio Sanchez pushes his motivational, Latin-inflected hustle with an ensemble of exciting modernists: saxists David Binney & Donny McCaslin plus bassist Scott Colley. You might not think of this as a destination venue, but the theater is state-of-the-art. A presentation of the Jazz Bakery's Movable Feast at the Musicians Institute, 1655 N. McCadden Place, Hollywood 90028; 8pm & 9:30pm; $15; www.jazzbakery.org. Read my LA Times story on the Bakery's odyssey here.
Sat. March 27 -- Rock poetry ain't dead; crawl to Carla Bozulich and Evangelista for all the passion, noise and incantation you crave. At the Smell, through the alley behind 247 S. Main St., downtown 90012; cheap; www.thesmell.org.
Sun. March 28 -- Tom McNalley, explorer of python electric guitar, fronts an extreme quartet with vet trombonist Michael Vlatkovich plus drummer Matty Algeres and bassist Nando Riao. At the York Bar and Restaurant, 5018 York Blvd., Highland Park 90042; 8-10pm; no cover; (323) 255-9675.
Wed. March 31 -- Talk about metal reunions. Dave Mustaine has kissed and made up with bassist Dave Ellefson after eight years of hatred to tour playing Megadeth's entire 1990 classic "Rust in Peace," so half the band from that record is onstage. Bay Area early-thrash cohorts Testament are onboard, still milking their excellent 2008 album "The Formation of Damnation," which they've made available as a tour edition with an improved cover and a bonus enhanced CD containing mostly short teaser performance clips from the VH1 documentary the band recorded at Alcatraz a few years back. Old homeboys Exodus are pushing a solid DVD. In other words, these dudes are not missing their second big wave, no way. At Hollywood Palladium, 6215 Sunset Blvd., Hollywood 90028; 6pm; sold out, but you might be able to score tickets at the box office Saturday or right before the show; (323) 962-7600; www.livenation.com.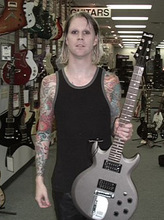 Wed. March 31 -- Marilyn Manson/Rob Zombie guitarist John 5 can play anything from metal to bluegrass, but he does it HEAVY and sharp -- he's one of those guys guitar geeks like, so that must make me a guitar geek. Got a new album coming in May; tonight he'll be playing AND signing AND talking. Maybe he'll reveal how he does those stage tricks with spit and drool. I bet he can't do those while plucking flamenco. At the Grammy Museum, 800 W. Olympic Blvd., Suite A245, downtown 90015; doors 7pm; free, but you gotta reserve at (213) 765-6830 or programs@grammymuseum.org.
Wed. March 31 -- Thelonious Dub mix reggae and jazz in a mixer bar. At Coda Bar Lounge, 5248 Van Nuys Blvd., Sherman Oaks 91423; 9pm; cheap; (818) 783-7518.
Wed. March 31 -- The Nirvana before Nirvana was an art-rock band co-led by singer-guitarist Patrick Campbell-Lyons in the U.K. way back in 1968; PCL has just published a memoir, "Psychedelic Days," and he'll tell ya what it was like when heroin overdoses and suicides were not yet required. On Miles' show on KXLU 88.9, 9am-noon.

Read Brick Wahl's jazz picks in LA Weekly here, Don Heckman's jazz picks here and MoshKing's metal listings here.