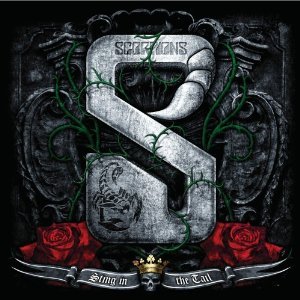 How To Present Your "Last" Album
by Scorpions
1) Do not put your picture on the cover. You are old. For your graphics, consult AC/DC -- classic bold lettering enhanced with ornate detail. Black and red are nice.
2) Emulate your peers. Your fans know who you are, but if your new music also makes them flash on Judas Priest, Deep Purple or AC/DC, it will not go amiss.
3) Don't forget to rock. Yes, your audience is old too; no need to rub it in. AC/DC did not make "Black Ice" double platinum by sobbing ballads about world calamity.
Scorpions committed minor violations of Rule 3 with their previous release, 2007's "Humanity: Hour 1," but you can't blame them. It was not their "last" album, and a band has gotta get that cranky geezer pessimism out of its system some way. Anyway, the songwriting was master-crafted.
Plot: The day has arrived for the Teutonic arthropods to make us feel, for the "last" time, the sting we experienced when they rocked us like a hurricane in the big-city nights of the 1980s. That band was a party machine, bubba, but the blue suede shoes don't quite fit anymore. The Chuck Berry 1-4-5 of "Sting in the Tail" and the vintage power chops of "Turn You On" can't inject flesh into the lyric images of sodomized groupies; visions of coke orgies quickly give way to speculations on reckless Cialis ingestion. "Spirit of Rock"? "Rock Zone"? Substitute R-O-T-E for R-O-C-K. Did I mention AC/DC? The ancient Australian maulers can put "rock" in every other song title and still make us believe in the Resurrection; Scorpions, while attempting the same pocus, now remind me of a priest I knew who could say an entire mass in seven minutes.
The opening cut, "Raised on Rock," stands as the one prime bratwurst on the rock rotisserie: mighty rhythm, keen obbligato riff, anthemic chorus, sweet bridge -- go ahead and slate that one for the next greatest-hits box. Yay!
But it's the album's less raucous statements, which reflect on family and emotion, that pump the truest blood. The darkly inspiring "The Good Die Young" rocks only by way of arrangement; it's easy to imagine the gorgeous vocal harmonies of the chorus gracing an acoustic ballad, while the easy-breathing bridge accents the mature pacing abundant on Scorpions' last few clusters. This is the one I'll play most.
Scorpions employed quite a few outside songwriters on "Sting in the Tail," and even if you don't fall in love with the downtempo melodrama of "Lorelei," "SLY" (a reference to their 1984 hit "Still Loving You") or "The Best Is Yet To Come," the canny tunesmithery is likely to lodge them in your brain cycles so tightly that steel tweezers will avail naught. For some listeners that will be a blessing, for some a curse. You're listening to Scorpions; accept it as your fate.
Klaus Meine's ringing voice, one of rock's most distinctive and frequently imitated, has lost nothing. Ding! The guitar tones of Rudolf Schenker and Matthias Jabs bring the best that our technical world has to offer. Ding! James Kottak's drums could rock a Gregorian chant. Ding! The production by Mikael Nord Andersson & Martin Hansen is big without being silly. If "Sting in the Tail" scores few gold stars, it scores even fewer demerits. Fine. But on a retirement cake, one hopes for a bit more frosting.
So now, for the tail end of their lives, Scorpions are heading out on a series of endless world tours. Expect their next "last" album in about three years.