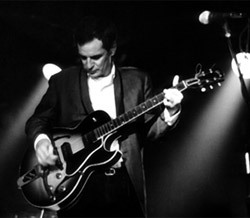 This is not going to be very coherent.
Alex Chilton died yesterday, St. Patrick's Day. I've loved his music for three or four decades, especially since 1978, when my friend Dusty gave me Big Star's "Third," a.k.a. "Sister Lovers," the most beautifully depressed album ever made.
Chilton and I were born three days apart, in the same year, so maybe the stars account for some of the connection. I learned his "Blue Moon" on guitar and played it for my girlfriend. His songwriting influenced mine. My band opened for his a couple of times in the mid-'80s, at Al's Bar and Club Lingerie. He had a loose but good way of playing guitar in those days, full of jazz chords. He played "Volare" because it was funny and he liked it. He would play dumb R&B nuggets because he liked the funk of them. (He was from Memphis.) He had a casually angelic voice that he thought wasn't much. He didn't bother to write great songs after a while. I think he just didn't care, even though he was supposed to have gotten sober. I cared.
I was lucky enough to catch a Box Tops reunion at the House of Blues on Sunset, April 18, 1997. I reviewed it for LA Weekly, as follows:

So black, so bleached. So funky, so stiff. Memphis' Box Tops were about as close to the Animals as a Yank band got in the '60s, and they dropped a string of hits almost as long. Back and barbered to sell you a Dodge, they've roped their original teenage singer -- cult loose cannon Alex Chilton -- into sharing the minibux on a 30th-anniversary tour. And it's way cooler than you have any right to expect.
Chilton cranked up his usual high level of irony only a couple of clicks, sporting a purple Vegas jacket, shaking imaginary maracas and occasionally collapsing floorward to kick his Beatle boots aloft in mock James Brown ecstasy. You will be pleased to learn that guitarist Gary Talley hasn't lost that comical sitar effects box he used on "Cry Like a Baby." And the band's R&B chops, augmented by a pair of horns and a voxchix duo, were pretty damn slammin' on "Ain't That a Lot of Love," "Little Latin Lupe Lu" and Bobby Womack's "I'm in Love" ("sho' 'NUFF in love!" howled Chilton). Talley presented an excellent soul original, "The Last Laugh." And of course they did "Soul Deep," "Neon Rainbow" and "The Letter," with the last precipitating a veritable flood of dance-floor boogaloo. No Big Star nuggets, no Chilton solo nods.
Chilton's singing was superb, but it thoroughly fit the image of the skinny little paleface from whose mouth it issued rather than that of the 300-pound dockworker who sounds like he's belting the '60s singles. I once asked Chilton face to face whether he really sang those things, and he swore he did, claiming producer/songwriter Chips Moman told him to "sing black." I still can't believe it.