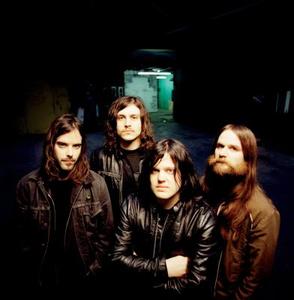 Three rocks, one revelation.
First, a high-five to the knowledgeable geek who chose the between-set music, a perfect compendium of obscure stoner ancestry circa 1970: Pink Floyd's "The Nile Song," John Entwistle's "My Size," Procol Harum's "Simple Sister," Deep Purple's "No One Came," The Gun's "Race With the Devil," UFO's "Doctor Doctor," Blodwyn Pig's "See My Way." That's called setting the stage.
Then, congratulations to the dad on crutches who brought his three sons, ages 8-12; he graded papers while the 8-year-old played air guitar and the others headbanged. That's called raisin' 'em right.
Also, a grateful bow to the women who arrived all metaled-out, even if they were band girlfriends. Dudes in blue jeans (not black; this is post-desert slacker shit) are fine, but one gets tired of looking at 'em.
If you've seen Bison BC, you know why they're called that: the wooly-bully beards, the bestial hair, and they're from British Columbia (probably also Before Christ). The quartet bashed, riffed and woofed with vigor, but came off generic compared to their fine records due to an unfocused mix. That's what they get for being openers, but you'd think in this brotherly context the sound man would cut them a break.
The L.A. duo Black Cobra shone light on the Jucifer-White Stripes mystery of why anyone would play rock without a bass: It's a way of defeating that same evil sound man, because bass adds blur, and the properly low-tuned kick drum of the ever-churning Rafael Martinez supplied a hefty low end anyway. Skinny little mop-haired Jason Landrian also spanned the spectrum by downtuning his guitar to virtual string-flap, the correct setup for sausaging out doom chords. Black Cobra amped up the energy and the dynamics toward set's end, getting the crowd jerkin' around pretty good. Still, advice to any band that grows big: Get a bass when you can afford it.
Skipping to the headliner now. In a decade of digging High on Fire, I have noticed one main difference: Drummer Des Kensel has become a complete motherf*cker. He's hard, he's heavy, he's nonstop active, and he has eradicated any trace of the Blue Danube from HoF's regular forays into waltz time. Talkin' 'bout SLAMMA-banga-crash 1-2-3 metal that shatters blinding suns behind your eyes. Matt Pike remains the ultimate rock beast -- shirtless & tattooed, with butt-crack jeans straining as he plants one foot on the monitor, garbles his distinctively horrific open-throat exhalations and tortures his orange single-cutaway. Live, Pike's guitar distortion can conjure perverse echoes of chiming Merseybeat melody or sustain enveloping atmospheres reminiscent of a cathedral organ; when he stomps on his wah box and digs into a lead, it CUTS. He's even gotten deft enough with effects to bridge a gap between songs with an electronic loop of a riff. The band's fourth bassist, Jeff Matz, brings a more traditional tight center, letting the other two freak out more. Particular songs stand out less than rhythms and general attack; a High on Fire set is a flowing unit of demonic rock sanctity. Rave on.
The revelation: second-billed Priestess (pictured above), who will be headlining next time you see them. When I reviewed the Montrealers' current "Prior to the Fire," I secretly doubted they could maintain the same level of proggy complexity and vocal virtuosity onstage, but g'damn, they actually kicked it up a notch. Here are four scruffsters who can pile into a headlong tempo with multiple changes and sound as if they're just tossing it off -- not exactly precise, just having a blast rocking. Lead singer/guitarist Mikey Heppner has a touch o' Cobain about him except frisky rather than cool, and the way bearded #2 Dan Watchorn charged the mike and tossed his ax around, you hardly knew which to look at, especially considering that both soloed and duetted with considerable alacrity. Drummer Vince Nudo whipped the horses with both fists and even turned in a good lumberjack vocal on the slow-galloping "Lunar"; he had a natural rapport with bassist Mike Dyball whether slogging or surging. Priestess reminded me of Led Zeppelin's rocking side more than once, and I don't say that lightly. When the electric-jolt section of the concluding "The Firebird" kicked in, complete with hyperbolic vocal harmonies -- well, everybody knew this was the real thing. Fashionable, no. But fashions change.