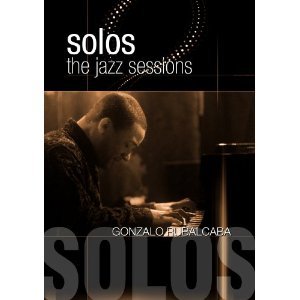 Now that jazz is dead, we've got ever more opportunities to weep over its corpse in video form, the most recent examples being "The Jazz Sessions: Solos" from Original Spin/MVD and the latest batch of "Masters of American Music" DVDs from Naxos/Medici Arts.
Just joshin' about jazz's demise; the music is merely hibernating during this long, cold economic/cultural winter. And it's encouraging that at least some of the documentation is based upon jazzfolk who're still breathing.
Like Gonzalo Rubalcaba, for example. In his mid-40s, the Cuban pianist has scored the full Canadian-TV "Solos" treatment, where he gets stuck in front of red draperies on a cathedral-like stage, and has the opportunity to compete with a proudly Liberacean chandelier for your attention. He wins, and so did Canadian Bravo!, which caught the man at an opportune moment -- when he had recently recorded a solo album, and when he was reconnecting with the music of his youth. I saw him during this time, and his focused intensity was palpable, as was his emotion. On the video, one might take "Besame Mucho" literally, as Rubalcaba bends over the keys close enough to kiss them, his face registering naïve ecstasy, bereaved love or twisted pain, expressive to the point where he even seems to be blinking back tears. His playing flows with joy and affection, spontaneous and subtle, his dissonances plentiful but playful. On the 2006 tour, he maintained a complete and serious silence; here, he's required to say a few words, but as in the other DVDs, the remarks are brief and don't interfere with the music's flow. Art doesn't get much more personal than this.
Another "Solos" score is pianist Andrew Hill, who died in 2007. The camera captures the great jazz composer's gnarled hands and impassive face as, reading the music from a scrap of paper, he blends the most elegant beauty with the densest harmonic condensations. "Melody is a rhythm," he says. Yes! Kind of a light-bulb moment.
Grizzled coolfather Lee Konitz is still going at 82. It's great to hear his alto sax wandering through an extremely tangential "Cherokee" or buffing up a touch of bop on "Subconscious-Lee." And it's a treat to hear him do a vocal scat or play a reedless percussion solo on just his pads. But sax is not the best vehicle for a pure solo unless you're listening to, I dunno, John Coltrane, and I don't think even he ever did an unaccompanied concert improvisation for an hour at a time.
That's three "Solos" down from the Canadian TV series and -- with entries coming from the well-chosen likes of John Abercrombie, Blood Ulmer and Bill Frisell -- only 36 to go!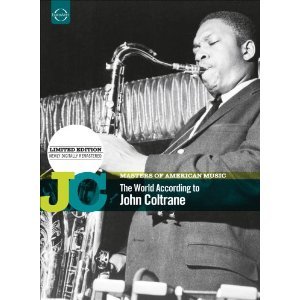 I've written before about another series of DVDs drawn from a TV project: Toby Byron's "Masters of American Music," first aired 20 years ago. And I can't go without mentioning the new slate of four releases, devoted to Sarah Vaughan, Count Basie, the history of the blues, and . . . John Coltrane.
The value of "The World According to John Coltrane," rich in archival live performances (including some hair-raising complete songs), has been diminished somewhat by the 2007 Jazz Icons Coltrane DVD, which contains better-preserved versions of much of the same material. Still, this episode (directed by Robert Palmer and Byron) hits some relatively unexplored notes: Coltrane's roots in the black church, his debt to the spiritual musics of India and Africa, and, as explained by avant composer LaMonte Young, his influence upon modern minimalists such as Terry Riley and Philip Glass.
Comments by Wayne Shorter about Trane's physical endurance and by Jimmy Heath about the saxophonic culture he inspired augment time-capsule footage of the subject with Dizzy Gillespie, Miles Davis and Eric Dolphy. You get a well-rounded portrait of the man here, with special insight from the serene, well-considered words of Cotrane's second wife, the fine pianist Alice Coltrane, who died in 2007. When she first heard the man play, she says, "I felt something beyond the musical realm." Amen.