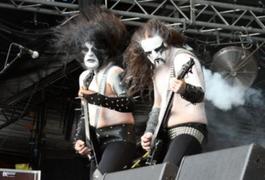 Fri. April 2 -- The resurrection of Norwegian black-metal originators Immortal has been a serious story for the last few years. The band's corpsepainted pagan-warrior non-Satanism has traveled rough terrain, with an original guitarist convicted of church burning, a former drummer killing himself, and key songwriter-guitarist Demonaz unaxed with tendinitis. They broke up in 2003, but Demonaz and frontcadaver Abbath couldn't put down the sword, continuing their tradition of strong songwriting with the band I in 2006. So what the hell -- last year Abbath and Demonaz (the latter now dedicated mostly to lyric writing) brought back the insanely turbulent drummer Horgh and bassist Apollyon for a new Immortal album, "All Shall Fall." Complete with a metal tango and a metal waltz, it's yet another testament to Abbath's songcraft. And the record's unusual sound, an artfully dense murk unrivaled since WASP's "KFD," marks yet another peak for Hypocrisy spearhead and top knobsman Peter Tägtgren, who's established himself as modern metal's greatest producer. (Check out his laser dynamics on Children of Bodom's "Blooddrunk," for example.) Set Immortal's dumb early videos to Benny Hill music all you want, but Abbath's sickly scream and masterful riffmanship can't be disputed. The Hollywood ghouls will be out in force tonight. At Avalon, 1735 Vine St., Hollywood 90028; doors 7pm; $50; (323) 467-4571; www.avalonhollywood.com; www.livenation.com.
Fri. April 2 -- Adam Rudolph offers a special recommendation for Michiko Hirayama singing music written for her 40 years ago by Giacinto Scelsi. The program blurb name-drops Ligeti as a composer who acknowledged Hirayama's influence, and in fact you can hear some of that spooky "Space Odyssey" feel in this YouTube clip. At REDCAT, 631 W. Second St., downtown 90012; 8:30pm; $20; www.redcat.org.
Fri. April 2 -- I See Hawks in L.A. eat peyote and alternate sets with Old Californio for your moderrin countree enjoymint. At the Redwood Bar & Grill, 316 W. Second St., downtown; 10pm onward; cheap; (310) 245-0273; www.theredwoodbar.com.
Fri.-Sat. April 3-4 -- For straight jazz with a nicely polished edged and an international rep, you could hardly improve on this quartet of pianist Kenny Werner with saxist Chris Potter, drummer Peter Erskine and bassist Johannes Weidenmueller. At Catalina Bar & Grill, 6725 Sunset Blvd., Hollywood 90028; 8 & 10pm; $20-$25; (323) 466-2210; www.catalinajazzclub.com.
Fri.-Sat. April 3-4 -- I couldn't help but notice Walter Smith III's golden tenor tone and flexible swing on Matt Slocum's latest album. Smith leads his own quartet here. At Café Metropol, 923 E. Third St., downtown 90013; 8pm; $10 cover, $10 minimum; (213) 613-1537.
Sat. April 3 -- Jazz concert time, and for folks who want to throw away old maps, Wadada Leo Smith's Golden Quartet +1 hold secret surprises. The now well-practiced quartet is trumpeter Smith with the ever-more-awe-inspiring pianist-synthman Vijay Iyer, bassist John Lindberg and drummer Pheeroan akLaff; the +1 is Smith protegée and local sparkplug pianist Motoko Honda. Read my new interview with Smith here. At Barnsdall Art Park, 4800 Hollywood Blvd., Hollywood 90027; 8pm; $25; buy tickets here or just show up.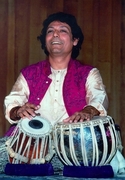 Sat. April 3 -- Dig that classical Hindustani music. Here you've got tabla master Pandit Swapan Chaudhuri with the CalArts Tabla Ensemble, and also duetting with sarod master Ustad Aashish Khan. At REDCAT, 631 W. Second St., downtown 90012; 8:30pm; $20; www.redcat.org.
Sun. April 4 -- Easter Sunday, time to meditate on mysteries, and these guys'll tune you right in. Renowned keyboardist Wayne Horvitz does a pure improv thing this time with saxist Briggan Krauss and percussionist Le Quan Ninh. And Such Simple Ears, the duo of multiblower Dan Clucas and percussionist Brian Christopherson, encourages telepathy. At Center for the Arts, 2225 Colorado Blvd., Eagle Rock 90041; 7pm; $10; (626) 795-4989.
Sun. April 4 -- Exhausted Prayer make a great combination of prog-metal intelligence and low-lying rock thrust. With all their pals -- It's Casual, Behold the Monolith, etc. Club My War at the Dragonfly, 6510 Santa Monica Blvd., Hollywood 90038; doors 7:30pm; FREE; (323) 466-6111; www.thedragonfly.com.
Wed. April 7 -- Polish trumpeter Tomasz Stanko, who's built a sizable audience with his beautiful, open-hearted jazz, has put together a new European quintet. Good sound in this high-tech room, not as tough as you'd think to locate in the wilds of Hollywood. A presentation of the Jazz Bakery's Movable Feast at the Musicians Institute, 1655 N. McCadden Place, Hollywood 90028; 8pm & 9:30pm; $25; www.jazzbakery.org.
Wed. April 7 -- The duo of Nick Mancini & Otmaro Ruiz have formed quite an amazing vibraphone-piano partnership, truly sympathetic and challenging as hell. Mancini says he'll be denting his new marimba tonight as well, and he's got some new tunes. Check out the highly reputed new venue. At the Blue Whale on the third floor of Weller Court Plaza, south of East First Street between South Los Angeles Street and South San Pedro Street, Little Tokyo 90012; 9pm-midnight; $10; (213) 620-0908.
Thurs. April 8 -- Jen Shyu is a challenging artist who guides dance and voice in uncharted directions. Read a review of mine here. At Café Metropol, 923 E. Third St., downtown 90013; 8pm; $10 cover, $10 minimum; (213) 613-1537; reservations recommended.
Thurs. April 8 -- Seems like pagan folk-metal is taking over the world, but if you want the heaviest, beer-gut-rockinest heave-ho, get down with Sweden's Amon Amarth. Plus the more wood-nymphy Eluveitie, and (hey, it's Easter time) Holy Grail. At House of Blues, 8430 Sunset Blvd., West Hollywood 90069; 8:30pm; $22.50; (323) 848-5800; www.ticketmaster.com.
Thurs. April 8 -- Want to be on TV? Revolver magazine's Golden Gods Awards will be broadcast on VH1 later, and meanwhile you get to watch a bunch of live rock stars like Rob Zombie, Fear Factory, Zakk Wylde and a million more do whatever they do at awards shows. At Club Nokia, 800 W. Olympic Blvd., downtown 90015; 6:30pm; $34; www.ticketmaster.com.

Read Brick Wahl's jazz picks in LA Weekly here, Don Heckman's jazz picks here and MoshKing's metal listings here.