Fri. April 30 -- Nick Mancini is even more full of original and exciting ideas than usual, so it's a good time to check into this happening venue with the vibesman's sextet featuring Katisse on flutes, John Tegmeyer on clarinet, Garrett Smith on trombone, Hamilton Price on bass and Zach Harmon on drums. At the Blue Whale on the third floor of Weller Court Plaza, south of East First Street between South Los Angeles Street and South San Pedro Street, Little Tokyo 90012; 9pm-midnight; $10; (213) 620-0908.
Fri. April 30 -- Geek-loved electric guitarist Michael Landau stretches out in a beefy fusion trio with bassist Abe Laboriel Jr. and drummer Mike Elizondo. At the Baked Potato, 3787 Cahuenga Blvd. West, Studio City 91604; 9:30 & 11:30pm; $20; (818) 980-1615; www.thebakedpotato.com.
Fri.-Sat. April 30-May 1 -- I've got a soft spot for prickly avant composers, and this two-day tribute to the music and influence of sound-obsessed '70s-'80s conceptualist Gérard Grisey looks pretty intriguing. At REDCAT, 631 W. Second St., downtown 90012; 8:30pm; $20; www.redcat.org.
Sat. May 1 -- The Los Angeles Piano Unit keeps the classical channels clear by dredging up little-played gems. The keystrokers are Motoko Honda, Misuzu Kitazumi and Masumi Urakami; the composers are Brahms, Chopin, Mozart, Poulenc, Copland, Barber and Honda. At Harbor College Music Recital Hall, 1111 Figueroa Place, Wilmington 90744; 8pm; cheap.
Sat. May 1 -- Something for every discriminating taste at the South Pasadena Eclectic Music Fest and Art Walk, keynoted at the Conservatory with a concert by David Lindley (from Kaleidoscope and Jackson Browne, playing many stringed instruments with genuine feel), The Nervis Brothers, Double Nought Spy Car, Moira Smiley & Voco, Wahid. At South Pasadena Music Center and Conservatory, 1509 Mission St., South Pasadena 91030; 5-10pm; $20; other good fest stuff for free at various regional spots beginning at 2pm; for full schedule check here.
Sun. May 2 -- I reviewed the very involving, abstractionistic Charles Sharp Quartet here. You also get Open Gate Theater, unfolding limitlessly as a duo tonight with instrumentalist-singer Will Salmon and cosmic percussionist Alex Cline. You like surprises? At Center for the Arts, 2225 Colorado Blvd., Eagle Rock 90041; 7pm; $10; (626) 795-4989.
Tues. May 4 -- Slayer drummer Dave Lombardo's trio Philm rocks again, with Vannacutt and all-star metalmucils Deathriders. At the Whisky, 8901 Sunset Blvd., West Hollywood 90069; www.whiskyagogo.com; (310) 652-4202.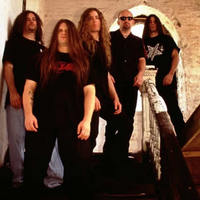 Thurs. May 6 -- Metal for the ages: the long-running latest edition of bassist Alex Webster's original deathsters Cannibal Corpse, plus the high-quality dual-guitar attack of Skeletonwitch and a couple more. At House of Blues, 8430 Sunset Blvd., West Hollywood 90069; 8pm; $18; (323) 848-5800; www.ticketmaster.com.
Thurs. May 6 -- Drummer Stanton Moore's organ trio stirs up the Cajun blues funk in the limited time when Louisiana still exists. At the Mint, 6010 Pico Blvd., LA 90035; 8pm; $18; (323) 954-9400; www.themintla.com.


Read Brick Wahl's jazz picks in LA Weekly here, Don Heckman's jazz picks here and MoshKing's metal listings here.