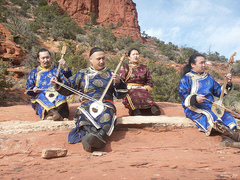 Fri. April 9 -- I dunno what Persia and Tuva have in common other than some mountainous regions and a few visits from Genghis Khan, but the combination of The Lian Ensemble and Chirgilchin makes good sense on their new "The Window." You get melancholy drones, fierce pickin' on exotic stringed instruments, and singing ("throat" and adenoidal) that cuts through yer sack of meat better than Klaus Meine. Heavy cultural dose. And did somebody say no charge? At CalArts' Wild Beast Pavilion, 24700 McBean Parkway, Valencia 91355; 8pm; FREE.
Fri. April 9 -- Yes-ter-day, feel like running away. It's Terry Reid, one of the finest singers and songwriters to get hyped in 1967 and ignored after 1974. At McCabe's, 3101 Pico Blvd., Santa Monica 90405; 8pm; $20; (310) 828-4497; www.mccabes.com.
Fri. April 9 -- You could ignore the songwriting and singing of Moris Tepper, too, if you want, but you'd miss out on a wonderfully dark melodic personality and some attractively rough-grained guitar textures. He says he keeps tripping over the four-leaf clover. Maybe PJ Harvey will show up on live video feed. In the bar of Taix Restaurant, 1911 Sunset Blvd., Silver Lake 90026; 11pm; free; www.taixfrench.com.
Fri. April 9 -- The next wave of fusiony metallic passion: Trio Non Grata. In the Green Room at the Musicians Institute, 6755 Hollywood Blvd., Hollywood 90028; 8pm; FREE.
Fri. April 9 -- Opeth's growling Swedish death-art grandeur has hooked the masses. Must be why this stop of their 20th-anniversary tour has sold out. At the Wiltern, 3790 Wilshire Blvd., LA 90010; (213) 388-1400; www.ticketmaster.com.
Sat. April 10 -- Listen to music whilst digging into your wallet to buy the Cahuenga Peak for the city so developers won't build a lot of crap around the Hollywood sign. Performers include Kim D & the Killer Bees, The Honorable DHC, Doozy and Hoopalicious. Bake sale, too. At Lake Hollywood Park, 3204 Canyon Lake Drive, Hollywood 90068; 11am.
Sun. April 11 -- The Israeli & American trio Maetar bring the groovin Miles funk-rock with more originality than anybody else; I read it in the Book of Wisdom. On a multiband bill at AC Supper Club, 625 Lincoln Blvd., Venice 90291; 10pm; $8; 21+.
Sun. April 11 -- Jessica Catron and David Brummel invite all comers to an audience-participatory shape-sing, involving group resonances based on old American gospel hymns. Not exactly the same ol' thing. At Machine Project, 1200-D N. Alvarado St., L.A. 90026; 8pm; FREE.
Sun. April 11 -- Spiraling improvisations & words with the quartet of drummer Garth Powell, saxist Johnny Gibbs, trombonist Michael Vlatkovich and guitarist Tom McNalley; first set has internationally renowned poet Dottie Grossman plus Vlatkovich, McNalley and drummer Rich West. At Frannie & Tom's storefront studio, 4763 York Blvd., Highland Park; 7-9pm; $5.
Sun. April 11 -- S.F. gallop-metalers Light This City top a bill that includes local blackeners The Funeral Pyre. At Ultraviolet Social Club, 2662 Lacy St., LA 90031 near the junction of the 110 and 5 freeways; doors 8pm; $; all ages; strict ID for alcohol; (323) 227-0078; www.8thdaytix.com.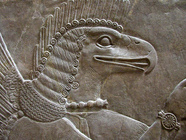 Mon. April 12 -- The latest lecture series by The California Museum of Ancient Art is a five-part blowout on Babylon, April 12 & 26 and May 3, 17 & 24. You got that? I ain't repeating it. At Wilshire Boulevard Temple, 3663 Wilshire Blvd., L.A. 90005; 7:30pm; $22.
Tues. April 13 -- Check out this quite amazing all-star jazz trio: atmospheric guitarist Bill Frisell, beauty-challenging pianist Jason Moran and alternate-kilter drummer Kenny Wollesen. They all come from different directions, yet I can hear them together. At Largo in the historic Coronet Theater, 366 N. La Cienega Blvd., L.A. 90048; 7:30 & 10pm; $35 & $25; (310) 855-0350. www.largo-la.com.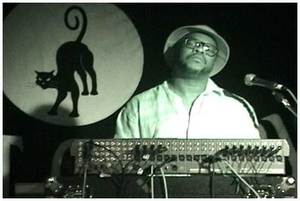 Wed. April 14 -- Hold on to yer electrodes, dub fans, cuz no less a legend than The Mad Professor is gonna be pulling the reggae rug out from under that imbalanced brain of yours. He's a Jamaican original, rockin the console for 30 years. Can't believe it's this cheap, and the house DJs alone are worth the price of admission. Dub Club at the EchoPlex, 1154 Glendale Blvd., Echo Park 90026; doors 9pm; $10; www.attheecho.com.
Wed. April 14 -- Frontman Rob Cavestany continues the not-just-thrash tradition of melodic metalers Death Angel, billed with the topnotch technical mastery of Arsis. A FREE Scion presentation at the Roxy, 9009 Sunset Blvd., West Hollywood; RSVP here.
Wed. April 14 -- The Blast Phemy series rounds up a bunch of fine outside musicians to gambol in the fields of multimedia. Talkin' about Luciano Chessa soundtracking Rick Bahto, Susan Allen soundtracking Anne Bray, and animation vs. banjo from Jim Ovelman. A presentation of New Town and Filmforum at Cinefamily, 611 N. Fairfax Ave., L.A.; 8pm; $13; (323) 655-2510; buy tickets here.
Wed. April 14 -- Drink and smoke to properly appreciate the psychedelic reggae jazz of Thelonious Dub. At Coda Bar Lounge, 5248 Van Nuys Blvd., Sherman Oaks 91423; 9pm; cheap; (818) 783-7518.
Thurs. April 15 -- Don't take it for granted that Hans Fjellestad brings you the best of the outsidest electronic and free-jazz world, cuz God could take it away. This month it's the all-star Anthony Shadduck Quartet featuring the bassist plus windman Vinny Golia, guitarist Tom McNalley and drummer Alan Cook; Taiwanese adventurer Aiyun Huang; and electro dronester Gregory Lenczycki with Jonathan Silberman, Emily Hay, Jorge Martin and Ted Byrnes. ResBox at Steve Allen Theater, 4773 Hollywood Blvd., Hollywood 90027; 8pm; $10; BYO.

Read Brick Wahl's jazz picks in LA Weekly here, Don Heckman's jazz picks here and MoshKing's metal listings here.