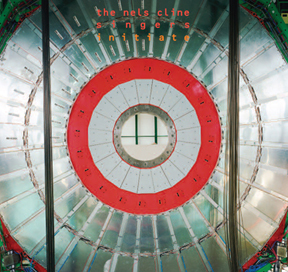 The Nels Cline Singers, "Initiate" (Cryptogramophone 2-CD)
The scheduling for the release of "Initiate" showed great faith. If the experiments a few weeks ago at Geneva's Large Hadron Collider (pictured on the CD package) had caused the cessation of earthly existence as we know it, Nels Cline's latest and best recording would never have arrived. And that would have been too bad.
We are accustomed to Cline doing practically everything. Over the course of 30 years he has jump-started Los Angeles chamber jazz with Quartet Music, made a lot of explosive guitar-trio recordings, played rad pop with Bloc and the Geraldine Fibbers, jammed hearty rock with Wilco, made abstract electronic incursions with the likes of G.E. Stinson and Devin Sarno, whipped up neoclassic jazz with Vinny Golia and with his own twin brother, Alex (among many others), and collaborated in just about every type of musical adventure, from C&W to world synthesis. His last Cryptogramophone album, "Coward," consisted solely of Cline overdubbing about a thousand tracks on about a hundred instruments.
"Initiate" (multiple meanings) represented an opportunity for Nels Cline to do two main things. First, he got to craft a layered, detailed studio album with the Nels Cline Singers, his long-running nonvocal unit with drummer Scott Amendola and bassist Devin Hoff. Second, he got to document the Singers wingin' it at a typical live performance in San Francisco. He took full advantage.
Cline wants you to hear "Initiate" as a cycling, supercolliding whole, an experience you won't fully grasp on the first listen, or the tenth. He begins and ends it with the same kind of "Baby You're a Rich Man" backward conjurations, and between, he paces it for maximum contrast of all his primary obsessions -- groove, noise, beauty, turbulence, transcendence and flow.
The first half, for instance, moves from funky Miles slapdown and wah-wah expostulations ("Floored"), through butterfly marimba unfolding into semistraight jazz and Euro-psychedelia ("Divining"), shimmery keys draped with guitar gauze ("You Noticed"), and riffy space truckin' ("Red Line to Greenland"). The rest makes port at India, Jamaica and Brazil, with Cline occasionally taking the helm in his Carlos Santana hat. The track most like his previous work has to be "Mercy (Procession)," a fatal march that slowly builds mass into a flayed, screaming climax -- very, very heavy. You may weep, but you'll stay awake.
The live disc wields plenty of weight as well, especially via the two-chord Sonic Youth violence that concludes "Thurston County." Live performance opens the widest window onto the Singers' spontaneous dynamic; attributions to Carla Bley or Joe Zawinul represent not so much covers as inspirations, a true tribute to the spirit of jazz. You hear Amendola's role as both titanic groove king and electronic spark plug; at any given time the egoless Hoff knows whether to pull the whole thing together by launching an indestructible electric bass riff or by engaging Cline in a back-porch conversation on acoustic standup.
As for Cline himself -- no other guitarist welds this kind of immediate connection between instrument and emotion. His enormous range, technical facility and mastery of effects stand ready to express every passion, and it's plain he's got many. To meet this easygoing, humorous dude, you'd never think he would be found threshing such extremes of intensity, sensitivity and darkness.
We all know those extremes; we just don't show the world. I've said before that Cline's music scares me, and now I know why: It's the same fear I get from looking in the mirror.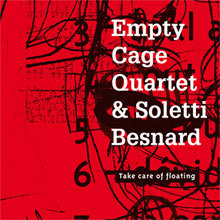 Empty Cage Quartet & Soletti-Besnard, "Take Care of Floating" (Rude Awakening)
L.A.'s Empty Cage Quartet keep gnawing at the edges of jazz, reshaping it in ways that are often appealing and always surprising. For this effort, they scored an American grant and a French one to visit France and collaborate with guitarist Patrice Soletti and clarinetist Aurélien Besnard. Nice use of the expanded palette, dudes.
The exotic harmonies composed by trumpeter Kris Tiner have always stood at the front of MTKJ's landscape; he serves up tart puffball charts on his "Only As Evidence," for instance, and sustained migraines on his "Carry the Beautiful." For the excellent introductory numbers, windman Jason Mears sublimates his twisted riffs to a beautifully dark Spanish fanfare a la Charlie Haden on "Moths to the Flame" and settles into a nearly danceable push-push slosh on "Take Care of Floating." Speaking of rhythm, the biggest revelation throughout is the interplay of Paul Kikuchi's gentle drums with Ivan Johnson's warm and enveloping bass -- with their insistent and ever-changing application of accents, these gents are redefining the very meaning of a groove, while nevertheless making you feel the beat.
Though Soletti's spider-web electric ax makes the least sonic impact, he contributes one of the best songs, the drony "To Be Ornette To Be," set up by gorgeous contrabass/bass-clarinet low sustains and garnished with a strange & tangy lead-guitar tone. For sheer fire, the reeds of Soletti and Mears match each other blow for blow.
A fine album, and specially adapted for your iPod with the inclusion of all the tracks both as CD .wav files and in download-ready .mp3 format. Suitable for the future.