Fri. May 14 -- Conceptual art with suspicious contributions by local avant musicians: Susan Silton's Crowing Hens explore women and whistling -- a whistling sextet with arrangements by cellist Jessica Catron and support from drummer Joe Berardi and guitarist Jeremy Drake. At LAX Art Gallery, 2640 S. La Cienega Blvd., LA 90034; 8:30pm sharp, early arrival advised; cheap; www.laxart.org.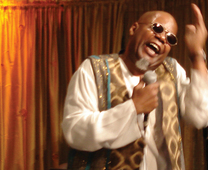 Sat. May 15 -- Dwight Trible's voice has the gyre of an African falcon; pianist John Beasley taps the roots of jazz rhythm and tradition. A presentation of the Jazz Bakery's Movable Feasts at Boston Court, 70 N. Mentor Ave., Pasadena 91106; 8pm; $25; students $15; free parking; www.jazzbakery.org.
Sat. May 15 -- Wanna be not bored by traditional and Latin jazz? Try the easygoing quintet of trumpeter Elliott Caine, with an especially appealing lineup this time featuring saxist Chuck Manning, pianist Mahesh Balasooriya, bassist Bill Markus and drummer Kenny Elliott. At Jax, 339 Brand Blvd., Glendale 91203; 9pm till late; no cover but consume; (818) 500-1604.
Sat. May 15 -- Boot some road apples with the down & natural country rock of Gary Eaton, Adam Maples and the gang in Kingsizemaybe. In the bar of Taix Restaurant, 1911 Sunset Blvd., Silver Lake 90026; 10:30pm; free; www.taixfrench.com.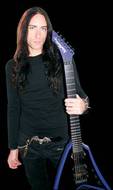 Sat.-Sun. May 15-16 -- Darkfolk bold enough to brave Pomona can hit California Metalfest this weekend. The Glass House lineup includes Misery Index and Cattle Decapitation on Saturday, Thick As Blood and First Blood Sunday. The pick of the fest is the Fox Theater on Saturday, which enfolds Arsis (pictured), Dying Fetus, Whitechapel and Fear Factory; on Sunday the Fox closes with The Faceless and Bleeding Through. Check it out here.
Sun. May 16 -- At 79, Sonny Rollins may not be a saxophone colossus anymore, but he's still one of those magic jazz stones you gotta touch before you die or he does. At Walt Disney Concert Hall, 111 S. Grand Ave., downtown 90012; 7:30pm; $50-$120, sold out I think; (323) 850-2000; www.laphil.org.
Thurs. May 20 -- Eclipse Quartet put their strings at the service of modern composers, this time Morton Subotnick, Zeena Parkins and some guy named Reynolds I don't know about. The quartet: Zeena relatives Sara and Maggie Parkins, plus Sarah Thornblade and Alma Fernandez. At Royal-T, 8910 Washington Blvd., Culver City 90232; 7:30pm; $12; $8 students; (310) 559-6300; www.royal-t.org.
Thurs. May 20 -- Hans Fjellestad keeps throwing outsider darts, this time bringing in percussionist Tatsuya Nakatani (abetted by trumpeter Kris Tiner and guitarist Jeremy Drake; read my review of one of his performances here), the electronics & cello duo Mem1 and sound designer Laura Escudé with DJ Fader. ResBox at Steve Allen Theater, 4773 Hollywood Blvd., Hollywood 90027; 8pm; $10; BYO.
Thurs. May 20 -- The quartet of vibraphonist Nick Mancini continues his Thursday-night stand; only one more this month. At the Foundry on Melrose, 7465 Melrose Ave., LA 90046; 8:30pm; no cover; (323) 651-0915; www.thefoundryonmelrose.com.
Thurs. May 20 -- I sure as heck ain't gonna 'pologize for being a slave to Nashville Pussy, cuz they rock as Southernly sweaty and and slutty as anybody. Four other bands open. At the Key Club, 9039 Sunset Blvd., West Hollywood 90069; doors 7:30pm; $18; 15+; www.keyclub.com; (310) 274-5800.

Read Brick Wahl's jazz picks in LA Weekly here, Don Heckman's jazz picks here and MoshKing's metal listings here.