Fri.-Sat. May 21-22 -- For remarkable beauty and meditative soulfulness, try the piano of Aaron Parks, going solo, which is a good way to hear him. At Café Metropol, 923 E. Third St., downtown 90013; 8pm; $15 cover, $10 minimum; (213) 613-1537; reservations recommended.
Sat.-Sun. May 22-23 -- Fuse your wallet to some chives and drop it in the slot for The Baked Potato 40th Anniversary Jazz Fest. Saturday's more radical lineup features Holdsworth-Pasqua-Haslip-Novak, Michael Landau Group, Steve Lukather, OHM, Chad Smith's Bombastic Meatbats (subbing for Volto), Scott Henderson, The Baked Potato All-Stars. On Sunday it's Larry Carlton, Lee Ritenour, Yellowjackets, Jazz Ministry, Don Randi & Quest, The Baked Potato All-Stars, The John Daversa Big Band. At the John Anson Ford Amphitheater, 2580 Cahuenga Blvd. West, Hollywood 90068; 2pm-midnight; $116-$146 per day; www.thebakedpotato.com.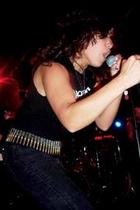 Sat. May 22 -- LA Weekly's Friday-Saturday LA Weekend includes, among other attractions, a Death Metal Afternoon starting at 3:30 Saturday with blast-furnace smelters Dreams of Damnation (featuring Jim Durkin and Loana dP Valencia, pictured), Professor and Dreaming Dead, and concludes with a 6:00 screening of the Norwegian-black-metal documentary "Until the Light Takes Us." At Saban Theater, 8440 Wilshire Blvd., Beverly Hills 90211; $12.50; full event lineup and tickets here.
Sat. May 22 -- Our psychedelic environmental storytelling country pals I See Hawks in L.A. open for the "gothic folk" of The Chapin Sisters. At McCabe's, 3101 Pico Blvd., Santa Monica 90405; 8pm; $15; (310) 828-4497; www.mccabes.com.
Sun. May 23 -- Organizational champion of the avant SASSAS raises funds at its annual Blast! with music by Marshweed, surround-sounder Languis and DJ Dave Muller, plus an art auction, Tom Recchion T-shirts and more. At a private home in Pacific Palisades; $50; find out where and buy tickets here.
Wed. May 26 -- Goatwhore excretes twisted-steel death-metal rasp along with The Cauterized, Torment ID. At The Blvd., 2631 Whittier Blvd., LA 90023; 8:30pm; $9.50; www.8thdaytix.com.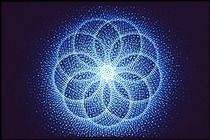 Wed. May 26 -- NewTown announces the latest BlastPhemy, with abstract James Whitney films (pictured) backed by percussionist Gregg Johnson; also Transvalue, featuring spoken-word artist Chuck Britt backed by trombonist Michael Vlatkovich and percussionist Dave Crigger. At Cinefamily, 611 N. Fairfax Ave., LA ; 8pm; $13; buy tickets here.
Thurs. May 27 -- Young pianist Randy Ingram's trio sprinkle original melodic jazz in the tradition and cover the Beatles, which is also in the tradition. At Café Metropol, 923 E. Third St., downtown 90013; 8pm; $10 cover, $10 minimum; (213) 613-1537.
Thurs. May 27 -- Last in a month of Thursdays from vibraphone vibrationist Nick Mancini's intensely beautiful modern ensemble; catch him now and you can say you saw him when. At the Foundry on Melrose, 7465 Melrose Ave., LA 90046; 8:30pm; no cover; (323) 651-0915; www.thefoundryonmelrose.com.

Read Brick Wahl's jazz picks in LA Weekly here, Don Heckman's jazz picks here and MoshKing's metal listings here.