Fri. May 7 -- Urban consciousness, country roots: I See Hawks in L.A. At the Redwood Bar & Grill, 316 W. Second St., downtown; (310) 245-0273; www.theredwoodbar.com.
Sat. May 8 -- CalArts celebrates the dedication of its Wild Beast Pavilion with an open-air concert featuring the stir-it-up world percussion trio of Randy Gloss, Houman Pourmehdi & Abbos Kosimov, plus David Roitstein's famous Latin ensemble. At CalArts', 24700 McBean Parkway, Valencia 91355; 8pm; FREE.
Sat. May 8 -- The Thrasho de Mayo Fest presents a helluva lotta bands headlined by Evil Dead, Fueled by Fire, Merciless Death, Warbringer, Bonded by Blood. At Ultraviolet Social Club, 2662 Lacy St., LA 90031 near the junction of the 110 and 5 freeways; 4:30pm; $18.50; all ages; strict ID for alcohol; (323) 227-0078; www.8thdaytix.com.
Sat. May 8 -- Co-leaders (along with Isis and Pelican) of the immersive textural big-beat modern rock dynamic/drone movement: Red Sparowes. At the EchoPlex, 1154 Glendale Blvd., Echo Park 90026; www.attheecho.com.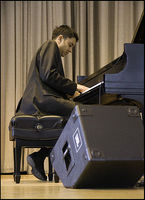 Sun. May 9 -- Damn, we're starting to see pianist Vijay Iyer everywhere these days, and deservedly so -- his playing with Wadada last month revealed an artist whose depth, freedom, technique and complexity have totally transcended his status a decade ago as just a distinctively "world"-influenced newcomer. History will regard him as one of the biggies of this time, so see him now. Here he joins The Idyllwild Arts Academy Orchestra in a varied program. At REDCAT, 631 W. Second St., downtown 90012; 8:30pm; $20; www.redcat.org.
Sun. May 9 -- Singer Julie Christensen can also speak, as she proves in an evening of spoken word with Dan Navarro and Jason Luckett. Library Girl at Ruskin Group Theater, 3000 Airport Ave., Santa Monica 90404; 7pm; FREE.
Wed. May 12 -- Classic Jamaican reggae: Johnny Osbourne & the Melodians backed by Yellow Wall Dub Squad. And keep in mind that the Dub Club DJs alone are worth the price of admission, so come early. At the EchoPlex, 1154 Glendale Blvd., Echo Park 90026; $15, or $10 before 10pm; www.attheecho.com.
Wed. May 12 -- Intelligent fusioneers Trio Non Grata play their last gig for a few months, covering King Crimson and Dave Holland as well as their original material, freaky sh*t that often rocks like a dumptruck. Club Squeeze at Universal Bar and Grill, 4093 Lankershim Blvd., North Hollywood 91602; 8pm; $7.
Wed. May 12 -- Conceptual/electronic pioneer Carl Stone partners with visualist Carole Kim and multidisciplinary performer Paul Outlaw for a spontaneous one-time-only event, "Under Glass." At Cinefamily, 611 N. Fairfax Ave., L.A.; 8pm; $13; (323) 655-2510; advance tickets recommended here.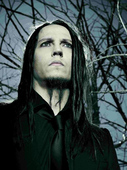 Thurs. May 13 -- Lest Peter Tägtgren's status as the most penetrating producer in metal overshadow his own talent as a guitarist and songwriter, let us not forget that his Swedish unit Hypocrisy remains one of the world's top metal bands -- hot, screaming and torrential. Playing 90 minutes to close an evening preceded by Scar Symmetry, Hate, Blackguard, Swashbuckle. At House of Blues, 8430 Sunset Blvd., West Hollywood 90069; 8pm; $24.50; (323) 848-5800; www.ticketmaster.com.
Thurs. May 13 -- Vibesman Nick Mancini's ace original quartet will get your musical imagination pingponging. At the Foundry on Melrose, 7465 Melrose Ave., LA 90046; 9:30pm; no cover; (323) 651-0915; www.thefoundryonmelrose.com.
Thurs. May 13 -- Guitarist David "Fuze" Fiuczynski (Headless Torsos, Kif) whacks out a more deliberate and accessible brand of highly electronified fusion with his band in a rare local appearance. At the Baked Potato, 3787 Cahuenga Blvd. West, Studio City 91604; 9:30 & 11:30pm; $20; (818) 980-1615; www.thebakedpotato.com.
Thurs. May 13 -- Queen of Ojai Julie Christensen (see Sunday) is still hanging out in our environs, this time in a songwriter showcase with Severin Browne, an unpretentious romantic tunesmith who ain't much like his brother Jackson. At Arnie's Café, 6864 Foothill Blvd., Tujunga 91042; 7pm; cheap or free.

Read Brick Wahl's jazz picks in LA Weekly here, Don Heckman's jazz picks here and MoshKing's metal listings here.