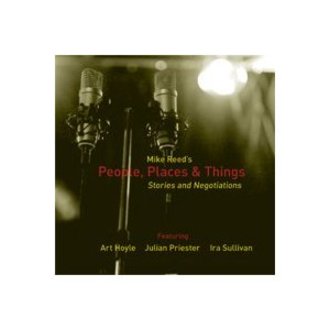 Mike Reed's People, Places & Things featuring Art Hoyle, Julian Priester & Ira Sullivan, "Stories and Negotiations" (482 Music)
Mike Reed did it right. Though only in his 30s, the drummer-bandleader has a special thing for the late-1950s jazz of his native Chicago, and he wanted to make something new that would bring back the vibe. So. In addition to three tunes written by himself and alto man Greg Ward, he picked five vintage numbers (including two from the Sun Ra book and one by Clifford Jordan), and thought out the arrangements with care. To augment his younger People, Places & Things quartet, he invited trombonist Jeb Bishop and three veterans: tenorist Ira Sullivan, trombonist Julian Priester and trumpeter Art Hoyle, the last two of whom played with Ra. He recorded the album at an outdoor festival in Chicago itself, a city that feels its history. Having left nothing to chance, he captured the magic.
And the period is worth recapturing. Before large-ensemble jazz slipped into virtual extinction, a few practitioners were pulling some wild twists out of the form, retaining the swing while hinting at the extreme reconstructions of the imminent mid-'60s. Take Charles Mingus' "Mingus Revisited," for instance, or Sun Ra's "Fate in a Pleasant Mood," or the reharmonized extrapolations of swingmaster Duke Ellington's live albums.
Fear no culture clash: The mix of younger and older musicians on "Stories and Negotiations" displays none of the stiff artificiality that often results when folks endeavor to be reverent. Reed's drums whisk things along. On upright (I think) bass, Jason Roebke rocks the house, full and loud in ways that '50s recording technology didn't permit. And in terms of solo personality, it ain't easy to distinguish the aesthetics of Bishop (trombone), Ward (alto) and Tim Haldeman (tenor) from their graybeard mates, with whom they frequently alternate or harmonize. Gratitude seems to flow in both directions.
The mood? Relaxed yet focused. Flowing smartly from tune to tune, Reed might set you up with a free-jazz lullaby, a World Saxophone Quartet-style percussionless jam or a freeform soundbending Priester solo, but he usually makes an energetic transition into genuine swing, urban street sophistication or a jumping, thumping blues walk. You can hear the summer throng clapping in appreciation. And, even though they didn't know they were witness to one of the year's best jazz documents, you can almost see them smiling.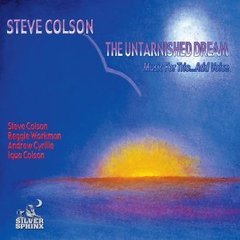 Steve Colson, "The Untarnished Dream: Music for Trio . . . and Voice" (Silver Sphinx)
Out of Chicago's AACM by way of Newark, Adegoke Steve Colson is an early-'70s revolutionary who conquers evil with the beauty of his pianistics. Along with vocalist Iqua Colson (on four songs) and the deeply accredited '60s-rooted duo of drummer Andrew Cyrille (Cecil Taylor) and bassist Reggie Workman (John Coltrane), he's keeping the dream alive.
In the notes, longtime cohort Amiri Baraka calls Colson's execution "bright and articulate," to which I'll add "original" -- for a man of his time, he's unusually concerned with melody and flow, and he's got an idiosyncratic though natural sense of rhythm. You can hear Cyrille and Workman adjusting to that individuality on the optimistic opener, "Circumstantial": Where exactly is the beat supposed to land? Their brilliant solution throughout is to open up the field with wonderful flexibility, as Cyrille's always delicate and complex cymbals suggest a range and Workman's huge earthworks provide a polymorphous foundation. It's like unconscious, fleshly breathing.
The settings can be abstract, jungly or pretty -- there's even an autumnal waltz. The common thread is the way these three interact, full of surprises and contrasts. Iqua represents the wild card, interjecting elements of irony and astringency in a leaping, virtuosic voice that falls halway between June Tyson (Sun Ra) and Iren Aebi (Steve Lacy).
Steve Colson doesn't record a lot; "The Untarnished Dream" is a fine place to pick up on this distinguished missing link.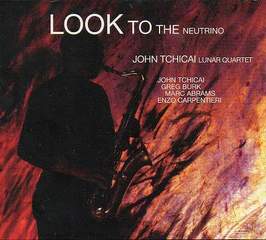 John Tchicai Lunar Quartet, "Look to the Neutrino" (ZeroZeroJazz)
Since tempering eruptive '60s recordings by Albert Ayler and John Coltrane with his more linear alto sax, John Tchicai has made a number of changes -- of location (East Coast to West Coast, now in France), of music (Wadada Leo Smith's Yo Miles! and electronic forays) and of instrument (he now plays tenor and flute). Here, the lanky Dane works out with a wide-ranging Italian-based quartet.
Skewing riffy, bluesy, free, breezy, drony, comic and bucolic, "Look to the Neutrino" centers itself with a general attitude of zenlike stasis -- constant circular motion, as if to say that everywhere is here. The players all connect. Enzo Carpentieri's drums give off a scent of busy relaxation. Marc Abrams' bass pulls with taffy thickness. On piano, steady Tchicai collaborator Greg Burk (not this writer) makes doom, bloom and abstraction go down with equal sensuality.
Though the record consistently involves, its best moments come late, with the African bass-flute call-response of "Flute Calling," the dark gospel spirituality of "Lost Time" and the ghostly union of two flutes and bowed bass on "Tau." Tchicai breathes through his tenor like his old alto, with a distinctive dark, woody sound and an ear for improvisational clarity. And Stefano Amerio's production follows suit -- punchy, yet with a luxurious atmosphere.
Look to the neutrino? Okay, just point me at it.