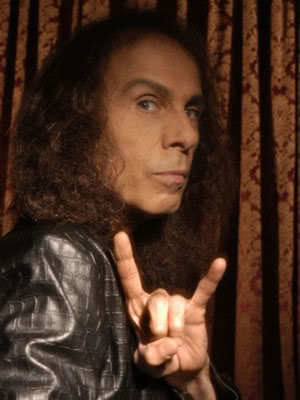 The first time I saw Ronnie James Dio sing was when, as a child, I snuck into a dance at Cross Keys High School in Atlanta in 1972. He sang and played bass in his band The Elves, who covered songs by Led Zep, Black Sabbath, Faces, etc. This was probably during the time that, as Elf, they were recording their first album of original music in Atlanta with Deep Purple's Roger Glover and Ian Paice producing. After they played, I went up to tell Dio I owned the same kind of shirt he was wearing . . .
I didn't make the connection between that band and Elf until decades later, but on August 26, 1974, I saw Elf open for Deep Purple and Aerosmith at Dillon Stadium in Hartford, Connecticut. They were completely unknown but made quite an impact. As a thick black cloud hung over the stage, with droplets of rain just starting to come down, Elf ripped through their tight hard-rock boogie flawlessly. Ronnie's voice was HUGE. When a precisely thrown Frisbee threatened to knock the cymbal stands over, he nonchalantly batted it out of harm's way without missing a single lyric. When Elf's set was over, the promoter announced that if it started to rain and the show was canceled, everyone could come back the next night and all three bands would play. That brought a roar, as it meant seeing Elf again. (I was one of those hoping it would rain.)
Not another drop fell that night, and I never saw Elf again, but I now had a favorite singer. A year or so later I was reading Circus magazine in a drugstore and came across a paragraph that I had to read over and over. My favorite guitarist, Ritchie Blackmore, was quitting Deep Purple and forming a new band with the members of Elf! I actually went back to the store on subsequent days to reread that paragraph. My favorite guitarist and singer in the same band! To this day, that is the most anticipation I've had for a new album, and it certainly delivered ("Man on the Silver Mountain," "16th Century Greensleeves," etc.). That was followed by the "Rainbow Rising" album a short time later (the band then featuring a revamped lineup with only Ronnie remaining from Elf). Ronnie was now a star, and on July 3, 1976, I had the privilege of seeing Rainbow on their first tour, at the Casino Arena on the boardwalk in Asbury Park, New Jersey. It's still the loudest show I've ever attended, and I remember the rainbow that arched above the stage was so large that the "end of the rainbow" was going out one of the exits!
Fast-forward now to 1996: Greg Burk (I think we all know who he is) was going to interview Ronnie for an L.A. Weekly article just as Dio was about to release a new album and start a tour. I went along as a "technical consultant" (yeah, right). The interview was on a Thursday, which is also the day that the Weekly is distributed. I have many memories of that day, and the first thing I remember now is having the horrible thought that L.A. Weekly would list the first show of the tour later that week along with a snarky comment, as they usually did with heavy-metal or pop-rock bands. The concern was that Ronnie would then read it, be annoyed and possibly cancel the interview. We picked up a copy on the way; I found the concert listings and read aloud: "Gas up the Geo, We're going to Dio." No problem.
We met up with Ronnie at a Valley rehearsal studio with the rest of the band. Everything you've heard about the man was true. Friendly, humble, down to earth . . . not that I was surprised. I still have the audiotape of the interview. What DID surprise me was a comment Ronnie made, something about the fact that he had experienced success and that currently times were different. I guess I figured that recording something like "Angry Machines" meant success, no matter who was buying it at any certain time. I wish I'd had my picture taken with him that day. The L.A. Weekly photographer was shooting, but I didn't want to feel like a tourist.
I ran into Ronnie a few times since then. Always engaging, always gracious. Once he walked up to me in a lobby at a music awards show and said, "Hey, we're the only two normal-looking people here!"
As I count in my head right now, it's been 17 times I've seen Dio perform, including last August at the Greek Theater with Heaven & Hell. My CD collection has its own Dio Wing, which includes the three Elf albums and a recording of the Elves playing those cover songs live. There's long been a rumor of an Elf live album from 1974, and I've even spoken with people who claim to have heard it. Still hoping for that one.
I feel sorry for people who don't "get" Dio, but I understand. Maybe someone would feel sorry for me for not "getting" clogging music. Dio's delivery has been the subject of mockery, but the truth is, most of the time when someone attempts to sing like Dio, it IS funny.
How sad that Ronnie James Dio has left us at a time when he was at the top of his game. Mentally sharp, physically strong, in great voice and reunited with the Black Sabbath guys, he could have continued at least another decade. I also find it very sad that he was unable to record Parts 2 & 3 of his "Magica" concept trilogy (Part 1 came out in 2000). An Elf reunion was even being talked about.
I imagine that fans all over the world played Ronnie's music on Sunday. I felt compelled to do the same, but it occurred to me: That would make it like any other day. One song kept going through my head until I finally gave in. It was the title cut from Dio's "Strange Highways" (yep, a '90s "unsuccessful" release):
It's a crazy world we live in
And I'm leaving it today
For another institution
Where crazy people play
Every time I climbed the mountain
And it turned into a hill
I promised me that I'd move on
And I will.

Some of the memorable shows:
The Elves ('72 Cross Keys High School, Atlanta)
Deep Purple, Aerosmith & Elf (8/24/74 Hartford)
Rainbow (7/3/76 Asbury Park)
Dio ('96 Ventura Theater), "Angry Machines" tour opener
Dio ('97 Billboard Live), ran into Ronnie at the Rainbow after the show
Dio ('00 Ventura Theater), "Magica" tour opener
Dio, Lynch Mob & Armored Saint (2/01 The Rave, Milwaukee)
Deep Purple, Scorpions & Dio ('02 Marcus Amp, Milwaukee)
Deep Purple, Scorpions & Dio ('02 Greek Theater), tour finale
Ian Gillan ('06 HOB Sunset), Ronnie sang "Smoke on the Water" with Ian
Heaven & Hell, Megadeth, Machine Head (4/25/07 Los Angeles Forum)
Judas Priest, Heaven & Hell, Motorhead, Testament (8/08 Glen Helen)
Heaven & Hell (8/11/09 Greek Theater, Los Angeles)
GREG BURK ADDS: I met Dave in 1977, when he was about to be kicked out of his apartment. There was almost nothing in the place except a phonograph spinning Rainbow's "On Stage." If not for Dave's persistent efforts, I still wouldn't "get" Dio. RJD has enriched my life; may he rest in peace.
Read the abovementioned 1996 Dio interview here.