Fri. June 25 -- Dreams of Damnation keep ya in touch with the progressive thrash taproot. I wrote a bit about one of their shows recently here. At the Joint, 8771 W. Pico Blvd., L.A. 90035; 10:30pm; $12; (310) 275-2619.
Fri. June 25 -- Dean Chamberlain (Motels, Code Blue, The Honorable DHC) goes solo acoustic, dude. At Crane's Hollywood Tavern, 1611 N. El Centro Ave., Hollywood 90028; 9:30pm; free.


Sat. June 26 -- Danzig never fails to deliver the Stygian steam; I review the new "Red Deth Sabaoth" here. With All Shall Perish, Toxic Holocaust, DJ Fred Sablan. At L.A. Live's Club Nokia, 800 W. Olympic Blvd., downtown 90015; bands 8:30pm; $26; www.ticketmaster.com.
Sat. June 26 -- The quartet of Ted Byrnes, Ari DeSano, Steuart Liebig & Glenn Bach (drums, accordion, bass, electronics) wishes the City of West Hollywood an abstract 25th birthday by improvising over Byrnes & DeSano's structured graphic score. A SASSAS event at Kings Road Park Pavilion, 1000 N. Kings Road, West Hollywood 90069; 5pm; cheap or free; www.sassas.org.
Sun. June 27 -- Byrnes & DeSano (see above) are special guests of SASSAS's SoundShoppe, where experienced and novice sound artists can sign up at 12:30 and jam together for an audience at 1pm. At Center for the Arts, 2225 Colorado Blvd., Eagle Rock 90041; 1-4pm; free; www.sassas.org.
Sun. June 27 -- Funky and jagged yet melodic, pianist Andy Milne & Dapp Theory (poet John Moon, saxist Aaron Kruziki, bassist Chris Tordini and drummer Kenny Grohowski) hit on a California-friendly version of creative jazz. At Royal-T, 8910 Washington Blvd., Culver City 90232; 7pm; $18; $12 students; (310) 559-6300; www.royal-t.org.
Mon. June 28 -- Outriders chap saddles with a triple bill: call & response from the trio of Dorothea Grossman, Michael Vlatkovich & Rich West (poetry, trombone, drums); noisy improv from the duo Buzz or Howl; flute-guitar showdowns from Emily Hay & Daryl Shaun. At Echo Curio, 1519 Sunset Blvd., Echo Park 90026; 9pm; $5; (213) 977-1279; www.echocurio.com.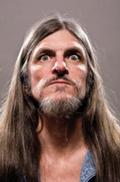 Tues. June 29 -- Ride with us now to those thrilling days of yesteryear's doom metal, talkin' about thin but heavy guitarist-singer Wino and St. Vitus. With Crowned by Fire and Stone Ax. At the Viper Room, 8852 Sunset Blvd., West Hollywood 90069; 8:30pm; $20; (310) 652-7869; www.viperroom.com.
Read Brick Wahl's jazz picks in LA Weekly here, Don Heckman's jazz picks here and MoshKing's metal listings here.