Fri. June 4 -- I See Hawks in L.A. play country/rock with heart and art. With the highly compatible high-harmonizin' Old Californio. At the Redwood Bar & Grill, 316 W. Second St., downtown; 10pm; (310) 245-0273; www.theredwoodbar.com.
Fri. June 4 -- Glenn Danzig appears on Fox News' "Red Eye With Greg Gutfeld," which airs at midnight tonight. Now you have a reason, other than comic relief, to watch Fox News.
Sat. June 5 -- La Habra's The Funeral Pyre have a new album of murky rattle; Exhausted Prayer provide more labyrinthine amazement than just about any other local metal band. Plus four more. At The Blvd., 2631 Whittier Blvd., LA 90023; doors 7pm; $9.50; www.8thdaytix.com.
Sun. June 6 -- These monthly Sunday Evening Concerts are always tiptop, but this one deserves special notice. The guitar-sax-guitar improv unit Feedback Wave Riders augments its core of Michael Jon Fink, Ulrich Krieger and Antony DiGennaro with Chas Smith (who builds his own elaborate metallophones and freaks out on pedal steel) and Vinny Golia (this whole scene's woodwind sine quo non). Whoa. Not only that, but you get the infinitely attuned drone & loop duo of Devin Sarno & G.E. Stinson, who've been reading each other's minds for decades. At Center for the Arts, 2225 Colorado Blvd., Eagle Rock 90041; 7pm; $10; (626) 795-4989.
Mon. June 7 -- Tomasz Stanko's pianist Leszek Mozdzer serves the gentle Polish melody on a silk napkin. A presentation of the Jazz Bakery's Movable Feasts at the Ivy Substation, 9070 Venice Blvd., Culver City 90232; 7:30 & 9:30pm; $25, $15 students; www.jazzbakery.org.
Mon. June 7 -- Dutch proto-deathsters Pestilence have been reunited for a couple years following a long layoff; jagged dissonance is their game. Plus Warbringer, Vital Remains and more. At Ultraviolet Social Club, 2662 Lacy St., LA 90031 near the junction of the 110 and 5 freeways; doors 7pm; $18.25; all ages; strict ID for alcohol; (323) 227-0078; www.8thdaytix.com.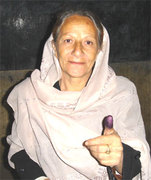 Tues. June 8 -- L.A. citizens: Don't forget to VOTE. Otherwise, you can't complain.
Thurs. June 10 -- Pianist Billy Childs has his own distinctive jazz-classical thing, very Southern California in its beauty and delicacy. Tonight he leads a chamber ensemble featuring saxist Bob Sheppard, guitarist Larry Koonse, harpist Carol Robbins bassist Hamilton Price and drummer Smitty Smith, as well as the Eclipse String Quartet, whom I reviewed this week. At REDCAT, 631 W. Second St., downtown 90012; 8 & 9:30pm; $30, students $15; www.jazzbakery.org.

Read Brick Wahl's jazz picks in LA Weekly here, Don Heckman's jazz picks here and MoshKing's metal listings here.