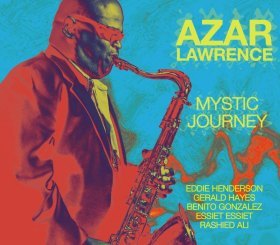 Azar Lawrence, "Mystic Journey" (FurtherMore)
Sealed in history as John Coltrane's last drummer, Rashied Ali couldn't have asked for a more natural connection in one of his final recordings than he forged with the quintet of L.A. saxist Azar Lawrence, a premiere Traneologist. And we could hardly get invited to a livelier party than this bristling, propulsive festival of elevation.
While "Mystic Journey" doesn't disguise its debt to early-'60s Coltrane, it engineers some fascinating variations. You've probably never heard Ali, known mostly as a free abstractionist, groove like this -- although his bright, edgy cymbals carry his unmistakable sound-stamp. And well-traveled pianist Benito Gonzalez augments McCoy Tyner's classic chord vocabulary with a percussive touch, a rhythmic zest and a harmonic flair that tap his Venezuelan heritage at the deepest levels. (He composed three of the eight tunes, too, including the least Coltranish number, the breezy/jagged "Starting Point.")
Lawrence pushes forth with pure joy, his tenor tone smokier than Coltrane's as he tumbles through the upbeat "Impressions"-like "Mystic Journey," the Afro-bumping "Summer Solstice" and the Caribbean blazer "Walk Spirit, Talk Spirit." Technically and rhythmically, he's a master. The flashback wouldn't be complete without a romantic standard along the lines of "I Want To Talk About You," and the role is cleverly filled here with Frank Loesser's "Say It Over Again" -- pungent bluesy keywork from Gonzalez, too.
Vet trumpeter/flugelhornist Eddie Henderson flies fast on the energetic "Journey's End" and settles into proud lyricism on the sprightly waltz "Adrees" -- a beautiful player. If you're wondering where the wild-card Eric Dolphy factor might come in, alto saxist Gerald Hayes has his own totally individualistic take on tart, chattering extremity.
Questions of derivation quickly fade. Musicians adopted Charlie Parker's style and called it bebop; the Coltrane legacy just needs a similarly depersonalized genre title. I call it spirit jazz.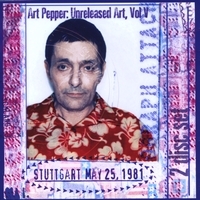 Art Pepper, "Unreleased Art. Vol. V: Stuttgart May 25, 1981" (Widow's Taste 2-CD)
Widow Laurie Pepper takes her fifth dip into Art's live vaults with this number. A fan supplied the tape, but Wayne Peet mastered it sharply in L.A., and Laurie penned generous notes as only she could, so it ain't no bootleg.
Though Pepper was known to take a whack at the Coltrane mode, here he sticks to extended rips on bop, blues and ballads. Once again his distinctiveness shines: Few alto players avoided cliché better than Pepper. He blew fresh and without chopsmanlike obsession, his tone like dry leaves about to crumble, his vibrato sometimes faltering. But the heart, the personality, the ceaseless invention -- way up there.
Disc 1 serves as an exuberant setup; Disc 2 lowers the boom with the signature tunes -- the headlong bop of "Straight Life," the slow sadness of "Over the Rainbow," the driving confidence of "Cherokee" -- and offers special stretches on clarinet via a jaunty "Avalon" and an unusual 24-minute original that Pepper's wife perfectly describes as "hypnotic, erotic and funky."
The band stands as one of Pepper's tightest, with Carl Burnett tripping along on drums while Bob Magnusson walks hard on high-definition bass. And the knockout is pianist Milcho Leviev -- check out, for instance, his solo on "Yours Is My Heart Alone," where he makes blues, classical and bossa nova mingle in lighthearted, light-fingered amity.
If the music is vibrant, Pepper looks haunted and sickly in the cover photo. He would die a year later.
Available via artpepper.net.
*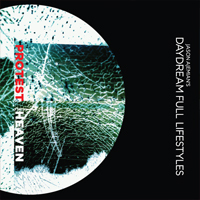 Jason Ajemian's Daydream Full Lifestyles, "Protest Heaven" (482 Music)
In 2007, bassist Jason Ajemian started a Chicago music series called "Protest Heaven." In his notes, he says that during the time he was jamming with the free quintet whose music makes up this album, he was thinking about war and religion and heaven. And when he edited the 70-minute continuous improvisation into a 45-minute LP, he was thinking about stuff like continuity and the human attention span.
So the question is whether all this conceptual thinking resulted in compelling music, and the answer is not especially. Despite the presence of well known and highly skilled musicians such as saxist Tony Malaby (Paul Motian, James Carney), cornetist Rob Mazurek (Chicago Underground, Bill Dixon), guitarist Jeff Parker (Tortoise, Chicago Underground) and drummer Chad Taylor (Chicago Underground, Henry Grimes) , "Protest Heaven" doesn't hang together.
Free jazz is a chancy form of music; you've probably heard groups led by Ornette Coleman, Archie Shepp or Sun Ra that came up short on coherence. You can always listen to the individuals: Malaby's hardwood tone and featherlight tongue, Mazurek's implicative use of space, Parker's wiry cleanness and occasionally inspired effects. But you're always waiting for those magical moments of conjunction, and although the jam gathers some subterranean energy and comes to a brief boil halfway through Side 2, those moments are few. Ajemian writes that in editing, he "took out the roads on which we arrived or traveled further," and observes that being there is more important than getting there. That philosophy might work better in some situations than in others.
An interesting note: This record is available at 482music.com only in LP and mp3, no CD.