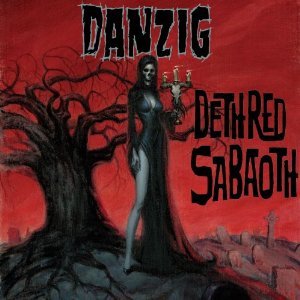 Danzig, "Deth Red Sabaoth" (Evilive/The End)
Can it have been 6-6-6 years since Danzig's last studio album, "Circle of Snakes"? Time sure does fly after you announce your retirement (2005), but meanwhile Glenn has doom-rocked the stage semiregularly, slipped out his solo trancework "Black Aria II" in 2006, slammed together the double "Lost Tracks" collection in 2007, and published "Hidden Lyrics of the Left Hand" (with illos by longtime collaborator Simon Bisley) earlier this year. Now this new record. Lazy bastard.
Mr. D. applies a different twist to every disc. You always get the basics: the Doorsy croons, the zombie howls, the evil mythic poetry, the heavy riffs, the tints of blues. Following the songwriterly "Snakes" outing, Danzig tilts more toward the incantatory "Black Aria" mode with "Deth Red Sabaoth," leading us around a sweating spiral path till we lose our loafers and glide into a world of sensuality and dark oblivion. Which is one of hard rock's main lures, ain't it?
Just so you won't forget Glenn Danzig's most distinct talent, though, "Sabaoth" loads plenty of songcraft right at the beginning. With its dry sound and raw rockin' groove, the opening "Hammer of the Gods" could've been plucked from the classic first Danzig album (1988) -- except its sludgy interludes lend it more dimension. Just when "The Revengeful" has squeezed out the same squealing "Milk Cow Blues" riff so many times that you're ready to slug a stranger, up pop a catchy shouting chorus and strange artistic layers of nameless background hum. On the determined march "Rebel Spirit," Danzig establishes a rhythm and a chord progression and, although never really changing those basics, he draws out a passionate chorus hook and a powerful dynamic surge. In the course of varying tempos, moods and arrangements (even some Zepish acoustic folk guitar on "Pyre of Souls Pt. 1" and "On a Wicked Night"), he employs that same structural method several times, owning simplicity as his mightiest ally -- he even comes close to quoting "Louie Louie" at one point.
The gospel of simplicity stands as the reason Danzig has usually kept his lead guitarists under restraint. When you think of the early Danzig albums, it's John Christ's furious rhythm work that stands out, not his tastefully insane solos. In tone and temperament, Christ was an old-school guy; when Glenn settled on Prong's Tommy Victor several years ago, it was a noisier, edgier, more modern sound he wanted, not the complexity of a lotta improvisation. Victor, however, has gradually crept to the fore.
Now, I consider Victor a true guitar hero, perfect for Danzig because he's all about rocking, not chops. As much as I've admired Doug Aldrich with Dio and Whitesnake, for instance, Aldrich's dazzling fluidity and technique lack a certain clobber factor. Victor's leads, on the other hand, stick the dagger in your spleen and twist: listen to him babble joyously on "Rebel Spirit," lurk like a subaquatic terrorist on the sorrowfully cycling "Deth Red Moon," spazz out like an electrocuted serpent on "Ju Ju Bone," wail in tortured ecstasy on the the big-booting chanty "Pyre of Souls Pt. 2." The dude is a hound of hell unleashed.
"Deth Red Sabaoth" varies its sound through a world of color and density, finding many ways to stroke and build and push you over the edge. The fundament: Given a bit of rest, Glenn's voice swells the fullest and strongest it has in over a decade. Okay, the bass gets skimped some. And despite Johnny Kelly's dead-on drumming, I'll fall in line with those who hail the erratic Chuck Biscuits, from the band's 1987-'94 lineup, as the ultimate Danzig skin pounder, followed by the more technical Joey Castillo. But that's what change is all about. Do I want more of the same from Danzig every time? Nope. And neither does he.
Danzig plays L.A. Live's Club Nokia this Saturday, June 26. See ya there.
* * *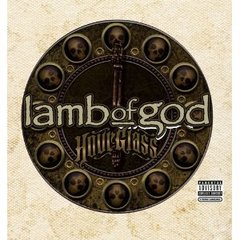 Lamb of God, "HourGlass" (Epic/Prosthetic)
Some of you already own the ultimate Lamb of God deluxe "HourGlass" package, which includes, in addition to the two discs of hits and one disc of rarities, a car wash every month from each member of the band, a full-size platinum/lambskin Lamb of God dildo, and a custom ass tattoo of K3n Adams' "Nosce Hostem Tuum" ("Know Your Enemy") package artwork. Most fans of American metal's most intense post-thrash modernists, though, just want to find out if that third disc adds real value to the catalog. And I'm here to tell you yeah.
Because they emphasize Lamb's slightly more old-skool side, and also because of Josh Wilbur's incredibly clean, punishing production, my Volume 3 faves are the first three Special Edition and Japanese bonus tracks from 2009's "Wrath": "We Die Alone" peals a majestic/melodic riff; "Shoulder of Your God" overwhelms with shoving rhythm and doomsday bass; the bashing "Condemn the Hive" executes some tight switch-offs. Mere outtakes? Uh-uh. Further evidence of the creative/production/arrangement peak "Wrath" represents: The two rehearsal demos from that alb hit harder than the three from the earlier "Ashes in the Wake" and "Sacrament." All throw drummer Chris Adler's artfully balanced double-kick poundage into hi-def relief.
Chris Adler looms throughout as Lamb's essential genius. Even on Volume 3's blurrier eight selections (four tour tapes, four 7-inch tracks) from the band's late-'90s stint as Burn the Priest, he's the metaljazz center around which all else revolves, although the precision guitar riffs of Mark Morton and Willie Adler constitute the obvious hooks. If you've neglected that Burn the Priest period, by the way, don't -- it can jerk your head back with its fresh energy; John Campbell's thick bass is a more intrinsic element; and you get to hear Randy Blythe humping a precise vocal imitation of Cannibal Corpse/Six Feet Under voxman Chris Barnes' subdeep growl. Volume 1 of "HourGlass" contains another four BtP nuggets, by the way.
What about "HourGlass" as a greatest-hits package? Although the live Lamb of God CD drawn from 2005's "Killadelphia" DVD served that purpose admirably, it arrived too early to contain material from "Sacrament" or "Wrath." And this three-disc set wrings the wallet for as little as $23, so . . . they got ya. Aw, you knew you were gonna buy it anyway.