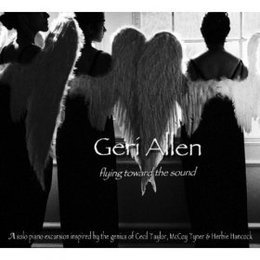 Geri Allen, "Flying Toward the Sound" (Motema)
Two past titles sum up the extremes of Geri Allen's piano playing: "The Nurturer" and "Feed the Fire." As Allen embraced motherhood in the '90s and supported Charles Lloyd for much of the subsequent decade, her softer side prevailed, although she had made her mark in the mid-'80s as a fiery abstract intellectual. Now once again, having unleashed two very different, very challenging albums two months apart, she is absolutely burning.
Many great pianists shine brightest alone -- Art Tatum, Thelonious Monk, Vladimir Horowitz. With "Flying Toward the Sound," emboss Geri Allen onto that list. While she pays tribute to the major influences of McCoy Tyner, Cecil Taylor and Herbie Hancock, they only frame her powerful personality. In two conceptions of the title track, Allen weaves, waves, flies and dreams, her two hands arguing and agreeing in the passionate pursuit of beauty. "Red Velvet in Winter" unites African rhythm with turbulent fantasy. Even if you have assimilated Monk's stride roots, the Cecil obeisance "Dancing Mystic Poets at Midnight" may telegraph unexpected connections between Taylor and James P. Johnson. And the Cecilish dissonances and star-sprinkles of the 16-minute "God's Ancient Sky" open up into Rachmaninoff heart-flight before taking a step back and accepting the celestial vista in a mood of pure awe.
By concluding with "Your Pure Self (Mother to Son)," Allen reifies the location of her deepest emotions. We hear warmth, complexity, courage -- and, in service to truth, no resolution.
Three computer-accessible video clips of snow and angels from a film by Carrie Mae Weems are beautiful but nonessential. What's essential to an understanding of the artist Geri Allen, beyond any other representation, is this natural, masterful, unstoppably motivated music.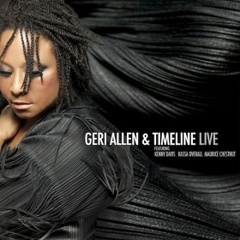 Geri Allen & Timeline, "Live" (Motema)
Geri Allen's young new quartet has a tapdancer in it -- not just a gimmick or a visual adornment, but a second percussionist. And you won't be prepared for how well that works.
As Greg Tate's brilliant booklet notes explain, the long-neglected art of tapdance is soaked in the historic soil of jazz and race, so Allen's choice is astute from political and metaphorical angles. Mainly, though, the proof's in the music; Allen isn't afraid to kick off the album with Maurice Chestnut's tap intro to the driving, acousti-fusionistic "Philly Joe," whose 16 minutes also include a tap & kit duet with drummer Kassa Overall wherin Overall actually imitates shoe sounds on his rims. The same kind of thing happens on Allen's blazing mathematical reconstitution of Charlie Parker's "Ah-Leu-Cha": Chestnut echoes Overall's marching-band paradiddles, and later rips into a floor solo that's the beboppinest thing on the track.
Listeners who don't think of Allen as a showman can notice how deftly she juices the audience with the riffy African slap-beat of "Four by Five," the Latin hup-cha of "LWB's House," the unflinchingly romantic (though rhythmically sophisticated) "Embraceable You/Lover Man" and the hip-swaying soul-jazz finale, "In Appreciation" (of Herbie Hancock's "Watermelon Man," I think). The crowd raves after every number, and with Chestnut's spark, Overall's boot, bassist Kenny Davis' thick-pushing bass, and especially Allen's obvious excitement and boundless imagination, they'd be dead if they didn't. Still, Allen leaves space for more meditative explorations via the dark stardust Arabisms of her "The Western Wall," which makes a long, gentle transition into Mal Waldron's worshipful ballad "Soul Eyes." The two bonus Quicktime video selections, recorded at the Detroit International Jazz Festival, may not be high cinema, but they give an idea of the eyeball dimension that Chestnut contributes. And with Allen styled out in Aretha-like lace, they provide a nice link to her Michigan upbringing.
Now I understand why Geri Allen needed to squeeze out two records back to back. She's got a gusher going, and it ain't getting capped anytime soon.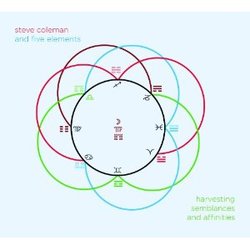 Steve Coleman and Five Elements, "Harvesting Semblances and Affinities" (Pi)
As the leading theoretician of the M-BASE music collective, Steve Coleman first interacted with Geri Allen way back in 1985. Where her career has evolved through spontaneous associations with Miles Davis' former sidemen and collaborations with her husband, trumpeter Wallace Roney, though, Coleman has remained determined to maintain the edge. No compromises this time, either.
Coleman's obsession with constant counterpoint remains; so does his dedication to knotty rhythms. While his overall flow-and-jerk aesthetic and hardwood alto-sax sound often recall Henry Threadgill, no other musician is so concerned with both the physical impact of beats -- he calls on Yoruba and New Orleans rhythms, among others -- and the unsettling effect of unusual melodic/harmonic structures on the brain. A student of myth and history, Coleman intends some kind of subliminal revolution; the reason he can't advance it is that his music, for all its deliberate ease, is just too hyperactive to sit still for. I know, they said that about bebop, too.
The crossover factor may occasion the increased role of Jen Shyu, whose voice dominates this record. Coleman wants more human connection, and in an age where singers are almost all that remains visible/audible in jazz, Shyu's cool, dry insinuation is a good choice as her abstract syllabification weaves its way through every song. Though few direct parallels to Brazilian music a la Astrud Gilberto arise, an avant update of that is exactly what "Semblances and Affinities" feels like.
Most of it, anyway. There's also a pronounced neoclassical feel on a couple of tracks, although via the identifiably jazzy interaction of Coleman's sax, Jonathan Finlayson's trumpet, Tim Albright's trombone, Thomas Morgan's bass and Tyshawn Sorey's drums. I'm talking about Coleman's churchy then agitated "060706-2319 (Middle of Water)," and also (with Marcus Gilmore on drums) about the Danish composer Per Norgard's "Flos Ut Rosa Floruit," an assembly of large soap bubbles that floats and collects loosely through a four-seasons concept. For a hit single, I recommend the 3:36 of "Attila 04 (Closing Ritual)," which cranks a fast railroad groove like the weekend train to Coney Island.
Of course, we don't come to Steve Coleman for hits, we come to him for ideas. Load 'em up.