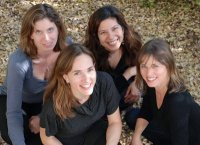 The string-quartet format has proved a twistable tool, from its origins in 18th-century chamber-music embroidery all the way to neoclassical nastiness. Keeping pace with evolution, the modernistic Eclipse Quartet -- violinist Sara Parkins, violinist Sarah Thornblade, violist Alma Fernandez and cellist Maggie Parkins -- rocked the intellectual audience at Royal-T, a Japanese-style café and art gallery in Culver City. Righteous eggheadbanging ensued.
It was a treat to make the acquaintance of UC San Diego composer Roger Reynolds' "Ariadne's Thread," which spun and clung through organic counterpoint and through edgy harmonies that moved up and down the staff in sliding group chords -- an effect suited to fretless instruments. The women met the challenge with precision and power; an offstage electronic eggbeater added intangible dimension. A strong opener.
No offense to the family, but Zeena Parkins' "Persuasion," originally intended to accompany dance and visuals, didn't hang together. Though discontinuity is a common ravel of modern music, the contrasts among wistful waltz, aggro pizzicato, gay fugue and rodent squeaks (finished with an electronic spritz) didn't illuminate bulbs of revelation. Not to me, anyway: My Irish friend loved it and said he wished he could buy a recording.
The evening's most human piece, a four-seasons John Cage composition from 1950, made sensual use of open space. Connected among the musicians via Fernandez's sensitive eye contact, it led us to breathe and ponder, its dissonances soft and warm rather than jarring. Its summer was idyllic, its winter chillingly clear, while its concluding spring ran happy, active and short.
The titular angels of Morton Subotnick's "Fluttering of Wings" started out as an angry flock of small birds, pecking and harassing our ears, then grew in size and fierceness till they screamed with dark eagle romanticism. Here the quartet's rhythms drove hardest, bit most painfully and swelled deepest before the music dissolved into a realistically uncertain conclusion.
The audience made a lot of appreciative noise at the end; in response, the quartet smiled more and more. It's good to be heard and understood.