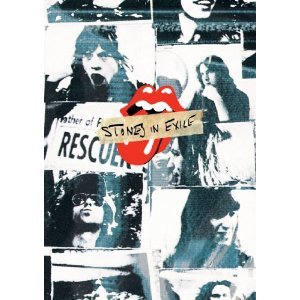 "The Rolling Stones: Stones in Exile" (Eagle Vision)
The best blues has dirt and mud and dust in it, which is why Robert Johnson, Muddy Waters and their stepchild, the Rolling Stones' "Exile on Main Street," rock richer on vinyl than on CD. Funny how documentarian Stephen Kijak, in directing "Stones in Exile," understood that principle better than Stephen Marcussen and Stewart Whitmore did in remastering the 1972 music.
Kijak's visual tricks reflect the vibe of "Exile" as closely as you could hope. He superimposes fake film scratches and leader flashes. His camera jerks and twitches. Pictures (largely vintage shots by photographer Dominique Tarlé, a guest at Keith Richards' South of France home/studio, Nellcôte) flicker unpredictably. The images and Stones-&-friends narrative dance together with rhythm and sympathy.
In other words, Kijak studied the "Exile" days' chaos, humidity, dust and drugs, not to mention the roiling conglomeration of the music itself, and tried to get a mess of that into a movin' pitcher. He did.
Via new interviews, old interviews, and new interviews made to look old, we meet a lot of striking characters -- and not just Keith & Mick. What an insightful deadpan gentleman Charlie Watts is! What wrecks Anita Pallenberg and guitarist Mick Taylor have become! Even if he hadn't blown the ballsiest sax on the planet, what a gas Texas terror Bobby Keys must've been to have around, babbling about a young man's dream of music, booze and half-naked women: "That's when you're shittin' in tall cotton!"
Lots of sleazy stories emerge, from thefts to ingestions to near arrests. My favorite is Keith explaining that he only shot heroin so he could properly maintain his family unit with Anita and young son Marlon -- but you'll find your own, and the content runs so dense that you'll want to dip into it more than once. The music, of course, rambles all over the place, including some truly wonderful stage and rehearsal footage.
The bonus material's well worth a look, too: extended new talks with old rummy Taylor, secret sorceror Pallenberg (who offers sharp insights), wheezing Richards, humble Watts, grandma Bill Wyman, grandpa Ron Wood and so on. Do we really need to hear from Will.i.am, Benicio del Toro or Liz Phair? No. But it's all in the generous spirit of rock & roll, so what the hey, pass me a Tequila Sunrise. And turn up the damn phonograph.

"When You're Strange: A Film About the Doors" (Eagle Vision)
What happened to the magic? Did it get marketed out of the Doors, or did it just evaporate over the course of 40 years, like gasoline from a rusty old can?
As Johnny Depp narrates writer-director Tom DiCillo's flat words in the documentary "When You're Strange," the magic of the Doors vanishes, but a portrait does emerge. It's a portrait of a buncha L.A. slackers who stumble around until they semi-accidentally end up one of the hugest acts on the planet.
If it happened to this dufus Jim Morrison, the narrative implies, it could've happened to anyone. Anyone, let me amplify, who systematically deranged his senses, focused his creativity in the abstract well of poetry, steeped his soul in myth, understood the psychological dynamics of theater, owned an incredibly insinuating voice, tuned in to the persistent power of the blues, and hooked up with a sympathetic team of uniquely talented musicians.
When you line all that stuff up, the Doors' success seems inevitable rather than accidental. But DiCillo's choice of Depp as an affectless primary narrator robs the story of its context; more input from contemporary voices would have clarified the fact that this drama was unfolding at a time when, as one commentator observes in the "Exile" film, humans believed they could change the world. Though DiCillo's pushing 60, his 21st-century retrovision perhaps finds it unfashionable/embarrassing to tap the era's passion, commitment and unity -- qualities the contemporary audience valued in themselves and in revolution/liberation chants such as "Five to One," "When the Music's Over" and "The Unknown Soldier." The film casts the band as a popular freak show. What it doesn't deliver is an understanding that these four bohos represented a nation of freaks trying to remake the abnormal into the new normal. And for a time, the magic worked.
There are up sides. In addition to the standard footage that all Doors fans have absorbed 100 times, the main film offers less common insights. Did you know Robby Krieger's slide was a salt shaker? Did you know that the band's distinctive sound had origins in classical music, flamenco and jazz? Did you know that during the Doors' famous 1968 Hollywood Bowl performance, Jim's old lady was sitting in the front row on Mick Jagger's lap? The main gold, though, lies in the bonus segments: original interviews with Morrison's admiral dad (remote and puzzled to the end by Jim's stardom) and sister (a sympathetic soul who tells us that Jim requested as a high-school graduation present, instead of a car, the complete works of Nietzsche).
Like so many chronicles of the 1960s counterculture, "When You're Strange" lingers more on the decline than on the rise. Part of the slant derives naturally from the copy value of death and dissolution. And part springs from a cultural imperative that gets hammered home everywhere you look: Don't expand your mind; shrink it. We live in a 140-character world.

"Black Sabbath: 'Paranoid' . . . The Definitive Authorized Story of the Album" (Eagle Vision/Isis)
Black Sabbath begins where flower power ends, but both sprouted from the same soil. What art form has most consistently represented the way proles & slaves (that's most of us) feel? Heavy music, o' course. Many observers mark Sab's 1970 second album, "Paranoid," as the crucible from which metal has poured in continuous stream ever since, and Matthew Longfellow's little doc pretty much nails the reasons.
Speaking in recent interviews, the band members hit on one fact again and again: Like Cream and the jazz genii who inspired them, Sabbath were stoned improvisers brought up on the blues. The group welded together their compositions from scraps of jams, and extrapolated further when they hit the stage -- drummer Bill Ward once told me he never played a song the same way twice. So in improvisation, as with the war-protest images of "War Pigs" and "Hand of Doom," plus the sci-fi idyll of "Planet Caravan," the four industrialized Brummies had a lot in common with hippie music such as Jefferson Airplane and the Steve Miller Band. (I saw Sabbath in 1972 on a bill with Yes, a pairing that rings as more harmonious now.) Black Sabbath gathered those elements and added the distinctive/instinctive touches of heaviness and horror that youth began to feel as the dried bouquets of the '60s got tossed into the furnaces of war and cooptation. Behold: "Iron Man."
Although every famous band has its oft-retold war stories, those of Black Sabbath come off as fresher than most, largely because only recent years have landed the band greater attention and respect. As they talk, we get a sense that they're surprised anybody's even asking them questions about their critically despised music. It's as musicians that Sab have received least credit, because, as Henry Rollins notes, they're associated with simple riffs and obscure lyrics. But amid a string of his typically facile clinkers (at least we can tell he knows it), Rollins fires off the essential observation that Sabbath owned a rhythm section almost without compare. "Paranoid" engineer Tom Allom reinforces this when he solos the tracks (an essential feature of the Classic Albums series), revealing an interplay between Ward and bassist Geezer Butler so flexible and intricate that you wish you could -- with due obeisance to to the amazing jazz fingerwork and endless riff invention of guitarist Tony Iommi -- do that yourself at home. A solo of Ozzy Osbourne's vocal on "Planet Caravan" reveals the surprising subtlety and melody of which he was capable.
Iommi, Butler and especially Ward show themselves to be as knowledgeable and perceptive as they are unpretentious, and Ozzy Osbourne is as hilarious as ever. In laughing off Black Sabbath's reputation as a coven of witches tossing dead mice in a fiery caldron, he shrugs, "We did try that, but it didn't work."
We get the stories behind all the songs, the pontifications of journalists, and Joe Smith of Warner Bros. Records bragging about how he championed the band. The bonus stuff has the individual members reminiscing and playing alone at some length, which is instructive up to a point. It all adds up to a three-dimensional picture -- with nice "Woodstock"-style split-screen match-ups here and there, maybe even four-dimensional.
So here's a teaser for ya. Ozzy gets his first advance check, which represents not a fortune, but more than he's ever seen. He gives a fiver to his mum and spends almost all of the rest "gettin' pissed." There's a little change left over, and you'll never guess what he buys with that.