Fri. Aug. 6 -- Vocal expressionist Dwight Trible keeps the Afro-jazz tradition alive with an super ensemble featuring windman Justo Almario, pianist Otmaro Ruiz, percussionist Derf Reklaw, bassist Trevor Ware and drummer Dexter Story. Community poet Kamau Daaood's on hand too. Then it's Indus Valley Civilization, a collective that came out of "Miles From India" (Miles Davis' music meets Subcontinental players), but this group's probably way better -- percussionists Ndugu Chancler, Badal Roy and Anantha Krishnan hook up with Ruiz and Almario plus bassist Alphonso Johnson. Troker opens with funky & hip-hoppy horn grooves. At Grand Performances in California Plaza, 350 S. Grand Ave., downtown 90071; 7pm; FREE; www.grandperformances.org.
Fri. Aug. 6 -- As L.A. jazz staples go, it's hard to get any stapler than bassist Henry "The Skipper" Franklin, a swinger who doesn't mind short excursions outside the solar system, as he's made with Azar Lawrence. Good band guaranteed. At LACMA, 5905 Wilshire Blvd., LA 90036; 6-8pm; FREE.
Fri. Aug. 6 -- The lyrical Darek Oles Trio features the impeccable bassist and composer along with young drummer Matt Slocum and vet pianist Bill Cunliffe. At the Blue Whale on the third floor of Weller Court Plaza, south of East First Street between South Los Angeles Street and South San Pedro Street, Little Tokyo 90012; 8pm onward; $10; (213) 620-0908.
Fri. Aug. 6 -- I See Hawks in L.A. show that country roots have brain stems, then it's the stompin' band of ace guitarist Tony Gilkyson. At Cinema Bar, 3967 Sepulveda Blvd., Culver City 90036; 10pm; pass the hat.
Fri.-Sat. Aug. 6-7 -- Jazz guitar template-stamper Kenny Burrell has a semiannual gig at Catalina's, howbout that. And he don't even sing much. His group includes UCLA teachmates Tom Ranier (piano) and Roberto Miranda (bass, outa the Tapscott mob), as well as drummer Clayton Cameron and saxist Tivon Pennicott. At Catalina Bar & Grill, 6725 Sunset Blvd., Hollywood 90028; 8 & 10pm; $25-$30; (323) 466-2210; www.catalinajazzclub.com.
Sat. Aug. 7 -- The 1928 French film "The Passion of Joan of Arc" gets a new score from modern tech-plus composer George Sarah and his string quartet and classical vocal quartet. Good way to relax outdoors in the summer. At Grand Performances in California Plaza, 350 S. Grand Ave., downtown 90071; 8pm; FREE; www.grandperformances.org.
Sun. Aug. 8 -- Converse (not Converge) wants you to buy its sneakers, so it's throwing a free Power of the Riff Festival featuring the return of the hard & tuff Corrosion of Conformity, the return of doomsludgers Goatsnake (including drummer Greg Rogers!), and 14 other heavy bands that are more on the arriving than returning side. Good times. At the EchoPlex, 1154 Glendale Blvd., Echo Park 90026; noon-midnight; free with RSVP at www.thepoweroftheriff.com.
Mon. Aug. 9 -- Devin Sarno & Bobb Bruno drone bass and extrapolate guitar in scary ambient ways. Also on the bill: howardAmb and Kandyce & the Killdozer. At Echo Curio, 1519 Sunset Blvd., Echo Park 90026; 9pm; $5; (213) 977-1279; www.echocurio.com.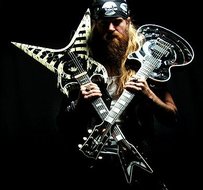 Tues. Aug. 10 -- I knew when Zakk Wylde got sober and got replaced in Ozzy's band it wouldn't hurt the music of his Black Label Society, and "Order of the Black" (released today) sure proves it. The ballads stab yer heart, the rockers rock real deep, and Zakk even takes a funny jab at Sharon Osbourne. One of his best records. Opening is a pretty good band featuring BLS bassist John DeServio, Cycle of Pain. This event benefits St. Jude's Hospital. At the Roxy, 9009 Sunset Blvd., West Hollywood; $35; (310) 278-9457; www.ticketmaster.com.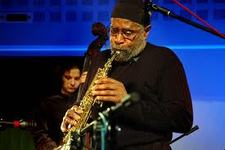 Thurs. Aug. 12 -- Former Miles/Herbie windman Bennie Maupin has a truly original approach to chamber jazz, beautiful and deep. At the Hammer Museum, 10899 Wilshire Blvd., West L.A. 90024; 8pm; FREE; (310) 443-7000; www.hammer.ucla.edu.
Thurs. Aug. 12 -- The Queens of the Stone Age and Eagles of Death Metal show is sold out, so you'll have to find another way to benefit cancer-stricken EODM bassist Brian O'Connor. At Nokia Theater LA Live, 777 Chick Hearn Court, downtown 90015; 9pm; $50-$250; www.ticketmaster.com.
Thurs. Aug. 12 -- You like groove, funk and freak, instrumental-side? The cookin' Israelis of Maetar are your boys. At Harvelle's, 1432 Fourth St., Santa Monica 90401; 9:30pm; $8; (310) 395-1676.
Read Brick Wahl's jazz picks in LA Weekly here, Don Heckman's jazz picks here and MoshKing's metal listings here. Read John Payne's plutonic Bluefat.com here.