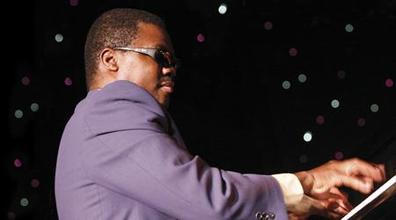 Marcus Roberts Trio at Dizzy's Club Coca-Cola, NYC, July 29.
For 20 years, bozos have elbowed me for digging Marcus Roberts' pianistics, probably because he arrived via Wynton Marsalis' band (suspicions justifiable), because of his delicate touch, and because, if born a hapless dufus like the blurb writer in Time Out New York, one might think he plays "reverential renderings of stride and the like." At last, I begin to see the bozos' point.
Maybe it was the venue's proximity to Lincoln Center, bastion of jazz taxidermy, but Roberts manufactured the safest music I've heard from him. Cole Porter's "You'd Be So Nice To Come Home To" rode clean and even until Robert's final joyful homecoming, where the lack of harmonic challenge made it feel as if he was opening the door to his beloved sheepdog. Ellington's "In a Mellow Tone" did sport a few angularities that showed why Monk loved the Duke.
Much of the set derived from Roberts' current "From Rags to Rhythm" album. His own "On the Edge of the Unknown" hinted at more than its genteel grandiosity delivered. "The Reservoir" attempted an African connection that drummer Jason Marsalis, for all his technical understanding, remains too stiff to consummate. Between throwaway references to Roberts' righteous obsession with "Rhapsody in Blue," we got a run at "Searching for the Blues," a title that contains its own critique. Bassist Rodney Jordan grinned warmly and never strayed from the pocket.
Only in the encore, a brilliant deconstruction of an old-timey blues, did Roberts cease playing down to the perhaps less urbane summer-in-the-Apple audience and do what he useta do ALL the time. Throughout, he showed impeccable restraint, intellectual acuity and, most important from his accountant's point of view, the ability to switch the mantle of artist for that of nightclub entertainer.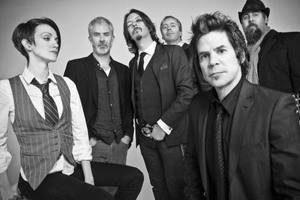 Tony Harnell & the Mercury Train at Rockwood Music Hall, NYC, July 30.
The realm of metal harbors few what you'd call singer-songwriters, but Tony Harnell (TNT, Westworld, Starbreaker) has deserved that title for something like 30 years, so you can't blame him for easing down the volume and highlighting the less screamatory side of his multichromatic personality. He put together this nice little soft-rock band and made an album, "Round Trip," just to show the enduring strength of his old songs; cynics please step to the rear.
If you can find room. Harnell packed this little East Manhattan bar with his chosen faithful, who, even if pre-charmed, responded appropriately to the group's balanced skill. No musicianly histrionics were required; the hooks spoke for themselves. Like "Somebody Told You," building an unusual chord progression into defiant drama. Or "Month of Sundays," its yearning stairstep chorus rebuilt into a more thoughtful reflection. Or "Ready To Fly," whose counterintuitively downspiraling minor melody would not leave my unsorry head for days.
Harnell, looking more than usual like Rob Lowe, brought a touch of unironic white funk to TNT's biggest hit, "Ten Thousand Lovers in One," as the audience bellowed counterpoint to his warm yet unbelievably rangy vocalics. Hard to intuit the motivation for closing with Alanis Morissette's "Uninvited," except that it gave the band a chance to pound out an extended sweaty groove, and gave us all another opportunity to hear the lyrics as "I'm a flat turd by your fascination with me."
Tony's elfin English wife, Amy, showed she's no Linda McCartney, i.e., she sang expert backup and contributed an unobnoxiously upbeat presence. Jason Hagen's arpeggios and power strumming made his acoustic guitar the music's backbone, while Chris Foley's electric leads burned with tasteful concision. Bassist Brandon Wilde (an accomplished singer and songwriter in his own right) and drummer Brad Gunyon, plainly having studied their Greg Reeves and Dallas Taylor, demonstrated exactly what a soft-rock rhythm section should include and omit.
Harnell said he undertook this Mercury Train retrospective because Serafino Perugino of Frontiers Records asked him to, and he thought it would be fun. It sure is. But Harnell's got a solo album of new stuff coming, previewed here by a less psychedelicized version of the over-the-rainbow ballad "The Show," from his jaw-dropping demo release. Preliminary indications are that when we experience the complete presentation, the future's going to seem like more fun than the past.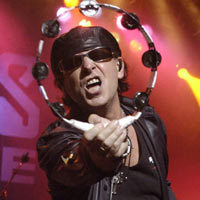 Scorpions, Cinderella at Nokia Theater, L.A., July 31.
What rock band can lavish multiple encores on its opening act and let its own drummer plug his side project from a 20-foot riser, and still absolutely dominate the night? If you guessed Germany's Scorpions, you're wrong; the correct answer is "Scorpions -- get stung behbeh!"
The proof's once again in the extremely thick & sticky pudding. Big-thud pop-rock isn't so difficult; what sets Scorpions apart is their unprecedented ability to write and perform it PERFECTLY. Which doesn't mean tight-assedly, it means they are going to mash your head without leaving a crack through which your civilized reservations can escape.
This being their first farewell tour in 30-some years, of course Scorpions were required to slam out the immortal rockers ("Make It Real," "Bad Boys Running Wild," "The Zoo," "Coast to Coast," "Tease Me Please Me," "Blackout," "Big City Nights," "Rock You Like a Hurricane") and the big ballads ("Loving You Sunday Morning," "Holiday," "Still Loving You"). And they even pulled out a few new arrangements! But it was gonna be more interesting to see how the cuts from their current "Sting in the Tail" would measure up to the '80s chartbusters, and damned if the fresh stuff let not an ounce of pressure out of the tires. Oh yes, the dumb-ass chant-along "Sting in the Tail" made a great opener. And the crunchy "Raised on Rock" meshed like a transmission gear with the band's classic riff-&-hook aesthetic. Riskier was "The Best Is Yet To Come," whose blubbering emotion sounded a bit lonely on "Tail," but served to bring the nostalgic crowd together for a moment of precious optimism.
If we wanted another reason to unite, Scorpions served it up by dedicating the prayerful "Send Me an Angel" to the recently deceased Ronnie James Dio. "Di-o! Di-o!" we yelled. Yeah. Sorry, we just don't care about being cool anymore.
James Kottak (whose throaty backup vocals contributed more than you'd think) took advantage of a big ol' spotlight segment atop his Olympian column to drum his ass off and strip layers of shirt to reveal more and more advertisements for his other band, Kottak Attack, for which he sings and slings guitar. Give the guy credit, he's hilarious, but he's on the stage with Rudolf Schenker, Matthias Jabs, Pawel Maciwoda (bassist since 2003) and a little beret-wearing banshee named Klaus Meine, who'll go down as one of hard rock's all-time top wailers. So a little perspective is in order.
We might be considering Cinderella's deadpan strutter Tom Keifer for that all-time top-voxman list too, if he hadn't been clobbered by repeated throat destructions over the decades since the band's 1983 Philly formation. Dude's been shrieking better than Axl since Rose was a bud (and he's back at full force), plus he gnarls great guitar, bangs soulful piano and even blows mighty tenor sax. Cinderella carry a serious case of Aerosmith blues fever, and it's contagious -- no mere hairboys, these suckers rock right down to the roots. "Fallin' Apart at the Seams," "Heartbreak Station" and "Shelter" got extended treatments we could really drink along to, and Cinderella undertook something like two and a half encores without wearing out their welcome. Howbout that.
At this point I wish to thank the Nokia for equipping its pissoirs with sparkly, hi-design AMSCO screens, which provided considerable auxiliary entertainment upon repeated visits. AMSCO has been selected as the official urinal screen of MetalJazz.com.
But mainly I want to thank Scorpions for being such generous motherhumpers -- in opener scope, set length, loudness, clarity and execution. Maybe it's easier to be generous when you're king.