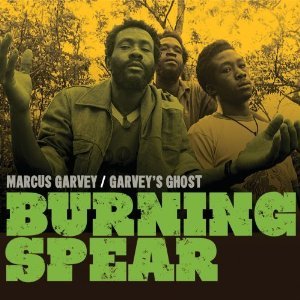 Burning Spear, "Marcus Garvey + Garvey's Ghost" (Island/UMe)
I consider Burning Spear the number-one man in 1970s Jamaican reggae. (And he's still around.) Bob Marley, Augustus Pablo, Lee Perry, all great, but Spear, born Winston Rodney in Jamaica's rural north, did it all: sang in his own spooky style, wrote memorable tunes, maintained a righteous presence in the abstract world of dub, and -- crucially -- served up no pap.
In fact, Spear's aversion to treacle nearly isolated him. And that's the story of this single-CD reissue of his first two Island Records albums, which debuted in 1975 and 1976.
Here's the scene. It's the mid-'70s, and Burning Spear has been knocking around Jamaica's cutthroat music scene for several years, recording for prince of thieves Coxsone Dodd at Studio One. In 1975 he strikes a new alliance with producer Jack Ruby, and they slam together "Marcus Garvey," whose songs and crew (including much of the Marley-Perry musician pool) stamp it as a likely breakthrough. As it's just hitting Jamaican shelves on the Fox label, Chris Blackwell signs Spear to his Island Records and orders "Garvey" remixed for the Anglo pop market. Spear hates the somewhat undreadified result, and he nearly defects, in fact forming his own label to release a series of fine singles. But Island woos him back by creating a credibility-enhancing dub take on "Marcus Garvey" called "Garvey's Ghost." Mollified, Spear churns out three heavier albums for Island through 1978. The original Ruby mix of "Marcus Garvey" is now available nowhere, making one wonder if it ever existed -- and the current set, which includes a remastering of the commonly available "Marcus," doesn't clear up the mystery. "Garvey's Ghost," though, has seen no American release in decades. So it's a blessing to possess this twofer of the Island discs that exploded Spear's reputation beyond his home island.
Mr. Rodney's initial reaction notwithstanding, the Island mix of "Marcus Garvey" in no way sucks. To establish the Island aesthetic, compare the Jamaican version of the Wailers' 1973 "Catch a Fire" with that record's supposedly bastardized worldwide version, and it's clear that Island did not intend or achieve artistic destruction: The guest musicians' contributions are tasteful and the sound balance is very similar; the main difference is that the worldwide edition omits the two songs containing the Wailers' most glaring instrumental mistakes.
"Marcus Garvey," too, is mixed for brightness and focus. It's got a lot of players on it, and ingenious little twists -- a twangy guitar, a percussive rattle, a clavinet or organ riff -- pop up all the time. These touches add valuable variety to Spear's songwriting, which is very repetitive in the best way. While his elemental lead vocals and harmonies constitute the songs' smoky center, the other crucial hooks come mostly from the queasy horns that respond to his voice. (The horn-section harmonies are always nicely out of tune -- I think deliberately. I once asked Jamaican dubmaster Scientist, a stickler for precision, why this was, and he said at a certain point horn pitchiness was a Jamaican fashion.)
The 15-musician "Garvey" roster included Jamaican masters such as Chinna Smith, Robbie Shakespeare, Family Man Barrett and Sly Dunbar. If the mixer had just allowed them all to ride on the same level, he would have been faced with a challenge of "Exile on Main Street" proportions. Instead, he pulled up only each member's best bits.
Was the lack of a mass group sound what annoyed Spear about the Island mix? It would go a long way toward explaining the concoction of "Garvey's Ghost," the so-called dub counterpart that apparently eased his dyspepsia. "Ghost" has drawn flak for not being pure dub, but before you agree, consider the climate: Dub was in its infancy, with prime mover King Tubby just coming into his own in early 1976. Even the meaning of the word "dub" was in transition, and the form would not flower into full weirdness for at least a year or two; as instrumental reggae went, the contemporary records of Lee Perry's Upsetters (some of whose members numbered in the "Garvey" roster), with their comparable lack of mixing flourishes, seem like the obvious templates. However, take a listen for example to the extreme dropout dynamics of "Black Wadada" and "Farther East of Jack"; "Garvey's Ghost" is far from an all-or-nothing album. What you can't deny is that "Ghost" effectively showcases the sessions' amazing rhythmic and improvisational talent. (Dig Carlton Samuels' lighthearted flute solos!)
In the same spirit of generosity, let's cut some slack to the new mastering of the two "Garvey" recordings. As we discovered with "Exile" and so many other reissues, if sharpness and loudness can be enhanced, they will be, regardless of the original intent. Me, I find the current release's attention to trebly detail rather than holistic mood a little distracting compared to my early-'90s Canadian CD of the same material, and especially compared to my vinyl.
No sweat. I guess I just wasn't made for these times.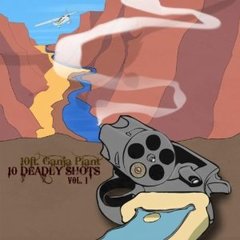 10 Ft. Ganja Plant, "10 Deadly Shots Vol. 1" (Town/ROIR)
10 Ft. Ganja Plant are mostly-instrumental reggae traditionalists from the Northeastern USA. They record analog. They use vintage equipment. They smoke herb. They name songs after legendary desperados. And for about a decade, they've been creating concise tributes to '70s Jamaican outfits such as the Upsetters and the Revolutionaries.
G-Plant's latest record is designed as light barbecue music, so don't expect dread or dub. Sax or guitar establishes a melody; the grooves jump & skank with an irie smile; bits of tinkly piano or glockenspiel decorate the clubhouse. You chomp on your corncob and go home for a nap.
Only a grouch would complain, and American clubs rarely stage this style of music performed with the correct feel, so if you get a chance to see Ganja Plant live, grab it. The only thing missing is the audible memory of slavery, the indefinable sadness of the blood. Is that essential? You decide.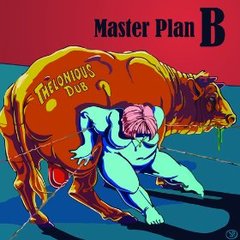 Thelonious Dub, "Master Plan B" (Cobraside)
With his current lineup, guitarist/leader Joe Bartone slides away from Thelonious Dub's original jazz + reggae concept. Bartone's into funky fusion now, and there's something to be said for the wider palette.
T. Dub especially excel at a neglected form known as the Philly Soul Ballad. "On Wisdom Without Love" and "All My Friends (Hate Me)," they get a quiet indigo groove going, and you can almost hear the Courvoisier splashing into the snifter and the satin sheets flopping back on the mattress. The slower tempos open things up for the sensuality of Bartone's tripworthy guitar effects, the main element remaining from the first Thelonious Dub record. Drums rattle, bass thumps, sax wafts -- nice.
The rest of the album is more of a Medeski Martin & Wood thing, except substitute McLaughlin for Medeski. Drummer Sean Rainey digs that slappy New Orleans rhythm; standup bassist Brandon Schmidt is an active, precise jostler. Bartone and tenor man Space Kyle establish the front-line riffs -- separately, in harmony or in unison, the last being quite a trick, as them figures can be damn twisty. A slick melodian, Kyle's more than up to the challenge, gliding into his solos with easy authority. Bartone, meanwhile, slips like a spontaneous mongoose around the neck of his ax, his tone heavily shaded with distortion and chorus effects.
Thelonious Dub go for a '70s James Brown level of simultaneous tightness, funk and relaxation. They're not quite there yet, but with this level of musicianship, it can't be more than a few measures away. Catch 'em live in L.A.; they play around all the time.
Oh, and congratulations to Bartone for his "Judge Judy" appearance -- victorious without saying a word. Watch it on his MySpace Page.
On Monday, August 30, Thelonious Dub play the West Restaurant & Lounge on the 17th floor of the Angeleno Hotel, 170 N. Church Lane, Bel Air 90049, where Sunset Boulevard meets the 405 freeway; 8pm onward.