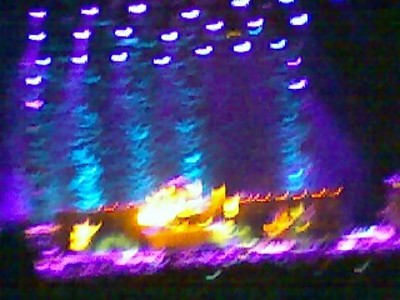 You can read my Ozzfest condensation for LA Times here. But due to a last-minute reallocation of Times column space, some of it got cut. So I want to fill out the record.
Let's start with the finish: Ozzy. He looked glad to be there, wore the cross on his shirt and dumped the sacramental water buckets on the crowd, grabbing thousands of humans in his hands and making them yell; I've never seen a performer who can do that the way he does. And his pre-set video film parodies were visually spot-on and hilarious as always -- Ozzy as a blue-faced critter from "Avatar," for instance, and bragging, "Vampires are pussies. I'm the Prince of F*cking Darkness!" His voice was a tad shaky (maybe not yet warmed up on this first day of the tour), but that wasn't a big problem, and he did exactly the right thing by not over-reverbing it or pitch-correcting it. We love the man, and growing older with him is part of the show.
While guitarist Gus G. was slick and speedy, the guy didn't exactly rock, despite the dozen Marshall stacks. I felt that when Ozzy brought out the 9-year-old Japanese kid to play the Randy Rhoads ax on "Crazy Train" -- even lifting him up on his shoulders the way he used to do with Randy -- it came off as almost a warning to Gus, like, "I can replace you anytime." The drummer, Tommy Clufetos (robbed, like bassist Blasko, from Rob Zombie), was one of those solid, heavy-pounding dudes like Mike Bordin, not in a league with Randy Castillo or Tommy Aldridge, but he struck a high profile because of the way he lifted his hands way up with every stroke, '70s-style. The band embraced the virtue of simplicity, which works well in an arena.
It was a treat to hear Ozzy do "Fire in the Sky" and "Killer of Giants" -- great live tunes. He must still have a financial interest in his most ancient recordings, since he included four numbers from Black Sabbath's "Paranoid" album, helping flog the product in its 30th-anniversary year. Impossible to match the original Sab vibe, of course, but no embarrassment.
Motley Crue never fail to deliver. I guess their sound mix is always deliberately weird -- heavy on the lowest frequencies to increase the thud factor; Tommy Lee's drums were about 80 percent kick. Speaking of kick, the way Lee walked and talked was not calculated to make several thousand fans perceive him as sober; his playing rocked regardless. To signal that this is a living, breathing band, Crue blazed two selections from 2009's "Saints of Los Angeles." They had some intriguing backdrops, too, including one that looked like dripping lava, plus plenty of flaring, banging pyro, which blended nicely with the smell of burning plastic drifting down from the hillside. (Ozzfesters always find a way to ignite something.)
One of the newspaper reports miscast Halford as "sleepy and slow." Perhaps the writer should have stuck around for the second half of the first song, "Silent Scream," which started with a beautiful melody and finished all teeth. If the writer and some fans wanted Halford to "play some Priest," they might've recalled that the Judas Priest repertoire contains classic ballads such as "Diamonds and Rust" and "Out in the Cold." They also might have considered that in a 50-minute set, Rob Halford was not there to advertise his other band, though Halford did in fact perform the psychedelic '70s Priest number "Victim of Changes." (The Times edit made it appear that I think this is the title cut of Halford's upcoming "Made of Metal" album. For the record, I don't think that.) If fans had relaxed and had another beer, they might further have reflected that Judas Priest specialize in midtempo songs ("Living After Midnight," "You've Got Another Thing Coming"), not fast ones. For another Judas connection, Halford played "Heart of a Lion," an absolute masterpiece written by Priest but released by them only on a boxed set in demo form; Halford cover it brilliantly as a studio track added to their "Live Insurrection" album. Local talent Roy Z. (also Halford's producer) and Polish string-twister Metal Mike Chlasciak provided the double-guitar density; drummer Bobby Jarzombek provided the double-kick onslaught. My experience was that most of the crowd, despite being unfamiliar with the Halford songbook (which included "Nailed to the Gun" from Rob's '90s band Fight), dug the band from the git-go.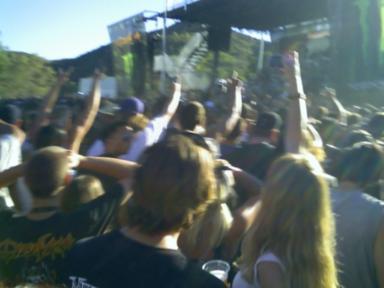 Black Label Society took over the Second Stage around 5pm, which turned out to be the very hottest weather point of what thankfully turned out to be one of the less broiling San Bernardino Ozzfests. Anger-management theory tells us that heat begets hostility; many of the crowd had been spoiling for physical punishment, and Zakk catalyzed the mosh, pushing the less brutal berzerkers to the periphery. Still, I was privileged to experience the nostalgia of an actual fistfight outside the edge of the pit. (Pit/fight: a fine but real distinction.) Three or four dawgs got pissed; punches got thrown; I wish I had been on acid to fully appreciate the lovely spray of perspiration when fist met cheek. It was over in about 10 seconds, then everybody was a brother-in-arms again. The dark music ground on undisturbed, or disturbed at the same level.
Now, I'm a huge Zakk Wylde fan, even if I would not be caught alive in the mass-produced BLS biker "colors." And I gotta say, even sober, Zakk has hit some kind of peak. I counted at least three songs from the new "Order of the Black"; all came off mighty memorable, but especially "Overlord," whose riffs, dynamics and tempo regearings really held attention. Older material such as the nagging "Fire It Up" and the depressed "Stillborn" packed a truly heavy set that didn't flag once; if past BLS live shows didn't stock quite enough variety and hooks, a decade has now provided. Sure, I would have loved a few of his bleeding-heart piano ballads, but headlining the Second Stage, Zakk had only 45 minutes. Why did Wylde replace drummer Craig Nunenmacher? Dunno, but Will Hunt (from Evanescence?!) laid down a slightly deeper groove that did the job and then some.
I used to kinda like Nonpoint, but didn't get to see them cuz their time slot on the Main Stage conflicted with BLS. Now for the bands that got cut out of my Times review.
Wiry singer-guitarist Austin Barber of Saviours had a tight shirt on. No, wait, the shirt was his tattoos. This Oakland band stoked plenty of fire live, surpassing their fine records; the galloping double-kick of Scott Batiste drove the Sabby riffs, and Sonny Rheinhardt kept spieling bristly leads over the top when not twinning with Barber. I kept flashing on my favorite Bay Area band, Drunk Horse, but had not fully grokked that Saviours' bassist, Cyrus Comiskey, hails from the Horse. Stony, strong, charismatic, worth seeing again.
From now on, when listening to Goatwhore I'm gonna focus on drummer Zack Simmons. This modern-metal band is all about rhythmic accents while maintaining that forward drive; Simmons pulls it off. And of course Ben Falgoust, with his multiple growl modes and electroshock physical presence, keeps you watching. A band active for over a decade and still getting better.
I've said it of other bands (and I've said it of Goatwhore), but I never quite got Canadian vets Kataklysm till I saw them live. They deal out a variety of styles and combinations, from death to sludge to thrash, and they've figured out how to deliver the goods to a live (even outdoor) audience, which means they know what to leave out as well as what to put in. Their set was a rumble that had to roll you down.
Skeletonwitch didn't seem sorry that they had to open the festival while a thousand or two customers who'd been waiting an hour outside were still being squeezed through security. The Ohioans had a double-guitar thrash message to convey, and they went at it with full energy. They also did not neglect their secondary message, which was "Drink beer, smoke weed and eat p*ssy!" The crowd took to heart front man Chance Garnette's message, even if it wasn't original.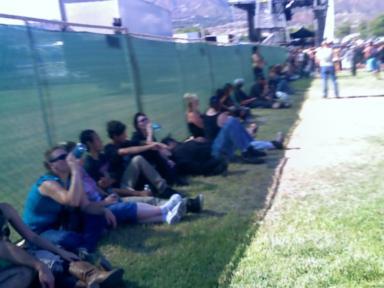 A few festival impressions, just to show that Ozzfest is sensitive and poetic.
Some grass remained on the Second Stage field this year; it wasn't a complete dustbowl. There was even a light breeze to ease the 90-plus degrees. The police presence, heavy at first, dwindled when the cops realized that the metal audience is more polite, less violent and less drugged than most. I saw only one tank-topped skinhead passed out from heat stroke. Finally on the field, just a few bored tan-shirted sheriffs gathered in a semicircle around one of three pathetic little shade trees, and snoozed standing.
You could get a great big Cajun turkey-sausage sandwich with grilled onions from Uncle Ed's for $7. Bottles of water (which you weren't allowed to bring in): $5. Lines for consumables and bathrooms -- not too horrible for a change because of the diminished attendance. Bad for profits, good for us.
A dumb & speechless metal couple got married on the Second Stage before the Black Label set. "Don't do it!" one audience guy kept screaming.
When night fell in an indigo sky, a crescent moon and the planet Venus blazed above so bright it could hurt your eyes. Triumph of Islam? The next day there were reports a UFO had flown over; probably just Tommy Lee's hat.
Never saw this before: To the left of the Main Stage, a hand signer, with his shadow thrown big against the wall, was interpreting the lyrics for the deaf. Much of this consisted of two arms flung in the air when the band vocalist would set the example; maybe it was an interpretation for the blind as well. But a swell gesture, so to speak.
At the gate, the guards, letting through everybody with shoes, keys, belt buckles, nail files, fingernails and hands (which easily convert to fists), took away my pens. This has apparently become common practice. Next time, I'm putting the pen up my ass. Not to hide it; just so I can pull it out and hand it to them. Seriously: What the f*ck are festival organizers thinking? (Yes, I scored an underground contraband pen inside and stabbed a few people, but only those who deserved it.)
Introducing "family friends" California Wildebeest (who were okay), Sharon Osbourne wore a white outfit topped with white summer hat. Some of the fans clearly thought the hat should have been black.
A bid for a Guinness Record for Most Breasts Shown at a Metal Show fizzled. I did not see a single female nipple, not even a body-painted one.
Metal-fest reputation aside, though, there were some hot chicks in the crowd, where the men-to-women ratio was 3.37 to 1. My seat (thank you, MSO Publicity) overlooked a VIP area where three young delectables and a man were seated. The women greeted one another by rubbing their tits in each other's faces, by fingering each other's bikini lines, by fingering each other's crotches and by adjusting each other's corsets. One of the women greeted the man by simulating sexual activity with him. Curious, I myself greeted the women when they filed by me to visit the ladies' facility; I asked them what manner of work they did, considering that they had achieved such a congenial group rapport. The bikinied leader said primly, "We are schoolteachers. I teach calculus." I thought that was a very good answer. At the end, when everybody else went to the parking lot, the three women went backstage.
Rock is not dead.
PHOTOS BY FUZZY BOURQUE.