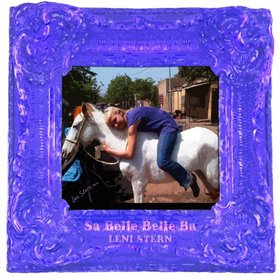 A lot of jealous musicians might procure guitarist-singer-songwriter Leni Stern's new album simply for groove study. She's done so much living in Mali and other African environs over the last few years, playing with the likes of Bassekou Kouyate and Salif Keita, that the locals consider her virtually another African performer. She invites 'em all to play on her records, and they know they don't gotta dilute their thing or make allowances for the new kid; they just tune in with her and jam it out.
It's all about musical relationships, built from the ground up, like the way the softly punchy hand drum supports the twisty, physical bass on "Babakar," or the way those two and the rhythm guitar push across one another's space on the title track, or the amazingly deep & complex insinuations that coexist in "Smoke's Risin'." (I'd identify the players if I could parse the African instrument names koreckly.) This ain't fusiony showoff stuff, rather an easy, sensual communion developed in places where it's too hot to be waggin' yer dick or whatever all the time. Still, the rhythmic intelligence damnwell glows.
Similarly, check out the way it's mixed and balanced by Andy Tommasi. Most of the time, the nearly whispered vocals of Stern and the conversational singing of her friends settle into a coequal stew with everything else, no ego. And Stern's lead guitar -- sporting buffed tones, fingertip sensitivity and Santanalike lyricism -- drifts through the hut like smoke; none o' that "stand back, here comes the solo" trip.
Stern tosses some change-ups as well. "Yakhai Bi Khali" is a belly dance with snaky violins and tasteful spreadings of n'goni, or at least that's what I think it is, since the same kind of light stringed sparkle shows up several times played by Stern as well as some of her pals, including the master Bassekou Kouyate. She also doesn't neglect her straighter songwriterly side, including one of her hookiest and most charming tunes, "Tell Me," a holdover from last year's "Spirit in the Water" EP.
The words as usual tend to be about love and also love, with an occasional lullaby and sparse scene-setting about the place and the weather. Until I checked, I heard one line as "Like ignorance I am falling." It's actually "Like Icarus," but I like mine too.
You should buy the CD (available at various web locations) rather than the mp3 download -- not only to appreciate the excellent recording values, but to read Stern's booklet narrative, symbolic on a number of levels. It involves the former addict embracing a magical African ritual involving a very different kind of white horse. Transition accomplished.