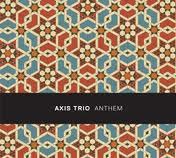 I kept waiting for something non-remarkable, and it never happened. This electronified acoustic-piano trio broke all the main rules of postmodern jazz and escaped unscathed.
Broken Rule 1: You can't be totally original; gotta at least throw in an Ornette tune or something. While everything from Beethoven to Mussorgsky to Led Zeppelin coexists here, the references are distant and subject to a consistent overall aesthetic of intelligence, passion and individuality.
Broken Rule 2: Indulge yourself; be sure to include executions of creative theoretical thinking that bear no relation to human communication. Axis flout this axiom by pairing simplicity of expression with logical (if highly adventurous) structures. These are COMPOSITIONS.
Broken Rule 3: Be pretentious. Axis Trio have too much fun for that. Although titling the first three tracks under the unifying theme of cheesemaking was a bad idea, at least it had nothing to do with Kierkegaard, and neither does the music, which steams with fresh, physical uncheesiness.
Nearly all of today's edge improv fears to break these Rules -- even on records that I like a lot. It's nice to see Axis Trio bust 'em without divine conflagration.
The CalArts-aligned trio are Moroccan pianist Amino Belyamani (Darek Oles, Houman Pourmehdi), Iranian-American bassist Sam Minaie (Ralph Alessi, Vinny Golia) and Pakistani-American drummer Qasim Naqvi (Dirty Squid). Right away you're thinking "world," but that's borne out only in that the trio inhabit this planet and know its music, Western & Eastern, old & new. The most immediate hook is the use of electronics to flavor and balance the acoustic piano -- more pronounced than Stockhausen did on his "Mantra," but not so dominant that things skew dubwise or abstractionistic. Belyamani's fleshy keyboard touch makes for a relaxed invitation (and he sometimes "prepares" his strings to plangent effect); Minaie plucks his standup with funky aggression or bows like a serenader; Naqvi is a thumpin' jazz drummer who does not disdain a macho groove.
Man, do they love playing together. They roll along through fractured freeform fugue ("Epsilon Delta Lambda"), cirrus beauty ("L'Enfant Symptôme") and Keith Emersonian distorto prog rock (". . . Then It Walked"), never wearing out any track's welcome cuz they always keep it under seven minutes. I give every damn cut at least an 8, but Axis Trio and I seem to agree that the signature number is the eponymous "Anthem," whose dynamics, forward motion and buildup to a wrathful climax offer maximum drama.
I dunno what that one title's Greek acronym stands for, but I'm going for "Ecstatic Dignity Liberation."