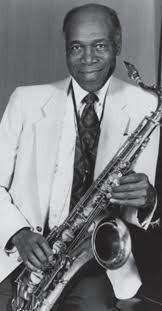 Buddy Collette improved the world. Measurably. Look what he did, as a musician and a man.
In the 1950s, Master Collette was a prime mover in integrating the pool of Los Angeles studio musicians. He got Charles Mingus to switch from cello to bass. He jumpstarted the careers of Eric Dolphy, Charles Lloyd and James Newton. He educated generations of players the right way, teaching not only skills but the value of teamwork. Through decades of gangsta bullshit, he kept alive memories of a time in the '40s and '50s when musicians and audiences of all races cooperated and thrived on Central Avenue. That's the short list.
I moped around the house today, thinking about Buddy Collette.
I read passages from "Jazz Generations," the autobiography he wrote with Steven Isoardi. Collette was one of the last people to see Charles Mingus alive in Cuernavaca at the end of 1978 -- weird tales of a declining Mingus, under treatment by alternative medicine, being made to eat a lot of snails, and getting his big ol' back plastered with fresh cowflop.
I listened to "Buddy Collette: A Jazz Audio Biography," Harvey Kubernik's double CD of Collette telling his great stories in that amazingly rich baritone, with elegant interludes of the master playing flute, clarinet, bass clarinet, alto sax and tenor sax. You want to know why Charlie Parker was called Bird? Parker told Collette why, in person, and it isn't one of the reasons you usually hear.
I listened to "Mingus at Monterey," a 1964 live recording that featured Collette prominently amid the 22-minute epic bluster of "Meditations on Integration" -- his Tchaikovsky-like finch-flight improvisation on flute backed by pianist Jaki Byard got the biggest ovation of any soloist.
I listened to "Man of Many Parts" on Contemporary Records, an album Collette recorded in the mid-'50s that provides a sharp snapshot of Los Angeles music, condensing civilized updates of past blues and swing with the emerging sounds of West Coast Cool. Gerald Wilson's on it.
Following a stroke, Collette spent the last 12 years of his life in a wheelchair. But it didn't keep him down. He kept on directing jazz orchestras, putting on concerts, giving interviews, going to shows.
Outside of the L.A. jazz community, not many people knew Buddy Collette's name. But within that community, they sure did. Wherever he went, he drew lines of admirers, often top names in the music, who would stand respectfully and wait to say hello. Glad to say I stood in a few of those lines myself.

Read a 1989 story Bob LaBrasca assigned me for LA Style here.