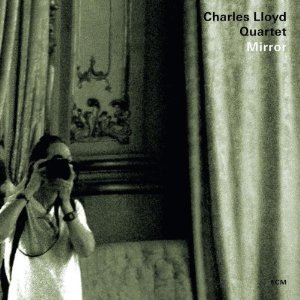 When you're a kid and they make you pray in church, you don't know what you're doing. The knowledge may come later, though, when you need it, when you've got the perspective and the humility.
Seems like more and more, what comes out of Charles Lloyd's saxophone is prayer. At 72, he has nothing to prove -- his limitless facility serves as an ornate frame to center the listener's attention on his simplest, truest conceptions. A young player might state a theme as a mere excuse for his jam; Lloyd does the opposite, drawing you along a quicksilver trail into a theme, down to a single note and past the note into the ultimate silence it implies. Then out the other side in symmetry, and back through the circle.
With Lloyd's younger quartetmates around, the aura of peace is no recipe for slumber. Although Eric Harland, Reuben Rogers and Jason Moran have all established world-class reputations elsewhere, they're plainly ecstatic to be undertaking this highest postgraduate work. Harland, tapping around every corner of his drum kit with the ghost of New Orleans in every beat, is the rhythmic instigator, always suggesting possibilites. Rogers, twisting his contrabass through the spaces, acts as both serpent and sycamore, flexible yet strong. And it's hard to believe Moran's only 35: After a few years in this quartet, he has pulled together an approach that implies lifetimes of study -- the concision, the clarity, the intelligence, the way his dissonances subtly brush the edges of a melody. Sublimation becomes self.
Lloyd has taken this opportunity to look back over his entire life. As models for composition, he offers wide-open renditions of Thelonious Monk's exquisite ballads "Monk's Mood" and "Ruby, My Dear." Lloyd's own writing draws a holistic arc with serenely confident lyricism ("Desolation Sound"), springtime ease ("Mirror") and rustically spontaneous group improvisation ("Being and Becoming"). His '60s pop associations get affectionate notice in the Beach Boys' "Caroline, No" and a lighthearted gospel-soul interpretation of "The Water Is Wide." And he prays not only implicitly but literally, with "Go Down Moses," "Lift Every Voice and Sing," and the Hindu-inspired "Tagi," which begins with a reverent drone and a hushed spoken poem before blossoming into raga and abandonment to the glow of the sun. Rising or setting? Doesn't matter.
Best: Lloyd continues to show a profound sympathy for the Spanish dirge, this time in "La Llorona" (the weeping woman), where his tremulous multiphonics suggest exhaustion after a long campaign, but satisfaction in the knowledge that he has fought the good fight. And that he has fought on the right side.
It's no accident that the Charles Lloyd Quartet's 2008 live recording, "Rabo de Nube" (my review here), was one of Lloyd's best-received -- he draws tremendous inspiration from an audience. Jazz fans in Los Angeles would do well to make plans for the quartet's appearance at the Nate Holden Center on Saturday, September 25; buy tickets here. He'll be doing a few other North American and European dates as well; check his schedule here.