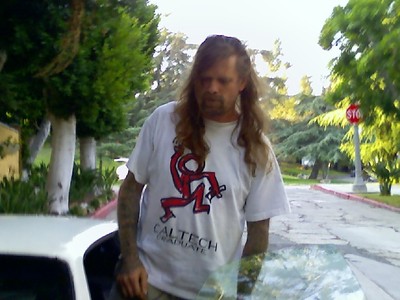 Everything about Chris Holmes says rock. His penetrating rock guitar has busted through in his '80s and '90s stretches with W.A.S.P., in his stort stints with Animal, in his recent crunch with Secret Society, and in a bunch more bands. His mom sure couldn't miss the rock when he was chugging all that vodka in her swimming pool during an interview for the 1988 documentary The Decline of Western Civilization Part II: The Metal Years. And in person -- throwing himself down in a Los Angeles chair to jaw about rejoining old W.A.S.P. bandmates in W.A.S. (Where Angels Suffer) and about making a quick jaunt to play in Russia -- Holmes is rock. He's a hanging rock. You get the sense he'd tumble down and crush some shit, if being pissed off weren't so damn much bother.
You feel Holmes approaching before you see him. Dust devils appear in the street. Dogs howl. And when the beat white Trans Am pulls up, its tailpipe billowing blue smoke, you know that vehicle couldn't belong to anyone else.
"What year is it, Mr. Holmes?" "Two thousand ten." "Thanks for the help." "Oh, you mean the car? It's an '87."
Sirens wail outside the whole time we're talking; one might half expect a battering ram at the door. Holmes is a trouble magnet, and part of that is attributable to his ride. It's got an iron cross on the back, and fake bullet holes decaled onto the side. He uses a pushbutton to start it instead of a key. ("If you know where I live, you can steal it.") Rather than a factory-equipped driver seat, it has something that looks like a sawed-off lawn chair wrapped in rags, with a thin cushion sitting directly on the floor. That way, since he's about as tall as an NBA guard, his head doesn't hit the roof.
Having added a beard and street clothing to his landslide of hair and extensive tattooing, Holmes these days looks like a biker more than the dangerous glamster he was in the '80s. His T-shirt, emblazoned with "CalTech Graduate," is not meant to be taken literally. He draws cops like flies, though he says getting stopped now isn't such a problem; he's "out of the system" -- his rap sheet doesn't instantly crop up in a check, since he hasn't been jailed in over a decade.
"They just hassle me," growls Holmes, his voice a low rumble articulated with minimal lip movement. "They look up every orifice, presuming that I'm a drug addict. I do choose to look the way I do, and I understand that. But after a while, you're kind of tired of it. People with long hair are dinosaurs. It's those guys with shaved heads that carry guns. They oughta be the guys they're pulling over, right? You ever heard of somebody who's a longhair and tattooed doing a drive-by? No."
Holmes says the other day he got stopped by a cop in Glendale. "He sits me on the front of my car against a wall, and another Glendale cop comes up. And another one! So there's three cop cars there. And the second guy comes up and says, 'So how are we doin' today?' And I look at him and I go, 'Y'know, I'm not doin' too effin' good. You guys are harassin' me.' He goes, 'It's the sheriff's fault.' The sheriff comes over, he's got this thing in his hand -- I thought it was a police scanner. And the next thing, I hear 'Fuck Like a Beast.' He's got it on his iPod! I just busted up. I was laughin' so hard, man! Then he left."
Holmes has just returned from L.A.'s Russian Consulate; he's grousing about the $237 he paid to get his visa stamped. Kerri Kelly, who used to play guitar with Alice Cooper, hooked him up with a Russian band that likes to play with American rockers. Holmes and Kelly are going halfway across the world to play one show, doing a few W.A.S.P. and Alice tunes. He doesn't even know the name of the band.
After that, he'll be stopping in Florida to develop a project with W.A.S., which features former W.A.S.P. mates Randy Piper on guitar and Stet Howland on drums; singer Rich Lewis and bassist Steve Unger fill out the lineup. They hope to write some material and tour, pumping out some of the old W.A.S.P. material. Holmes did jolts with Piper and Lewis' band Animal in 1987 and 2003, but quit because he thought there was too much dead air onstage. He likes to keep things moving. Says it's more professional. Better luck this time.
For the last year, Holmes has been recording songs as Ghettoblaster with Phil Taylor, former drummer of Motorhead. Do they rock? You need not ask, though you might be surprised by some of the beautifully dark acoustic-guitar arpeggios Holmes lays on. Only problem is, neither Holmes nor Taylor is a singer. So on one number, "They All Lie and Cheat," Holmes just seizes the microphone, and his gruff expostulations totally nail the sentiment. His vituperative choruses are set off by a delicate spoken interlude from a young lady who proclaims, "After I drag your dick in the dirt, I'm gonna step on your face and leave you for dead!"
The song's not about ex-Runaways guitarist Lita Ford, to whom Holmes was married from 1988 to 1990. However, Ford did provide the excuse for Holmes' break with W.A.S.P. Nominated for the 1988 MTV Video Music Award for Best Female Video ("Kiss Me Deadly"), Ford invited Holmes to attend the ceremony with her, but Holmes says W.A.S.P commander Blackie Lawless wouldn't let him out of the studio. Holmes held a grudge that permanently destabilized the Lawless axis; he was out of W.A.S.P. from 1990 to 1996, and back in from the band's phenomenally dark "Kill Fuck Die" in 1997 until 2000. His tally with W.A.S.P., which typically reports total sales of over 12 million albums, comprises six studio records, two live sets and a video, "The Sting."
Holmes hears Lawless is "not gonna sing half the old stuff anyway." So we might enjoy hearing W.A.S. essay nasty W.A.S.P. nuggets such as "Animal (Fuck Like a Beast)," "Don't Cry, Just Suck" (based on a Holmes incident) and "Mean Man," whose lyric Lawless wrote about Holmes. "He changed his religious views, he's Christian, he says. Well, if there is a Pearly Gates, do you think they'd let the devil in there?"
Lawless isn't the only devil on Holmes' hell scroll. But Holmes hasn't exactly racked up a string of Employee of the Month awards; his W.A.S.P. stories are packed with instances of his own delinquent behavior and drug use. And he admits that a lot of his problems stem from his own failure to monitor his finances. "I hate to say it, but I've been F-U-C-K'd by everybody I've ever played with in my life, except Phil."
Holmes says his parents, now separated, brought him up to treat people with respect. In spite of the vodka-swilling incident, he still gets along with his mom, who gave birth to him while still a teen in La Cañada. Being fairly close in age, they even listened to some of the same music.
"The next-door neighbors' parents wouldn't let their kids come over and play at our house, because my mom listened to the Stones. The Stones got busted for pot or somethin' about '66, '67. Pot? They were heroin addicts!"
Not that mother and son always saw eye to eye across the turntable.
"One time I'm listening to Hendrix real loud, that squealin' guitar. And she comes in, unplugs the stereo, leaves. I plug it back in -- now she comes in with a knife and cuts the cord. I go, 'Mom, what're you doing? It's a new kind of music!' She goes, 'Chris, when you get older, there's gonna be a new kind of music that comes in, and you're gonna hate it.' I looked at her like she was crazy. But with disco . . . and now it's rap!"
Really, though, Holmes feels he's more like his dad, a former stockbroker who later started a security company.
"I'm born on the same day as my dad. He walks exactly like I would. His personality -- he'll say anything to anybody, and if they don't like it [Holmes claps his hands], shove it."
Chris Holmes' personality extends, of course, to the way he attacks a guitar.
"I still play on 10 -- the energy, y'know. But if you just go up and down a scale, blowin' notes, there's no melody, there's no feel to it. I'd rather hear one good note. My favorite guitar solo of all time is 'Cinnamon Girl,' a Neil Young song. It's one note, man, fits the song. If you play it with feel, it's cool."
Nobody trained Holmes to play the way he does, and he says he can't read music.
"I've had dyslexia since when I was a kid, so I have to read with a ruler to read a whole paragraph and understand it. I've never read a book in my life. Seriously, not one book. So reading dots . . . I couldn't even imagine that. So the last few years, I learned what a major, minor scale was. I always played minor, so it was kind of weird.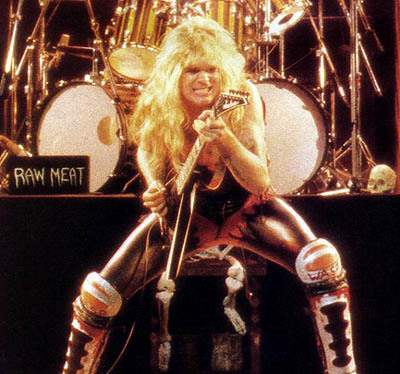 "I used to get in a lot of trouble in W.A.S.P., because the guitar solos that were on the album, I'd go out and play 'em completely diffferent. Every night it'd be somethin' different. I'd be improvising. Blackie'd fucking flip! And I don't give a crap. But when he started fining me . . ."
Holmes says he still thinks like a 13-year-old. That implies a certain irresponsibility, but also a certain innocence. The repercussions can linger, as when Holmes attended the May 30 Los Angeles memorial for Ronnie James Dio.
"There were quite a few tears in my eyes. I didn't know him that good -- I know a lot of players that he's played with, been around his camp of people.
"I did tick him off once. And it was somethin' I used to crack up about." Holmes was at the Country Club years ago when a photographer suggested he pose for a picture with Dio, who was well over a foot shorter. "I was a little hammered, but I didn't do it to be disrespectful -- I got on my knees. Isn't it better than me standing with my arms like this . . .?" He bends over and reaches down. "But it was taken wrong, and it kinda got out of hand. His wife [Wendy Dio] said a bunch of things, and there were almost punches thrown."
At this year's Dio memorial, "Wendy walked right by me, and I didn't think she saw me. And I kind of hate that."
Grudges, goof-ups, authority issues -- kid stuff. But Holmes is young at heart. "You do things when you're young, y'know? My mom was givin' me total hell the other day about somethin' on the phone. I go, 'Mom, there's things I've done when I'm young, I'm payin' for 'em now. Now listen -- this is somethin' you did 52 and a half years ago, that you're payin' for now!'"

CURRENT HOLMES PHOTO BY FUZZY BIRKE.