Fri. Sept. 10 -- Les McCann goes way back in the tradition of soul-jazz piano; his version of his late tenor partner Eddie Harris here is Javon Jackson, who's quick, slick and properly unpredictable. At LACMA, 5905 Wilshire Blvd., LA 90036; 6-8pm; FREE; Friday summer jazz schedule here.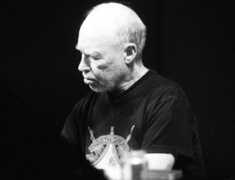 Sat. Sept. 11 -- Happy 78th birthday to keyboard king Don Preston, who'll be tributed by a wowzer list of Mothers and fathers including Roy Estrada, Bunk Gardner, Roberto Miranda, Alex Cline, Bobby Bradford, Putter Smith, Tony Levin, Christopher Garcia and Vinny Golia. Gotta hit this. At South Pasadena Music Center and Conservatory, 1509 Mission St., South Pasadena 91030; 8pm; $20; free parking behind; (626) 403-2300; events page here.
Sat. Sept. 11 -- Seafaring ditties sung by Jessica Catron (finest Mo Tucker impression in the West), sung/plucked by guitarist Jeremy Drake, and sung/rattled by Corey Fogel: It's Missincinnati, resurrecting the goriest and most perverse ghosts of folk music (and easing back from tour). On a bill with diverse & bizarre entertainment from Anna Oxygen, STLS and Embarrassing Powers. At Human Resources, 510 Bernard St., downtown 90012; 8pm; $5; www.humanresources.com.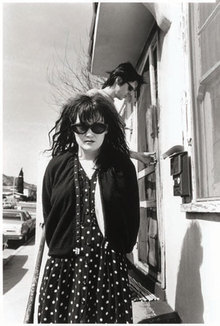 Sat. Sept. 11 -- Cleanest, truest photos from the West Coast punk era circa 1980? Ann Summa, who's got a gorgeous book of same, "The Beautiful & the Damned," coming out, and tonight's the publication party, with signings by Summa and Exene Cervenka at 7pm, and an acoustic performance by Exene at 8:15. Say hi to Kristine McKenna, who curated and who wrote the book's intro. The show's up through Oct. 9. In Bergamot Station at Track 16 Gallery, 2525 Michigan Ave., Building C-1, Santa Monica 90404; 6-9pm.
Sun. Sept. 12 -- When Emily Hay plays solo, she ain't exactly alone, she's got her flute, her voice, some electronic robots and whatever she happened to trip over on her way to the mountain. You also get Listen Hear, featuring pianist Ben Rosenbloom, windman Vinny Golia, trumpeter Bruce Friedman, drummer Bert Karl, and bassists Anthony Shadduck & Jeff Schwartz, who are used to dividing up the upright double. An all-star group, if your constellation is specific. At Center for the Arts, 2225 Colorado Blvd., Eagle Rock 90041; 7pm; $10; (626) 795-4989.
Wed. Sept. 15 -- Trombonist Fully Fullwood played with Marley, Tosh, Spear, you name it, and he leads his own Jah band here. Also, real Jamaican vintage singer Robert French. Dub Club at the EchoPlex, 1154 Glendale Blvd., Echo Park 90026; $10 before 10pm, $15 after; www.attheecho.com.
Wed. Sept. 15 -- Guitarist-keysman Mike Keneally and bassist Bryan Beller take turns leading guitarist Rick Musallam, guitarist Griff Peters and drummer Joe Travers. Ultrasmart yet unpretentions fusion with a lot of surprises. At the Baked Potato, 3787 Cahuenga Blvd. West, Studio City 91604; 9:30 & 11:30pm; $25; (818) 980-1615; www.thebakedpotato.com.
Wed. Sept. 15 -- A lot of people namecheck Northwesterners The Melvins when tallying the early-'80s roots of really loud immersive guitar rock. Yet the Melvins have never really fit into their own scene, cuz they like to make noise a lot of different ways. So credit where it's due. With the compatible heft of L.A.'s Totimoshi. At the Troubadour, 9081 Santa Monica Blvd., West Hollywood 90069; doors 8pm; $12; all ages; www.ticketmaster.com.
Thurs. Sept. 16 -- Just saw DevilDriver and Kataklysm at Ozzfest -- Dez Farfara and the DD gang blistered, and the Kanadians really grabbed us by the balls with their deep rumble. This swell bill includes femme metalers Kittie, who ain't no pussies. Also rising stars Misery and Fight the War. At the Key Club, 9039 Sunset Blvd., West Hollywood 90069; doors 7pm; $20; 15+; www.keyclub.com; (310) 274-5800.
Thurs. Sept. 16 -- Plotz! have a new concept album of nasty Balkan reggae, extreme bust-out polka and cool Arab groove, and I'll bet trumpeter Daniel Rosenboom, saxist Gavin Templeton and the crew will play some if you ask real nice. With Chiara Giovando Trio and the film "Plastic Incarnation." It will not be tame. ResBox at Steve Allen Theater, 4773 Hollywood Blvd., Hollywood 90027; 8pm; $10; BYO.

Read Brick Wahl's jazz picks in LA Weekly here, Don Heckman's jazz picks here and MoshKing's metal listings here. Read John Payne's plutonic Bluefat.com here.