Fri. Sept. 17 -- Authors Steven Roby and Brad Schreiber talk 'bout their new book, "Becoming Jimi Hendrix," which Michael Simmons says has all the wild dope on Jimi's formative years. The 40th anniversary of Jimi's deathday is tomorrow. At Skylight Books, 1818 N. Vermont Ave., Los Feliz 90027; 7:30pm; free; (323) 660-1175.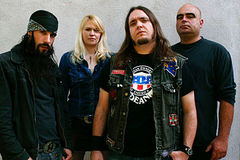 Sat. Sept. 18 -- L.A. heavies Fireball Ministry rock it up and sludge it down, topping a bill with Sasquatch, Hallowed Engine, Sylvia Juncosa, Zinngeschrei, Trash Titan. At the Blue Star, 2200 E. 15th St., L.A. 90021; doors 6pm; $10; (313) 627-2022; www.ticketmaster.com.
Sat. Sept. 18 -- By popular demand, "The Anatomy of Vince Guaraldi" (a doc about the composer of "Cast Your Fate to the Wind"), featuring a host of notable narrators like Dave Brubeck and a soundtrack of unreleased Guaraldi material, sails on back. A presentation of the Jazz Bakery's Movable Feasts at Barnsdall Art Park, 4800 Hollywood Blvd., Hollywood 90027; 2pm; $20; www.jazzbakery.org.
Sat. Sept. 18 -- Vocalist Dwight Trible communes with the Great Spirit. At the Blue Whale on the third floor of Weller Court Plaza, south of East First Street between South Los Angeles Street and South San Pedro Street, Little Tokyo 90012; 9pm-midnight; $10; (213) 620-0908.
Oct. 2-9 -- Make plans now for the event of the year, the impeccably curated ANGEL CITY JAZZ FESTIVAL (www.angelcityjazz.com):
Sat. Oct. 2 -- Henry Grimes & Friends, Dwight Trible/John Beasley at REDCAT.
Sun. Oct. 3 -- Ravi Coltrane/Ralph Alessi Quartet, Wadada Leo Smith's Golden Quartet with Vijay Iyer, Tim Berne/Jim Black/Nels Cline, Vinny Golia Sextet, Kneebody at John Anson Ford Amphitheater.
Mon. Oct. 4 -- Myra Melford & Friends (Nels Cline, Alex Cline, Oguri et al.) at Royal-T.
Thurs. Oct. 7 -- Nels Cline/Ed Ruscha/David Breskin at LACMA.
Fri. Oct. 8 -- Motoko Honda at Barnsdall.
Sat. Oct. 9 -- John Abercrombie Quartet at Musicians Institute.
Read Brick Wahl's jazz picks in LA Weekly here, Don Heckman's jazz picks here and MoshKing's metal listings here. Read John Payne's plutonic Bluefat.com here.