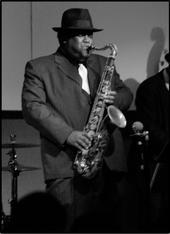 Fri. Sept. 3 -- Kamasi Washington represents this generation's take on the jazz tenor tradition, holding strong to the soul and depth. You don't git this in collij, only by playing the circuit with masters like Charles Owens and Gerald Wilson. At LACMA, 5905 Wilshire Blvd., LA 90036; 6-8pm; FREE; Friday summer jazz schedule here.
Fri. Sept. 3 -- Rick Wilder lives: The Mau-Maus, an on-off project for 30 years, rock the sandpaper edge of pre-punk; if it reminds you of '70s Iggy, well, skeleton Rick was there in the front row. With Symbol Six, and The Billybones, led by Skulls singer Billy, uh, what was that last name again? At the Redwood Bar & Grill, 316 W. Second St., downtown; 10pm; (310) 245-0273; www.theredwoodbar.com.
Fri.-Mon. Sept. 3-6 -- Assuming you're not flying to The Detroit International Jazz Festival, well, it's got a great feature this year by which you can watch it live on the Web. Too damn hot there anyway. The headliners are Bobby Watson, Roy Haynes, Kenny Barron, Maria Schneider, Branford Marsalis and Allen Toussaint. Check it out here.
Sat. Sept. 4 -- The Honorable DHC (Dean Chamberlain) claims America for the king of folkblues. At Silverlake Lounge, 2906 Sunset Blvd., Silver Lake 90026; 7pm (for real! sez Dean); FREE.
Sun. Sept. 5 -- Jesse Gilbert has designed a new audiovisual interface program called Spectral -- I'm a sucker for this sound-sight abstraction stuff. Carole Kim contributes live video, Motoko Honda twists unusual keyboards, and Carmina Escobar electrovocalizes. Eve Luckring opens with poetry and short videos. It's a great little outdoor space at a private home, so be nice. At Folly Bowl, 1601 E. Loma Alta Drive, Altadena 91001; 7:30pm; $10.
Tues. Sept. 7 -- The Honorable DHC is the meat in an L.A. Hootenanny sandwich. At Cinema Bar, 3967 Sepulveda Blvd., Culver City 90036; 10pm; free.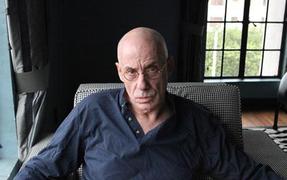 Tues. Sept. 7 -- Our favorite obsessed literary noirologist, James Ellroy, plugs his new "The Hilliker Curse" and entertains in his appealingly evil fashion. Reviewer and radio commentator Carolyn Kellogg helps out, and comedian Laura Kightlinger (who's actually funny) is also there for some reason. MC? Presented by Rare Bird Lit and PEN Center USA at Largo in the historic Coronet Theater, 366 N. La Cienega Blvd., L.A. 90048; 8pm; $25 ($40 gets you the book too); (310) 855-0350; tickets here.
Thurs. Sept. 9 -- LATE ADD: Friend o' the page Julie Christensen sings the pure emotional stuff with Pocket Goldberg's fine house band in a songwriter showcase that also features Tony Zamora. If you live on the East Side or in the Valley, it ain't so far. At Arnie's Cafe, 6864 Foothill Blvd. (at Marcus), Tujunga 91042; 7-10pm; cheap; (818) 951-9089; www.arniescafe.com.
Read Brick Wahl's jazz picks in LA Weekly here, Don Heckman's jazz picks here and MoshKing's metal listings here. Read John Payne's plutonic Bluefat.com here.