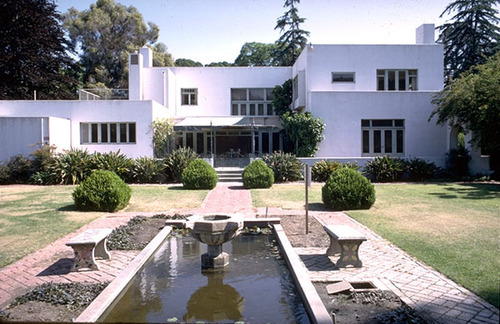 So here we are in a cement room with a low polished wood-beam ceiling; its big greenhouse windows look out on a little West Hollywood garden park where an ornamental waterfall splashes. The room is full of folding chairs; the chairs are full of humans who want to hear Wadada Leo Smith's compositions.
We want to hear them so we can get our atoms reracked. Stuart Fox, a wispy white-haired gent, initiates the treatment with gentle nylon-string acoustic guitar. There are pings, plucks, bends, flamencoid strums and Elizabethan arpeggios, difficult to coordinate. There are not rhythms, exactly. The notes are asymmetrical constellations of acupuncture points.
And Chinese medicine is more or less the process; the effect is physical. We find ourselves unexpectedly inhaling, becoming aware of our breath. Our alignment with our lives has taken on new dimensions. We have been prodded out of our grooves.
The process continues via many small and large saxophones, played by Vinny Golia (a calm presence, a sweep of snowy hair) and bearded friends Casey Anderson, Casey Butler and Matty Harris. We're getting more intense shocks now: Nose-clearing sustains merge into dissonant chords; Golia's sopranino scours our ear canals; belligerent three-note repetitions challenge our cardiac patterns. The music soothes as well as startles: Barnyard quacks give way to bovine lowing; mournfull sustains moisten our eyes and stroke our spines. Although the four are reading sheet music, it has no bar lines, so the saxists achieve their remarkable union through careful listening and visual contact. The staccato end has an indefinite feel to it -- To Be Continued.
Fox returns to perform Smith's memorial to California EAR Unit flutist Dorothy Stone (pictured), who died unexpectedly two years ago at 49. The piece is spacious and filled with quiet cracked emotion.
Smith (his dreadlocks now long again) has been sitting to the side with big sunglasses on. When the music's over, he comes forward to eulogize Stone and to comment on the matter of universal balance, of how you can't have a beautiful high without a corresponding low.
Outside, Smith's proposition is proved by a curving stone monument that commemorates architect Irving J. Gill's Dodge House (pictured), a striking 1916 work of geometric art formerly situated to the immediate south. It was demolished in 1970 to make way for an apartment building hideous enough to make the angels weep.