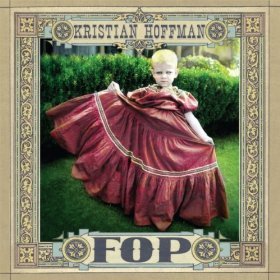 Kristian Hoffman's "Fop" is the ultimate extravagant pop album. All you geeks who've worn out your eighth copies of "Pet Sounds," "Sgt. Pepper's" and "Yellow Brick Road" can shelve 'em for a decade and devote yourselves to plumbing the limitless expanses of these 17 songs. Furthermore, all you ambitious songwriters over 30 who've escaped godhood can monitor developments following the release of "Fop," and if Hoffman, despite decades of genius, still doesn't reap the rewards, you can march directly to the rusty nail and hang up your guitars.
Although Hoffman has long hovered around the borders of the spotlight, his face remains obscure. Having arranged and composed for the likes of Dave Davies, Rufus Wainwright, Abby Travis, Klaus Nomi and Ann Magnuson -- after serving as demiurge behind Lance Loud's underrated Mumps in the '70s and soon after as driver of his own Swinging Madisons -- he ought to have stockpiled at least as much cred as his compatible pals Sparks. Composer, lyricist, keyboardist, guitarist and (oh yes) singer, Hoffman's got the goods in spades. So is he shy or what? Actually he's charming. One theory: Over the years he's expended too much effort perfecting his art, and too little on the higher Hollywood priority of gluteal osculation.
Lest lace and brocade obscure Hoffman's depth, let it be said that calling the record "Fop" was an exercise in irony. You are absolutely required to absorb the words in the lavishly illustrated booklet while listening, since the gent's droll precision serves to explore not only the complexities of love, but such far-reaching themes as suicide, evil, plagiarism, the spirit/flesh dichotomy and the selling of a soul.
Oh yes, and the demise of God & man. Hoffman begins with that in "Something New Is Born," a grand and gorgeous seven-minute opera whose masterful chord sequences and climbing dynamics perfectly illustrate the narrator's wistful despair and humble awe; you may weep.
On some other record, pulling out all the stops to end the world on the first song would be a dubious choice. Hoffman, however, answers the inevitable "Now what?" by making similar ascents at intervals, up the Alpine falsetto crags of the cosmic waltz "Out of the Habit," and into the Beethoven moonlight and magnificent coda of "Blackpool Lights."
Between bohemian rhapsodies, Hoffman mostly wants to have less pensive fun, and it's hard to argue with his inspirations: vampire vaudeville ("Evil"), ricky-tick ragtime conjoined with Gilbert & Sullivan ("Imaginary Friend"), sissified macho blues ("Hey Little Jesus"), and plenty of nods to the Kinks and the Byrds. The spirit is lighthearted -- but not light, both due to the conflicted emotions Hoffman exposits so deftly and sings with such gymnastic urbanity, and due to the arrangements' ornate density of guitars, harpsichords and female vocal choirs. "Fop" would have been a double album during the age of classic rock; the listener would do well to divide the wealth into four-song sessions, thereby avoiding an excess of excess.
A deficit of artistic ambition is one crime of which Kristian Hoffman will never be accused. For full delectation of his labors and to honor the mixing skills of longtime collaborator Earle Mankey, play "Fop" on good speakers and don't mess with no mp3s. You would not xerox a Rembrandt.

L.A. residents: Mark your calendar for Tuesday, November 2, when Kristian Hoffman plays M Bar in Hollywood.
Intriguing and sometimes disturbing videos of two songs from "Fop" can be found here and here.