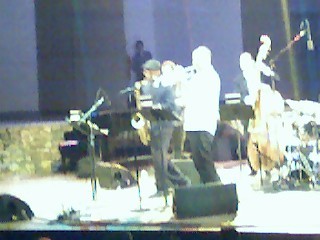 The third edition of the Angel City Jazz Festival, curated by Rocco Somazzi and Jeff Gauthier, has blown up the biggest avant whirlwind this residually stodgy metropolis has ever seen. The first three of six nights nearly broke the anemometer.
Saturday at REDCAT witnessed the return of Henry Grimes -- the Albert Ayler bassist who vanished for 33 years -- to the city where his 2003 resurrection took place. Drummer Alex Cline reports that the ad hoc sextet's rehearsal was limited to the sound check, but the spontaneity proved little obstacle to veteran free improvisers such as Cline (directing with celestial pings and juggernaut malletwork), trumpeter Wadada Leo Smith (loud, proud and dramatic), windman Vinny Golia (weaving sustained threads on several horns), pianist Ben Rosenbloom (laying down cushions of unifying dissonance) and vocalist Dwight Trible (crying out like a shipwrecked sailor). On bass and violin, an impassively blinking Grimes in a terrycloth headband unleashed fingers and bow as if possessed, concluding with poems about ritual, magnetism and the eternal road. Intermittently frightening.
The vocal-piano duo of Dwight Trible & John Beasley opened, Beasley supporting with rounded two-hand touch and classical-to-gospel variety, Trible pouring out a dynamic wellspring of passion. Trible's take on "Strange Fruit" renounced Billie's understatement; his "Autumn Leaves" made us imagine a skyful of cyclone-driven foliage. Revisionistic.
On Sunday, the Shakespeare-ready John Anson Ford Amphitheater again claimed title as the ideal outdoor stage for ensemble and soliloquy, and the crowd's attentive enthusiasm locked in for the duration. The younger quintet Kneebody opened with an original modern sound -- monstrous lumbering bass, funky post-rock and spaced-out Rhodes. The Vinny Golia Sextet expostulated defiantly jumpy rhythms and tensile Schoenbergian harmonies while young guitarist Alex Noice ripped blazing fuzz guitar. Behind Pheeroan akLaff's Afro-booty drums and Jon Lindberg's tweakily effected standup bass, Wadada Leo Smith's Golden Quartet opted to emphasize its electric-Miles-like festival groove rather than its more abstract side, benefiting prodigy Vijay Iyer's synth fantasies more than his densely articulate acoustic piano, which got lost in the hillside breeze. Closers The Ravi Coltrane-Ralph Alessi Quintet (pictured) artfully shaded the saxist and trumpeter's essential intellectuality with the sensual teamwork of Larry Koonse's samba-shaded guitar and Darek Oles' group-conscious bass; the whole ensemble expanded and contracted with pulmonary ease nudged by Steve Hass' ever-tumbling drums.
The heaviest jolt hit midway with the trio of Tim Berne, Jim Black & Nels Cline, sometimes called BBC but now cunningly dubbed Sons of Champignon (i.e., hippie prog meets benevolent shrooms). An electrocuted Cline fanned, feedbacked, stroked and burped his guitar without restraint, encouraged by Black's violent surges and strategic retreats; Berne's alto sax spun white comets of strange logic around the ionosphere. Long association in various contexts has made for big, big payoffs.
On Monday at Culver City's Royal-T, a privileged few experienced a multimedia improvisational spectacle -- music, video, dance and food -- whose ambition and execution couldn't have been duplicated in the loftiest palaces of world culture. Wringing his hands with trepidation at the beginning, promoter Rocco Somazzi was soon beaming with delight as everything fell together. First, a Nels Cline guitar made into art by Yoshitomo Nara was auctioned off (the event was a fest fund-raiser) for $70,000. Then pianist Myra Melford set the tone with a graceful composition lent even deeper beauty by the sensitive multilogue of bassist Mark Dresser, guitarist Nels Cline, percussionist Alex Cline, keyboardist Yuka Honda and violinist Jeff Gauthier. More remarkable, the ensemble maintained the delicate balance for two hours of the most joyfully grave elevation and psychedelic samadhi blues as butoh dancer Oguri slowly edged between tables channeling fiery ghosts, and Carole Kim's video projections on a gauze screen provided clean, ever-changing frameworks and instant portraits of the musicians in transport. Chef Paul Canales, meanwhile, struck an ideal counterpoint with multicourse presentations, from infernal peppers to a red-and-brown vegetable melange on a bed of green melon. In Morocco, they have a word for this kind of extended healing conjuration: a lila.
The festival continues three more nights. On Thursday at L.A. County Museum, Nels Cline interacts with seminal artist Ed Ruscha's paintings and David Breskin's poetry in an event christened "Dirty Baby." On Friday at Barnsdall Gallery Theater, ethereal pianist Motoko Honda sets up the planet-ranging music documentaries of filmmaker Steve Elkins. And on Saturday, October 9, at the Musicians Institute, flowing guitarist John Abercrombie's quartet refreshes one of the non-swing, non-bebop streams that helped inspire all this extrapolation back in the '70s.
Having multiplied in scope each year, the Angel City Jazz Festival dared anyone to call it just another bunch of concerts. It was a dare only a dumb-ass would take.
PHOTO BY FUZZY BJORK.