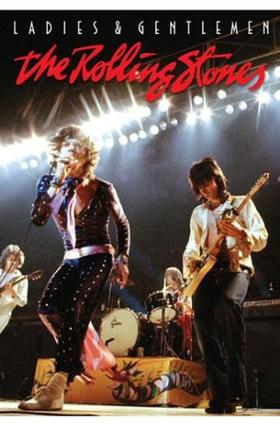 The Stones were gods in '72. The druggiest. The downest. The stylinest. The baddest. We wanted their attitude, their looks, their women and their cocktails. When I think of them now, I can still taste the Tequila Sunrise vomit. I saw them in Seattle that year, and I saw "Ladies & Gentlemen, the Rolling Stones," the concert movie from that tour, during its short run in 1974.
So it seems as if only divine intervention could have prevented such a filmic landmark from raking millions as a home video. Yet before now, it has been distantly scroungeable only as a bootleg. Mick Jagger, interviewed this year for a DVD bonus clip, mumbles that the restoration was a bit of a challenge, and claims ignorance as to why no previous release got wangled. Me, I'm guessing it's no accident that "L&G" saw light again in 2010 -- not because of its unround anniversary year (38th of the tour and 36th of the film), but because the Stones' litigious, bloodsucking manager from the '70s, the poison toad Allen Klein, kicked the jewel-encrusted bucket in 2009. Although the obstruction wasn't divine, God did intervene at last.
At this wide remove, the Stones of "L&G" appear as neither gods nor devils, but something more useful: great musicians.
In the wake of 1973's annoying "Goats Head Soup," my esteem had deratcheted several notches from the peak of "Exile on Main Street." When I saw "L&G" in 1974, I perceived the screen Stones as big and flat and a little boring, not the mythic blue demons I remembered. (Magic is a perishable commodity.) There they were, looming out of the darkness without a single shot of the barely audible concert crowd -- a setting that made them seem like giants rocking in a vacuum. The idea was that WE were supposed to be the live audience, howling along with the specially presented quadrasound electricity of our idols. Not a bad notion, but we were cemented in cinepalace seats, and even if we had prepared with proper guzzling and toking, the buzz was wearing off in more ways than one.
Today via DVD, the telescope is reversed: We're the giants; the Stones are the mini-gods on our TV screens. Some movies work better that way, and "L&G" is one of them. Yahoo: We can dance around like bozos, a Tequila Sunrise in one hand and a smoldering spliff in the other, without having to stand in line for an hour first! Hey, those little Limeys effin' BURN!
Judgment comes down to the performances, edited from four nights in Texas. Jagger observes that the Stones could rock mighty sloppy in those days, an opinion borne out by bootlegs you may have heard. Not here: The wealth of source material offered enough choices for 15 tight & rippin' tunes, spliced together cleanly enough under the direction of professional ad man Rollin Binzer to make the band's sudden variations of costume seem like prestidigitation.
Best (in order of appearance): "Bitch," "Dead Flowers," "Happy," "Sweet Virginia," "Midnight Rambler," "Rip This Joint," "Jumpin' Jack Flash" and "Street Fighting Man," with "Brown Sugar," "Gimme Shelter," "Tumbling Dice" and "All Down the Line" falling a tad short only for lack of backing vocals (no chicks on this tour). When Keith does thrust himself into Mick's mike, as on his spotlight "Happy," he nails it; you'd never know how haphazard his singing usually was. He chunks away at his guitar with fierce accuracy throughout, as well as fulfilling his mission as the only Stone other than Mick who moves. Mick makes a successful effort to sing more than bellow, while his prancing and mugging maintain the rock standard he himself set.
Chawlie looks like he went to hebbin, beaming as he slaps the skins and tosses in rambunctious fills every five seconds. The sharp audio (particularly the powerful DTS 5.1 option) offers further grounds for appreciating wooden Indian Bill Wyman, whose active bass keeps the rhythm jumpin'. You'd guess angelic guitarist Mick Taylor was asleep if you couldn't hear his flowingly defined leads, so perfect that I once considered him a bit unrock. (Wrong.)
Anyway, those like myself who have yearned to hear Taylor make even one mistake will be thrilled with the three bonus songs filmed in a Swiss rehearsal studio, which exude wonderful charm in part because the young axman hasn't codified his parts yet.
Great musicians at work. I used to imagine the Stones' art just poured out of them like smelly perspiration. But howbout that: The unavoidable evidence of their skill comes as no disappointment at all.
Reviewed in regular DVD; available in Blu-Ray.