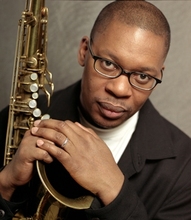 The multi-tiered, citywide event of the year, the impeccably curated ANGEL CITY JAZZ FESTIVAL (www.angelcityjazz.com), has arrived. I cannot overstate the importance of attending as many events as you can; Jeff and Rocco have gone way out on the thinnest limb of the banyan tree to make this the most impressive array of edgewheeling improvisers Los Angeles has ever packed together. So the world needs to know that our city harbors a vibrant population of jazz fans whose minds are not stuck in 1959. Buy tickets via the Angel City Jazz Festival web site; package discounts are available if you attend two or more events.
Sat. Oct. 2 -- Perhaps the fest's most notable event is the triumphant return of bassist Henry Grimes & Friends. After a stellar career playing at the highest levels of the avant with Sonny Rollins, Albert Ayler and Thelonious Monk, Grimes disappeared into the wilds of Los Angeles around 1970 and became a full-time maintenance worker. He was rediscovered a few years ago, and made a 2004 return to the stage in our city before relocating to New York and traveling the world to great acclaim. His band tonight includes drummer Alex Cline (a musical catalyst for his re-emergence), trumpeter Wadada Leo Smith, windman Vinny Golia, pianist Ben Rosenbloom and singer Dwight Trible. It's gonna go way up and way out. Read Grimes' whole amazing story, as documented by music historian Steven Isoardi, here. Opening is the voice & piano duo of Dwight Trible & John Beasley, circling the sun with soulful African warmth, L.A.-style. At REDCAT, 631 W. Second St., downtown 90012; 8:30pm; $30; www.redcat.org.
Sun. Oct. 3 -- Here's the outdoor blowout, where the fresh air befits the unmustiest of sounds in one of the city's vibiest old venues. The Ravi Coltrane/Ralph Alessi Quartet (the saxist pictured above and the trumpeter, with guitarist Larry Koonse, bassist Darek Oles and drummer Steve Hass) gets back to its L.A. roots with a modern sound that emphasizes beauty, originality and intellectual challenge. Wadada Leo Smith's Golden Quartet with the phenomenal pianist Vijay Iyer, bassist John Lindberg and drummer Pheeroan akLaff turns your spirit inside-out with total abstraction. Ignore the silly band name Sons of Champignon (yeah, I'm old enough to get the reference, but jeez) and focus on the fact that it's three of the most extreme and intuitive old friends on the national scene, Tim Berne, Jim Black & Nels Cline on sax, drums and guitar. No edition of the Vinny Golia Sextet ever waxes weak, and this time's no exception: the wildest of L.A. windmen with a somewhat younger and very excited ensemble including saxist Gavin Templeton, trumeter Dan Rosenboom, guitarist Alex Noice, bassist Jon Armstrong and drummer Andrew Lessman. Opening is the funky, rocking, poetic Kneebody, with saxist Ben Wendel, trumpeter Shane Endsley, bassist Kaveh Rastigar, keyboardist Adam Benjamin and drummer Nate Wood. Traditionalists be advised: You will hear no swing or bebop all evening. At the John Anson Ford Amphitheater, 2180 Cahuenga Blvd. East, Hollywood 90068; 5-10:30pm; $40; www.fordtheatres.org.
Mon. Oct. 4 -- This is a conceptual sorta benefit night of music, food, dance and video projection, with each influencing the others. Sound decadent? Maybe, but it's the most ambitious heehaw of the fest, with participants discussing artistic processes throughout. And you can't say boo about the components: Myra Melford & Friends brings the spontaneously refractive NYC pianist together with guitarist Nels Cline, drummer Alex Cline, bassist Mark Dresser, violinist Jeff Gauthier, electronicist Yuka Honda, butoh dancer Oguri (always a shocker) and video artist Carole Kim, with improvised food passed around throughout by the chefs of Oakland's Oliveto Restaurant (who are genii). The preceding auction of art by Yoshitomo Mara, Dave Muller, Norton Wisdom et al. benefits the Angel City Arts Foundation. At Royal-T, 8910 Washington Blvd., Culver City 90232; 7pm; $65. The auction goes from 4pm onward; admission to that part is free.
Thurs. Oct. 7 -- They call it "Dirty Baby," a multidisciplinary event based on an evolving series of art books containing music. Tonight Dirty Dad David Breskin reads his poetry, Nels Cline leads two different ensembles in performances of his compositions, and art legend Ed Ruscha's paintings are projected. It's like NYC West. At LACMA's Bing Theater, 5905 Wilshire Blvd., LA 90036; 7:30pm; FREE, but reservations must be made at info@angelcityjazz.com; get there before 7:15 or lose your seat.
Fri. Oct. 8 -- Ain't had enough art salad yet? Try film with the intra/extrasensory music of the wondrous pianist Motoko Honda. The cinema involves globe-trotting conceptual music happenings, as filmed in Steve Elkins' "The Reach of Resonance." At the Gallery Theater of Barnsdall Art Park, 4800 Hollywood Blvd., Hollywood 90027; Honda 8:15pm; documentary 9pm; $15.
Sat. Oct. 9 -- The ECM albums of electric guitarist John Abercrombie have provided inspiration to generations of jazzsters looking for a more flowing, intuitive approach to improvisation. He's got guts, too. His quartet includes violinist Mark Feldman, bassist Thomas Morgan and drummer Joey Baron. A co-presentation of the Jazz Bakery's Movable Feast at the Musicians Institute, 1655 N. McCadden Place, Hollywood 90028; 8pm & 9:30pm; $25; www.jazzbakery.org.
Some other zappers happening this week:
Fri.-Sat. Oct. 1-2 -- These days you never know whether pianist McCoy Tyner will show up as the Trane torchbearer, the classic traditionalist or (best) the still-growing searcher. Maybe you'll get all that and more, but the presence of soul-groove extrapolator Gary Bartz on sax suggests a flowing 1970 thing. At Catalina Bar & Grill, 6725 Sunset Blvd., Hollywood 90028; 8 & 10pm; $40-$50; (323) 466-2210; www.catalinajazzclub.com.
Fri. Oct. 1 -- Here's an accessible but original trio for ya: Joeless Shoe, with saxist Matt Otto, guitarist Jamie Rosenn and drummer Jason Harnell, celebrating their new record. At the Blue Whale on the third floor of Weller Court Plaza, south of East First Street between South Los Angeles Street and South San Pedro Street, Little Tokyo 90012; 9pm-midnight; $10; (213) 620-0908; www.bluewhalemusic.com.
Fri. Oct. 1 -- Yo-ho-ho, singing dark songs of the sea nonviolently, it's Missincinnati, plus other performers. At Echo Curio, 1519 Sunset Blvd., Echo Park 90026; 9pm; $5; (213) 977-1279; www.echocurio.com.
Fri.-Sat. Oct. 1-2 -- Jon Landau has the gnarly guitar tones you wish you had, and he might even tell you how he got 'em if you ask. Friday it's his trio with Gary Novak and Mike Elizondo; Saturday it's his trio with Novak and Teddy Landau in the first set, then pals The Dusty Meadows Band in the second set. At the Baked Potato, 3787 Cahuenga Blvd. West, Studio City 91604; 9:30 & 11:30pm; $20; (818) 980-1615; www.thebakedpotato.com.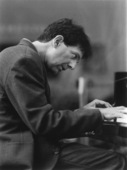 Sat. Oct. 2 -- The Alan Pasqua Trio? That usually means the delicate horticultural pianist has Peter Erskine along to waft sticks over drum kit. At Vitello's Restaurant, 4349 Tujunga Ave., Studio City 91604; 8 &10 pm; $15 cover plus $13 minimum; (818) 769-0905; www.vitellosrestaurant.com.
Sat. Oct. 2 -- SASSAS presents soundShoppe theory and execution from electronic menaces Anna Homler, William Harrington, Ted Byrnes, Steuart Liebig, Andy Sykora, Joe Potts, Jorge Martin, Gregory Lenczycki as a secret weapon of the Eagle Rock Festival. At Center for the Arts, 2225 Colorado Blvd., Eagle Rock 90041; 10:15-11:30pm; FREE; (626) 795-4989.
Sun. Oct. 3 -- On alto, Kim Richmond has that old-school feel, but he likes to push it out to the edge sometimes. Got a quartet tonight. At the Blue Whale on the third floor of Weller Court Plaza, south of East First Street between South Los Angeles Street and South San Pedro Street, Little Tokyo 90012; 9pm-midnight; $10; (213) 620-0908; www.bluewhalemusic.com.
Wed. Oct. 6 -- A young pianist with an ear for older tradition: Josh Nelson. At Vitello's Restaurant, 4349 Tujunga Ave., Studio City 91604; 8 &10 pm; $15 cover plus $13 minimum; (818) 769-0905; www.vitellosrestaurant.com.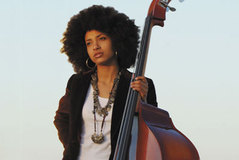 Thurs. Oct. 7 -- Bassist-singer Esperanza Spalding does stuff with Brazilian rhythms and scatty vocal insinuations that makes you think young folks got a future in communicative improv. Obama digs her. At the Broad Stage, 1310 11th St., Santa Monica 90401; 7:30pm; SOLD OUT; www.thebroadstage.com.
Read Brick Wahl's jazz picks in LA Weekly here, Don Heckman's jazz picks here and MoshKing's metal listings here. Read John Payne's plutonic Bluefat.com here.