Fri. Oct. 22 -- You might not even call it jazz, but whatever bassist-singer Avishai Cohen does, it sure is original, challenging and involving, with a sprung sense of rhythm and the World at its feet. Glad to see the former Chick Corea sideman established as a major star in his own right. With pianist Shai Maestro, vocalist Karen Malka, oudist Amos Hoffman and drummer Itamar Doari. A presentation of the Jazz Bakery's Movable Feasts at the Musicians Institute, 1655 N. McCadden Place, Hollywood 90028; 8pm & 9:30pm; $30-$60; www.jazzbakery.org.
Fri. Oct. 22 -- Jim Denley & Kim Myrh are the international woodwind-guitar duo Mural, doing a quiet avant-ambient thing with subtle electronifications. Recommended by Kraig Grady! A SASSAS Ad Hoc presentation at Human Resources, 510 Bernard St., Chinatown 90012; 8:30pm; $8; (213) 290-4752; www.sassas.org.
Fri. Oct. 22 -- Local vets Sothis tear up the black-metal tapestry -- costumes, corpsepaint, metal spikes, the whole thing. (And good material.) With five more metal gangs. At Ultraviolet Social Club, 2662 Lacy St., LA 90031 near the junction of the 110 and 5 freeways; doors 7:30pm; $12.50; all ages; strict ID for alcohol; (323) 227-0078; www.8thdaytix.com.
Fri.-Sat. Oct. 22-23 -- Billy Cobham rivaled Tony Williams as the most tumultuous drummer of the fusion era. "Spectrum," dude. At Catalina Bar & Grill, 6725 Sunset Blvd., Hollywood 90028; 8 & 10pm; $25-$30; (323) 466-2210; www.catalinajazzclub.com.
Fri.-Sat. Oct. 22-23 -- Dig some very palatable post-mainstream jazz from The Metropol All-Stars -- saxists Walter Smith III and Dayna Stephens, pianist Josh Nelson, bassist Dave Robaire and drummer Dan Schnelle. They're recording a live album, so goose 'em up. At Café Metropol, 923 E. Third St., downtown 90013; 8pm; $16 cover, $10 minimum; reservations recommended; (213) 613-1537; www.cafemetropol.com.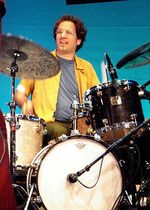 Sat. Oct. 23 -- Scott Amendola, an amazingly versatile slambam drummer and composer, leads a jammin' trio with Tortoise guitarist Jeff Parker and terroristic bassist John Shifflett. Cop their new alb, for which this is a release show. At the Blue Whale on the third floor of Weller Court Plaza, south of East First Street between South Los Angeles Street and South San Pedro Street, Little Tokyo 90012; 9pm-midnight; $10; validated parking on Second Street; (213) 620-0908; www.bluewhalemusic.com.
Sun. Oct. 24 -- Uplifting modern fusion: Miles Evans (Gil's son) with Rolling Stones bassist Darryl Jones and half a dozen other really proficient players. At Catalina Bar & Grill, 6725 Sunset Blvd., Hollywood 90028; 8 & 10pm; $20; (323) 466-2210; www.catalinajazzclub.com.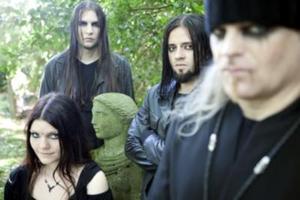 Sun. Oct. 24 -- Beyond Celtic Frost, Swiss voxman-guitarist Tom Gabriel Fischer has moiled up a chaotic, atmospheric mess of metal and dubbed it Triptykon -- creative stuff. With stygian Norse black metalers 1349 and Chicago's far-ranging, hard-charging Yakuza, who even use a sax. Yeah, that's a bill for ya. At El Rey Theater, 5515 Wilshire Blvd., L.A.; 8pm; $24.25; www.8thdaytix.com.
Wed. Oct. 27 -- The Larry Goldings-Harry Allen Quartet bring organ, sax and fresh traditional jazz. At Vibrato Grill, 2930 Beverly Glen Circle, way up the canyon in Bel Air 90077; 6:30-10:30pm; no cover I think; (310) 474-9400; www.vibratogrilljazz.com.
Read Brick Wahl's jazz picks in LA Weekly here, Don Heckman's jazz picks here and MoshKing's metal listings here. Read John Payne's plutonic Bluefat.com here.