Fri. Oct. 29 -- Pianist Brian Haas' Jacob Fred Jazz Odyssey thrump up some of the wildest and most entertaining classical-pop-jazz improvisations you can imagine, with the odd but somehow perfect addition of steel guitarist Chris Combs to give the whole thing that mystical space-cowboy vibe. Longtime drummer Josh Raymer thwacks like a champ, and bassist Jeff Harshberger is now fully integrated on JFJO's new "Stay Gold." Sky White Tiger opens. At the Mint, 6010 Pico Blvd., LA 90035; doors 7pm, JFJO probably around 10pm; $15; (323) 954-9400; www.themintla.com.
Sat. Oct. 30 -- You've probably seen Miguel Atwood-Ferguson whip his viola with Vinny Golia or Billy Childs or David Ornette Cherry or Nick Mancini, but he's also a very distinctive composer and bandleader, got his own beautiful orchestral elevation going, and this is his band. At the Blue Whale on the third floor of Weller Court Plaza, south of East First Street between South Los Angeles Street and South San Pedro Street, Little Tokyo 90012; 9pm-midnight; $10; validated parking on Second Street; (213) 620-0908; www.bluewhalemusic.com.
Sat. Oct. 30 -- Trumpeter Elliott Caine essays the Miles, Mongo, Wayne, etc., along with originals from his upcoming "Hippie Chicks on Acid." It's the quintet this time: saxist Carl Randall, pianist Scott Oakley, bassist Bill Markus, drummer Giovanni Nickens. At Jax, 339 Brand Blvd., Glendale 91203; 8pm-12:30am; no cover; (818) 500-1604.
Sat. Oct. 30 -- Award-winning poet Dottie Grossman calls; trombonist Michael Vlatkovich and drummer Rich West respond; probably you respond too. At Alias Books (East), 3163 Glendale Blvd., Atwater 90039; 8pm; FREE; (323) 661-9000.
Sun. Oct. 31 -- Modern progressivity rules with NYC's Suffocation; the guitar interplay between Terrance Hobbs and Guy Marchais ranks as death metal's most advanced, and drummer Mike Smith keeps it both punishing and organic. With L.A.'s very complicated and intriguing The Faceless, traditional deathly croakers Through the Eyes of the Dead, speedy multigenre twiddlers Decrepit Birth and theatrical Italian deathsters Fleshgod Apocalypse. Now that's a Halloween night. At the Whisky, 8901 Sunset Blvd., West Hollywood 90069; www.whiskyagogo.com; doors 6pm; $25; (310) 652-4202.
Tues. Nov. 2 -- Eight more bands on the metallic California Blood Tour troop behind San Diego poetic vegan extremists Cattle Decapitation, one of the finest in the West. At the Whisky, 8901 Sunset Blvd., West Hollywood 90069; doors 6pm; $15; all ages; www.whiskyagogo.com; (310) 652-4202.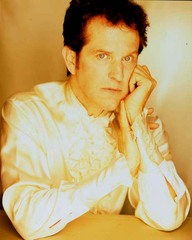 Tues. Nov. 2 -- As a kid, I used to love the Kinks and the Beach Boys, but as I got older all pop just seemed enervated or recycled, hence the road to jazz and metal. Kristian Hoffman, though, is a man of my generation who has never ceased infusing the form with fresh intelligence, sophistication and fun, and you will also find he and his band, the Rock Gods, put on a damned dramatic show. Read my review of his ear-boggling new "Fop," for which tonight is the local release party, here. Timur Bekbosunov opens. At M Bar, 1253 Vine St., Hollywood 90038; doors 7pm, Hoffman 9:30pm but come early as the place is small; $5 plus probable food/drink minimum; (323) 856-0036.
Tues. Nov. 2 -- Want serious jazz that's finding upside-down paths into the future? Try local heroes Empty Cage Quartet; read my review of their latest record here. At Royal-T, 8910 Washington Blvd., Culver City 90232; 8pm; $10; $5 students; (310) 559-6300; www.royal-t.org.
Tues. Nov. 2 -- You know Wayne Horvitz, the beauty-bound keyboardist with a penchant for misty American abstraction (as opposed to his previous funky-noisy leanings). Here he leads his all-star Gravitas Quartet with cellist Peggy Lee, bassoonist Sara Schoenbeck and trumpeter Ron Miles. At REDCAT, 631 W. Second St., downtown 90012; 8:30pm; $20; www.redcat.org.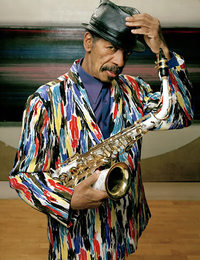 Wed. Nov. 3 -- The king of disorientation, Ornette Coleman, is bringing one less bassist this time: Tony Falanga and Al MacDowell on bass, powerhouse son Denardo Coleman on drums. Read my review of his 2007 show here and my LA Times interview from the same year here. A UCLA Live presentation at Royce Hall; 8pm; $43-$83; www.uclalive.org.
Wed. Nov. 3 -- LATE ADD. Access the divine spirit of abstract electronic groove with Halfmonk, a.k.a. guitarist G.E. Stinson, bassist Steuart Liebig and vocalist Jen Hung. At Royal-T, 8910 Washington Blvd., Culver City 90232; 8pm; $10; $5 students; (310) 559-6300; www.royal-t.org.
Thurs. Nov. 4 -- Vintage collectible ragtime blues from the last Depression -- not many bands other than Doozy doo that. Might see Kristian Hoffman in the audience for this one. Doozy play every Thursday at the Culver Hotel, 9400 Culver Blvd., Culver City; 7:30-11pm; free or pass the hat I think.
Read Brick Wahl's jazz picks in LA Weekly here, Don Heckman's jazz picks here and MoshKing's metal listings here. Read John Payne's plutonic Bluefat.com here.