In the wake of Angel City Jazz Fest, I just wanted to blurb a couple of live shows and a couple of albums to bolster the conspiracy promoting the West Coast's increasing improvisational vigah. (I maundered re the first three nights of ACJF last week.) Concertizations drew me outa my cave six times in eight days, which my executive secretary reports as a personal record.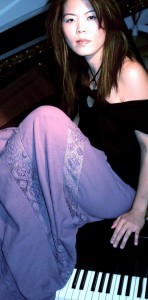 On Friday October 8 at the Barnsdall Gallery Theater, pianist Motoko Honda warmed up the house for Steve Elkins' film "The Reach of Resonance," which documented a guy playing violin with a bicycle wheel, a guy playing fences with Venusian snake guts, fun stuff like that. I couldn't stay for the whole thing, but really wanted to monitor the development of Honda, who has become one of the most involving artists in town. Friday's performance reinforced that status with the use of abstract narrative: We could really feel the transition from idyllic beauty to emotional turbulence to an apocalyptic destruction represented by Honda yanking a dish full of chains across the piano strings. At times she puffed up some Matthew Shipp storm clouds; at times she pounded with a grandeur and structure worthy of Prokofiev; her spare strokes on a tiny synthesizer added subtle dimension. Very stylish black dress, too. Honda is a treasure, and the word is spreading -- I was glad to see a good turnout for this fifth Angel City Fest event, despite what must have amounted to near burnout on the part of L.A.'s small (but clearly growing) edge-music community.
On Saturday October 9 at the Blue Whale, guitarist-singer Leni Stern shook down her Africa/world thing with her quartet. The vibe of the cozy modern bar was perfect as Stern, sporting a tiger/dragon arm tattoo she'd gotten hours earlier, dug into deep Afro-blues with a natural polished-wood tone you'd never guess could be generated via a little guitar synth mounted behind the bridge. Electric bassist Mamadou Ba checked his more extreme impulses to lock in solid with the wonderful sloshy groove of drummer Harvie Wirht. Brahim Fribgane's oud was absolutely on fire as he ripped up and down scales with flexy ease. And Stern's yelping head voice poured out ecstatic confidence. (She says she's been taking new vocal lessons with her friend Ami Sacko.) Stern is always traveling, always changing, and she takes you along for a hundredth the price of an airplane ticket.

Rich Halley Quartet featuring Bobby Bradford, "Live at the Penofin Jazz Festival" (Pine Eagle). Portland saxist Halley never denies his Ornette Coleman influence, and here makes the link more explicit by partnering with ex-Ornette cornetist Bradford. The quartet start out with a very Colemanian angled-unison & rush, but Halley's compositions also encompass shoogity bump, bluesy hustle and lazy call-and-response. Bassist Clyde Reed and drummer Carson Halley contribute to a relaxed group feel that owes a lot to Bradford's Texas slur, and Halley unspools joyous lines with an enviable dark tenor tone -- must be why they call him Rich.
Beth Schenck, "What Shock Heard" (Inayat). Brooklyn-based but sporting Western connex (Industrial Jazz Group), Schenck has got it goin' on in both the saxophonic and compositional departments. You might recognize the latter first: the combination of beauty and freedom ("Wish or Wonder"), the querulous counterpoint with Matt Wroble's beveled/spacious electric guitar ("Kerosene"), the unusual stairstep riffs and frightful acceleration ("Attic"). Very distinctive and often playful. Schenck's alto-sax sound matches up -- clear and soft, solos developing with artful logic. Compatible bassist Elvind Opsvik and drummer Jeff Davis keep things loose and fun. Not just for eggheads!