Fri. Nov. 26 -- Max Cavalera and Soulfly knock ya down and bury you under a landslide of boulderacious Brazilian jungle metal. From Sepultura to now, he never quits, never dips; this year's "Omen" hews to the form 'cept for a remarkably jazzy coda. At House of Blues, 8430 Sunset Blvd., West Hollywood 90069; 9pm; $25; (323) 848-5800; www.ticketmaster.com.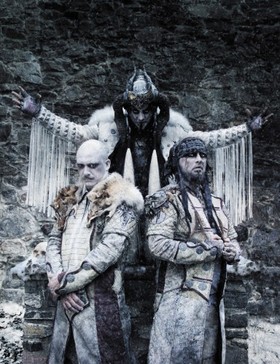 Sat. Nov. 27 -- If local fans of Norwegian black metal gotta drive to Pomona to embrace division commanders Dimmu Borgir, they're probably gonna do it. I review DB's exceptional new symphonic blast "Abrahadabra" here. They're also offering lossless hi-fi downloads of the record for only $8 here. With fellow countrymen Enslaved, masters of base semimelodic crunch; also Blood Red Throne and Dawn of Ashes. At the Fox Theater, 301 S. Garey Ave., Pomona 91766; 7pm; $27; www.ticketmaster.com.
Wed. Dec. 1 -- John McLaughlin & the 4th Dimension strike a polite balance between mounting flame and transcendent resignation. The master's guitar remains quick, fluid and imaginative, yet you can follow it. I like the understatedly combative drumming. But I ain't that peaceful yet. With percussionist-keysman Gary Husband, drummer Mark Mondesir (Jeff Beck) and bassist Etienne Mbappé. Looks like there's a hosted chomp & slurp reception at the W Hotel in Westwood before the show with shuttle, too, which seems like a smart idea. A UCLA Live presentation at Royce Hall; 8pm; $43-$83; www.uclalive.org.
Wed.-Thurs. Dec. 1-2 -- A bit feistier fusion, out-India-ing latter-day MahaJohn: Raga Bop Trio, with vibrato-laden saxist George Brooks and plucky guitarist R. Prassanna whipped up by killer drummer Steve Smith. Make a special request that they don't play their hip-hop tune. At Catalina Bar & Grill, 6725 Sunset Blvd., Hollywood 90028; 8 & 10pm; $20-$25; (323) 466-2210; www.catalinajazzclub.com.
Wed. Dec. 1 -- Nobody does three-part harmonies like Jamaicans, and The Abyssinians have been lifting up the reggae for four decades. Dub Club at the EchoPlex, 1154 Glendale Blvd., Echo Park 90026; doors 8pm; $15 ($10 before 10pm); www.attheecho.com.
Read Brick Wahl's jazz picks in LA Weekly here, Don Heckman's jazz picks here and MoshKing's metal listings here. Read John Payne's plutonic Bluefat.com here.