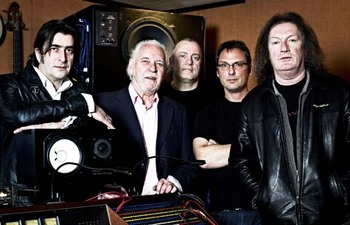 Sitting at his piano, a little black fedora covering his snowy pate, Gary Brooker commanded the lights to be brought up so we could get an eyeful of this beautifully restored old emporium -- the theater boxes adorned with heraldic crests, the stained-glass ceiling lamps, the traditional proscenium arch. "We used to stay in places that looked like this," mused Brooker. "Now we're camping."
That was Brooker's introduction to "Grand Hotel," Procol Harum's decadent waltz from 1973 -- which 37 years ago seemed like ages after their first and biggest hit, 1967's "A Whiter Shade of Pale." Aside from "Pale" and maybe "Conquistador" and "Simple Sister," most folks wouldn't think this Brit outfit constituted a chart machine. To the 500 or so Social Security hopefuls who made this scene, though, practically everything they played for over two hours was a hit.
The great thing about classically-influenced rock is that since it sounded kinda old in the first place, it doesn't feel dated now. Never one for huffnpuffin', Brooker tilted the set toward the the mid and slow tempos, but even the rockers had scoops of that Ludwig Van flava -- the rousing two-handed counterpoint piano on "Toujours l'Amour," the rising Teutonic riff (contrasting with the El Cid synth-trumpet fanfare) on "Conquistador."
Beethoven stands as one of the earliest Masters of the Riff, a value evident in the pondering intro of "Strong As Samson" (which contains one of Brooker's most mountainous melodies) and the crashing simplicity of "The Devil Came From Kansas." Though Brooker owns one of the stretchiest voices in the popular pavilion -- and it remains in polished-silver condition -- he always augments it with perfectly crafted little figures of sound that crop up betwixt all the changes of key and tempo. They call it songwriting.
As usual, Procol Harum tossed in a couple of blindside prizes. The eerie, sci-fi-themed "Strangers in Space," from 1977's perhaps unjustly neglected "Something Magic," was worth the dust-off, serving as a reminder that Procol's four distinguished '70s Chrysalis albums have recently received the remaster/bonus treatment. And "One Eye to the Future" (from this year's mp3-only live album of the same name) rolled briskly along the cart path of optimism and self-deprecation: "We know we're out of favor; we can't expect no savior."
It was good to reify Brooker's continued confidence in his mastery; from Procol's most recent studio album, 2003's "The Well's on Fire," he included the prescient "Wall Street Blues," the romping "The VIP Room" and the gloriously nostalgic "An Old English Dream" -- all delightful, but I would have been even happier with "Shadow Boxed" and "Weisselklenzenacht." There's supposed to be a new record next year; may it come to pass.
As carefully as Brooker always chooses his bandmates, this crew had a special chemistry. Long Geoff Whitehorn, on board for a decade, not only dialed in a sensitive approximation of Robin Trower's meaty tone on turquoise Strat, but soloed with smart concision and accompanied with imaginative touches -- the mandolin-like strumming on "Grand Hotel," the seagull chirps on the always mournfully transcendent "A Salty Dog." Matt Pegg is the most up-front bassist Procol has ever employed (sharp solo!); Hammond organ acolyte Josh Phillips (immortal for co-writing the theme for the English "Dancing With the Stars") was a one-man army of keyboard effects; the amazingly adaptable drummer Geoff Dunn made us miss the great B.J. Wilson as little as possible, a huge achievement.
Aside from letter-perfect renditions of early landmarks such as "Shine On Brightly," "Homburg" and "A Whiter Shade of Pale," the quintet occasionally put their own brand on the warhorses. The brilliantly oddball "Pandora's Box," complete with sythesized marimba, glowed with a more confident groove; Trower's "Whisky Train" rocked looser and thicker than the original.
Brooker joked that he had to drop the cataclysmic "Whaling Stories" from the set, "because every time we play it outdoors, there's a thunderstorm" -- which in fact occurred at the John Anson Ford Amphitheater when Procol Harum last hit L.A. seven years ago. Even if this year's performance held a bit less drama, it left the kind of lasting satisfaction that only the best can bestow. We all felt more British afterward.
Thanks once again to Keith Reid for his witty and human lyrics. Wish he would've written this review himself; the invitation's open.

PIC LEFT TO RIGHT: PHILLIPS, BROOKER, DUNN, PEGG, WHITEHORN.