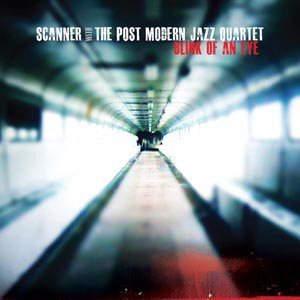 Matthew Shipp never runs out of ideas for keeping the word "jazz" in the 21st-century vocabulary. The pianist has renewed bebop ("NuBop"); slipped into trip-hop with DJ Spooky; and, via his curatorship of Thirsty Ear's Blue Series, sponsored fusions with ambient improv (Sex Mob) and metal (Slayer's Dave Lombardo, Living Colour's Vernon Reid). A slew more congealments, too. So a collab with Scanner (sound artist Robin Rimbaud) that takes off from the platform of the Modern Jazz Quartet? That's Shipp's wheelhouse, and he crushes it.
If you weren't tipped about the MJQ link, it might not exactly whack you in the earball. Due to the oblique angles of the arranging and mixing, even the basic MJQ instrumentation of piano (Shipp), vibes (Khan Jamal), bass (Michael Bisio) and drums (Michael Thompson) doesn't immediately strut forth as such. Only a loose take on Duke Ellington's "C Jam Blues" even bothers to turn a screw in the direction of the pre-'60s tradition. Scanner's effects, electro-noises and soundboard manipulations are the very soup in which the whole thing swims.
Yet "Blink of an Eye" feels like jazz -- modern jazz, displaced from NYC clubland to a shifting locus triangulated by a Tangier hash den, a Kabbalistic meditation session and a space-shuttle reverie. Shipp's piano rises and falls, soft and dreamy; Scanner turns the crispness of Jamal's vibraphone into a vehicle for timbral artwork. The bass may ride an African riff or walk like overcaffeinated Ornette, but that end of the spectrum is just as likely to be filled by synthy hugeness. The drums are virtually internalized -- sometimes they feel like your circulatory system more than instruments.
Lots of variety and a calm devotion to beauty make "Blink of an Eye" a collection that only a stiff could fail to inhale. Scanner has worked with Bryan Ferry, Radiohead and Laurie Anderson. Does he mix lives too?