Fri. Dec. 17 -- Halford is the damned exciting project of versatile Judas Priest singer Rob Halford, a man not averse to taking some artistic risks. Read my review of Halford's new album here. With hardworking young thrashers Warbringer and Slayer drummer Dave Lombardo's Philm. At the Wiltern, 3790 Wilshire Blvd., LA 90010; $28; (213) 388-1400; www.livenation.com.
Sat. Dec. 18 -- Heck of an ass-scratching L.A. postpunk fest, dudes. If you don't wanna stay late, shrink not, cuz it starts strong at 4 with Carnage Asada (now featuring Tony Fate of the BellRays), the jazzy Atomic Sherpas, the surf insanity of Double Nought Spy Car and the Beefheart blues of Joe Baiza's Mecolodiacs (6:15), finishing hearty with Watt & Roessler's bassment Dos (9:00), rad guitarist Sylvia Juncosa, the eclecto-odd Amadans, the heavy-rockin' Backbiter and cranked-up house band Fatso Jetson (midnight). Not much of a drive if you're on the East Side. At Café 322, 322 W. Sierra Madre Blvd., Sierra Madre 91024 (north of the 210, just east of Pasadena); 4pm-1am; (626) 836-5414; www.cafe322.com.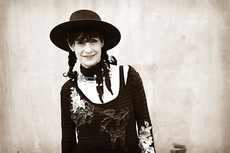 Thurs. Dec. 23 -- One of the finest country-blues 'lectric guitarists these ears have delectated, Rosie Flores is also a sweetly twangin' singer and a solid songwriter. Y'all know her I'm sure, so I'll shut up. Closing the night I think. At the Redwood Bar & Grill, 316 W. Second St., downtown; (310) 245-0273; www.theredwoodbar.com.
Read Brick Wahl's jazz picks in LA Weekly here (and you should really read them this week), Don Heckman's jazz picks here and MoshKing's metal listings here. Read John Payne's plutonic Bluefat.com here.